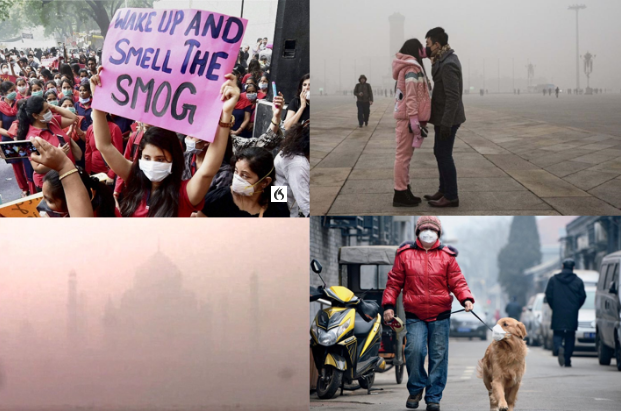 Dirty air may be the biggest gift climate hawks have ever been given.
That's an incredibly cynical take on the fact that the World Health Organization (WHO) now considers air pollution a global health crisis on par with malaria, AIDS, and tuberculosis. But this monumental shift in the public health community due to the persistent and growing menace of air pollution has profound strategic implications. Not only does it generate political will, it shares a common villain with the climate crisis - it's mostly caused by burning stuff (i.e. fossil fuels). Most importantly however, advocates, experts, and key stakeholders working on these separate crises are now starting to recognize they also have a common cure - clean energy.
To understand why the WHO took the unprecedented step of elevating air pollution to the level of global threat consider the map below prepared by Michael Brauer from the University of British Columbia. This simple but powerful map shows whether or not locations meet the current WHO guideline for clean air. That guideline is the science-based standard for protecting health from the ravages of air pollution. The picture it paints is pretty stark - the vast majority of the world is breathing dirty air that is killing them.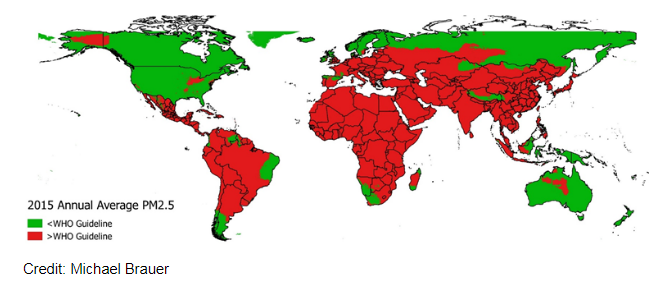 Air pollution, Unsafe at any speed?
Which side of the clean air divide you stand on matters a lot because recent research is revealing that even our current standards may not be strict enough to protect us. If you take a look at the graph below you can see just how nonlinear the risk is for even low levels of air pollution exposure. In fact, new studies just released are showing impacts and health risks even below the US standards or the WHO guidelines. Which begs the question - is air pollution unsafe at any speed?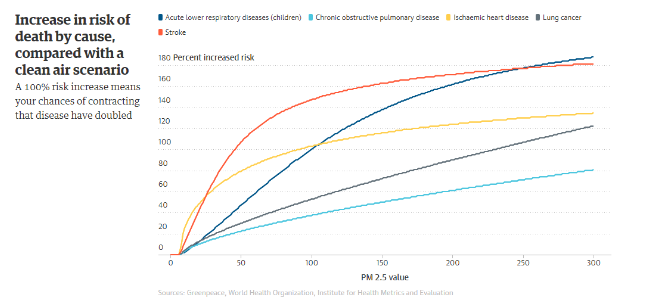 The answer is likely yes. But while health experts and advocates are yelling fire regulators have yet to respond with an extinguisher that ensures we meet both crises head on. Instead, we can have situations, as has occurred in the United States, where air can be dramatically cleaned up while climate change rages on. That's in part because regulatory regimes focus on cleaner fuels or post-combustion technological fixes to reduce the worst impacts of burning stuff (again, mostly fossil fuels). But given the ability to solve both of these crises with cheap, abundant, modern clean energy why are we killing ourselves and our planet by burning stuff like primordial cavemen?
Luckily for us this anachronistic practice produces tangible, visceral impacts that is driving action. It is the great equalizer that threatens rich and poor kids alike which makes air pollution a uniquely salient political issue across the world. That threat is supporting a new regulatory zeitgeist that just might put fossil fuels in the rear view. Whether it is European regulators dealing with the fallout of diesel gate and banning the internal combustion engine in France, Indian policymakers seeking to shut down 37 GW of old dirty coal plants to clean up their airpocalypse, or South Korea's new president pledging to phase out coal plants after riding to power on the promise to clean up the country's air the opportunity is now.
Which is why climate advocates, health advocates, and environmentalists across the board must make common cause in ensuring that our efforts to clean up the air leads us firmly down a clean energy path. Because the global health community is yelling fire and clean energy is one hell of an extinguisher.
Calling all HuffPost superfans!
Sign up for membership to become a founding member and help shape HuffPost's next chapter
This post was published on the now-closed HuffPost Contributor platform. Contributors control their own work and posted freely to our site. If you need to flag this entry as abusive,
send us an email
.