"The joy of magic is this wonderful explosion that happens when something you know collides with what you see. You're seeing something you know can't be true."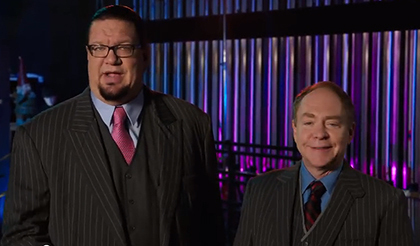 The speaker is Teller (at right in the photo left), the silent one in Penn and Teller, the long-running comedy and magic act that With their own theater in the Rio All-Suites Hotel and Casino in Las Vegas, Penn and Teller are the longest-running headliners in Las Vegas. Their latest project is Wizard Wars, the limited series on SyFy which ends its six-week run on Tuesday night at 10 (9 Central time).
Brenda Lowry, publicist for SyFy, reported that the August 19 premiere of the show racked up more than 1,000,000 viewers, 573K Adults 25-54, 552K Adults 18-49 and 240K Adults 18-34.
Wizard Wars is a reality competition show in which teams of magicians create and perform original magic routines before a live studio audience. Their acts are judged on originality, creativity and showmanship. Penn and Teller head up the judging panel, alongside magic critic Christen Gerhart and World Champion of Magic Jason Latimer. Wizard Wars also features four "home team" magicians--the "Wizards"--who return every week to take on new teams of "challengers." Wizards include street magician Justin Flom, stage illusionist David Shimshi, mentalist Angela Funovitz and con man Gregory Wilson.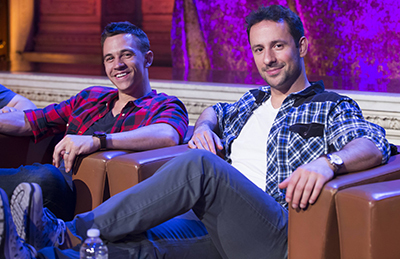 The show was created by Rick Lax (at right in the photo here), a multi-talented guy -- a writer, magic creator, close up magician (one who performs magic in an intimate setting -- and author of three well-received books, Lawyer Boy: A Case Study on Growing Up, Fool Me Once: Hustlers, Hookers, Headliners and How Not to Get Screwed in Vegas and I Get Paid For This: Taking Notes and Kicking Ass.
In 2012, he and street magician Justin Flom made a pilot Wizard Wars. The pilot for the show was filmed in Lax's apartment with a budget of $15 and it was posted on youtube. The idea is that teams of magicians compete making magic tricks with everyday objects, from Spam, to fake fruit to lots of non-food items.
Lax says, "Teller was one of the very first people I sent the Wizard Wars YouTube video to. And I remember he wrote back, 'This is a delight.'"
He adds, "Now, I'm so glad we all reconnected after SyFy picked up the show because he and Penn are great magic judges. Unlike so many other magicians out there, they really do create their own routines from the ground up, and that's what Wizard Wars is all about."
Asked what attracted him to the show, Teller says, "Initially it was the pilot video. This is a fun idea because it's so hard to do to get something really truly fabulous and perfect. To get magicians to work under the same conditions as chefs...I don't know what I'd do if I had to work like that. It's a challenge.
He says, too, "Magic is not a children's art. What appeals to the children is not the magic proper. It's all about seeing something you know is not possible. Children don't know what's possible."
A brief discussion about the difference between magician and illusionist, brought this observation from Teller: "In magic there's a jargon -- close-up magic (that which is performed in an intimate setting); stage magic, magic with the use of large props.
"Doug Henning began to shy away from 'trick' and use 'illusion.' I find that terribly inappropriate. You're not just appreciating the illusion but you're aware that it's a trick. And that's all right.
"Both Penn and I strongly advocate the word trick. The essence of a lot of art is that it surprises you with something you didn't expect before."
Lax serves as producer of the show, along with Penn and Teller. He says, "I started Wizard Wars because I always felt that creating magic is just as interesting as performing it. I've been saying that for years now, and not everybody believed it. But now that we premiered with over a million viewers--huge, huge numbers--people believe it."
The very solid ratings prove that people like the show. A lot. No one is saying if Wizard Wars will be back for another season, but it's probably a safe bet that it will.
Here, Lax and Flom do lots of magic in a little bit of time:
Calling all HuffPost superfans!
Sign up for membership to become a founding member and help shape HuffPost's next chapter