MIAMI -- Jimmie Lee Jarvis doesn't fit the profile of someone who would typically attend a Republican presidential campaign kickoff rally.
For starters, he's 23 -- an age when most of his peers are more concerned with landing a job or a girlfriend than they are a spot in the rafters at a Jeb Bush event. Secondly, Jarvis isn't a hardcore partisan. He merely leans Republican.
Still, he boarded a bus Monday morning from the central Florida city of Lakeland and rode four hours south to Miami to see a candidate he's not entirely sure he's going to vote for in 2016.
"I'm leaning toward supporting him," Jarvis said of Bush. "Anything can happen. Anyone can jump in the race. But if I had to bet, I'd say I'm a Jeb guy."
Why on earth would someone like Jarvis go to such lengths just to catch a glimpse of a politician who's not exactly speeding up his heartbeat?
"I think he's made it pretty clear he doesn't want to pander to the extreme part of the base to get the nomination, and I think that's really heartening to a lot of young people, especially," Jarvis said. "He seems to have much lighter rhetoric."
The crowd that packed into an auditorium at Miami-Dade Community College on Monday to hear Bush declare what had been obvious for months -- that he's running for president -- was sizable, boisterous and unusually diverse for a Republican political event.
Evident from conversations with attendees was a shared, fundamental attraction to the former Florida governor that is built on something fundamentally different than what is fueling most of Bush's Republican rivals for the 2016 nomination.
Those who have followed Bush's political career in Florida often note that he has a far more conservative record than is generally perceived nationally. But at this rally, at least, the most common praise of Bush centered around an understated appreciation of his management and leadership skills, and a prevailing sense that he offers the GOP its best chance to retake the White House.
"Florida is kind of a microcosm for the U.S. in that it's a diverse state, and there are a lot of challenges, so anybody who can govern Florida successfully can govern the United States successfully," said Rory Riley, who came from Charlotte, North Carolina, to attend the event. "A lot of times in primaries, you're trying to appeal to the far left or the far right, and most Americans want someone who's more toward the center."
The practical, matter-of-fact assessment of Bush's supporters jibes with the message that the candidate himself has sought to convey all year: that he is willing (in his own words) to "lose the primary, in order to win the general."
Notwithstanding the incongruity of that strategy on its face, Bush has indeed thus far demonstrated a commitment to presenting himself to voters as the steady hand among a crew of pretenders, who lack either his experience or even-keeled demeanor.
"We will take Washington -– the static capital of this dynamic country -– out of the business of causing problems," Bush said during his well-received speech, which he mostly delivered in a tone befitting a corporate boardroom. "We will get back on the side of free enterprise and freedom for all Americans. I know we can fix this because I've done it."
Bush's low-octane strategy is fraught with risk at a time when political practitioners have scarcely been less popular and candidates are often rewarded -- particularly in the early primary and caucus states -- based on the red meat they deliver.
Though he's not especially known for bringing down the house with soaring rhetoric, the crowd here remained animated throughout Bush's remarks, interrupting often with boisterous cheers and repeated standing ovations.
But in keeping with his general approach, Bush left it to Florida state Sen. Don Gaetz -- one of his opening acts -- to deliver the only head-turning remark of the day, which was designed to cut down one of his primary contenders for the Republican nomination: fellow Floridian Sen. Marco Rubio.
"Jeb Bush is the Florida Republican who can win!" Gaetz bellowed.
Other than taking a requisite shot at Democratic frontrunner Hillary Clinton and engaging in a mild dustup with some immigration protesters who interrupted his remarks, Bush kept his tone positive and substance businesslike.
And that was just fine with David Bramley of Coral Springs, who was looking for a pragmatist, not a pugilist.
"He created a very pro-business environment that allowed the state to grow and allowed the tax base to grow -- he was very productive, actually," Bramley said of Bush. "I think Jeb will be more appealing to moderate voters than Marco will be. And in the long run, he's more electable."
Before You Go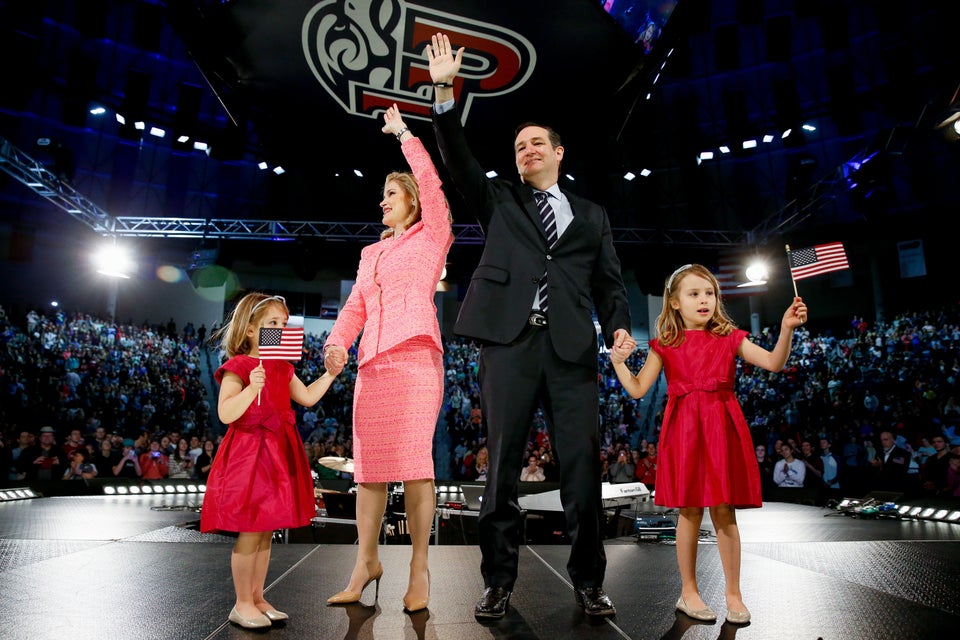 Declared 2016 Presidential Candidates
Popular in the Community