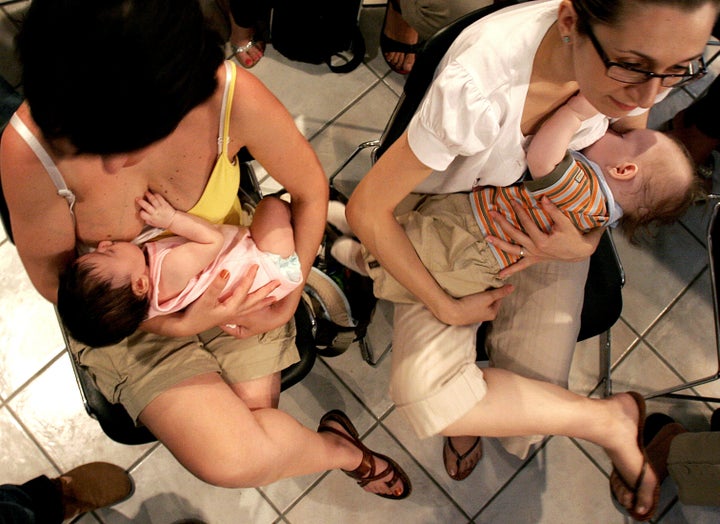 Jessica Coleman, a Grand Junction mother, was asked to stop breastfeeding her 13-month-old son at the Orchard Mesa Community Center Pool and nurse the infant in the bathroom, 7News reports. But, Grand Junction Parks and Recreation is changing its policy after the mother complained.
While attending a birthday party, the manager of Orchard Mesa Community Center asked Coleman to breastfeed in the bathroom after at least one person complained about the public nursing, 11News reports. But, Coleman was defiant and refused to move, she said to NBC11:
I nursed him openly and unashamedly at the pool. The manager asked me to move to the bathroom which I feel is an inappropriate place for anyone to eat.
Coleman even informed the manager about Colorado law which allows women to breastfeed wherever they like, of which he was apparently unaware, according to KREX. Grand Junction Parks and Recreation officials apologized to Coleman, which she gladly accepted, she said, "I am pleased they are using this as an opportunity to develop new employee training protocol."
Grand Junction Parks and Recreation may have avoided a far more serious situation. Breastfeeding rights has become a hot button issue since 2004 when Colorado, as well as several other states, enacted laws to protect the rights of breastfeeding mothers so she can nurse in any location she has a right to be (Colo. Rev. Stat. 25-6-301; 25-6-302).
But violations, or just plain disregard, for this law have continued. Just recently in August, the ACLU launched a lawsuit against an Evergreen charter school on behalf of a teacher who allegedly was fired for pumping breast milk on the job, according to Fox News.
And in 2010, controversy erupted when a mother that was breastfeeding inside of a store at the FlatIron Crossing Mall was told to "wrap it up" by the store manager, The Daily Camera reported.
REAL LIFE. REAL NEWS. REAL VOICES.
Help us tell more of the stories that matter from voices that too often remain unheard.