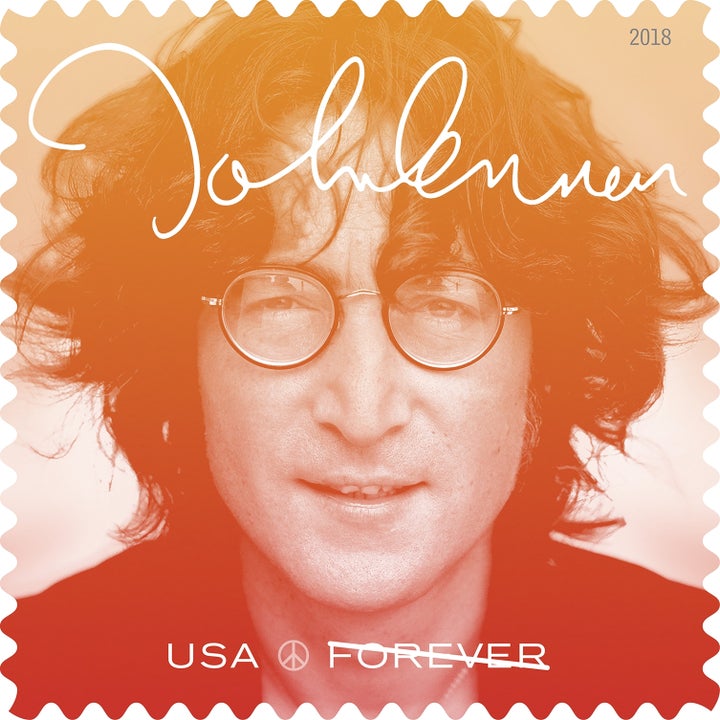 An upcoming U.S. postage stamp due out next year is honoring a British rock legend.
The United States Postal Service announced this past Tuesday that among its stamp subjects for 2018 is former Beatle, John Lennon, as part of the Music Icon series. He joins other stars in the series including Jimi Hendrix, Janis Joplin, Johnny Cash, Elvis Presley, Ray Charles, and Lydia Mendoza.
Although born in Liverpool, Lennon made his home in New York City with wife and musical collaborator Yoko Ono until his death on December 8, 1980 at the age of 40 (He received his U.S. green card in 1976).
The stamp features a photograph of the rock icon with his signature and trademark glasses. Fittingly, a peace symbol is shown between 'USA' and 'Forever.'
There is no word yet on when and where the Lennon stamp will be issued on its first day of release, although it's a good bet that a ceremony for it would take place in the Big Apple.
The USPS previously honored the Beatles on a 1999 postage stamp as part of the Celebrate the Century series. That issue depicted the classic Yellow Submarine from the Beatles animated movie and soundtrack. The upcoming Lennon release is the first one to feature an actual likeness of one of the Beatles on a U.S. stamp.
Britain's Royal Mail also paid tribute to the Beatles in postage form in 2007.
In addition to Lennon, other notable subjects to be commemorated on U.S. stamps next year include Lena Horne, Fred "Mister" Rogers, Sally Ride, the 200th anniversary of Illinois statehood, STEM, World War I, and the art of magic.
Popular in the Community