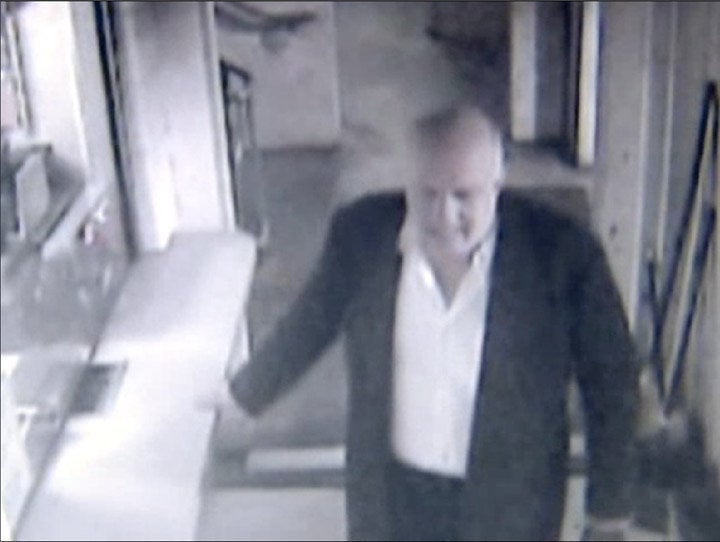 WILMINGTON, Del. — A prominent national defense expert appeared confused and disoriented as he wandered inside a downtown Wilmington office building less than 14 hours before his body was dumped with a load of trash at a nearby landfill, police said Wednesday.
John P. Wheeler III refused help from several people who approached him inside the Nemours Building as late as 8:30 p.m. Thursday, Newark Police Lt. Mark A. Farrall said.
Wheeler's body was found Friday morning at the Cherry Island Landfill in Wilmington. Police believe he was killed, but they haven't said how or why.
Wheeler, 66, was an Army officer at the Pentagon during the Vietnam War. He served in the administrations of three Republican presidents and helped get the Vietnam War Memorial built.
Wheeler was seen in a similarly disoriented condition in downtown Wilmington Dec. 29, two nights before his body was found. He approached parking garage attendant Iman Goldsborough at the New Castle County courthouse around 6:40 p.m., wearing a black suit with no tie and only one shoe, Goldsborough said. He carried his damaged right shoe, a tasseled burgundy loafer, and had no overcoat even though there was snow on the ground, she said.
He told Goldsborough he wanted to get warm before he paid for parking, but Wheeler's car wasn't parked there. He also told her he had been robbed of his briefcase, and repeatedly said he wasn't drunk, Goldsborough said.
The evidence deepened the mystery of what happened to Wheeler.
"We know he was seen on the 29th in a disoriented state and we know he was seen on the 30th in a disoriented state. Where he was in between those times, we're still working to try to figure out – and of course, what he was doing after 8:30 p.m. on the 30th," Farrall said.
Police don't know which of the 10 bins collected on New Year's Eve in Newark, some 15 miles away, contained Wheeler's body.
They found his car at an Amtrak station where Wheeler often caught the train to Washington. It had been parked there since Dec. 13, Farrall said. It wasn't unusual for Wheeler to leave the car there for long periods of time, he said.
Wheeler was seen alive at 3:30 p.m. Dec. 30 near an intersection about four blocks from the office of attorney Bayard Marin, who was representing Wheeler and his wife in a heated property dispute.
Wheeler's lawyer Marin said he last spoke with his client on Dec. 27, and did not know what he may have been doing in Wilmington three days later.
Wheeler was suing to block Frank and Regina Marini from continuing to build a new house across the street from his duplex. The Marini house, taller than others in neighborhood, obstructed Wheeler's view of a park and the Delaware River.
Wheeler argued that the Marini house did not comply with construction standards for new homes in the historic district. A Delaware Chancery Court judge denied Wheeler's application for a temporary restraining order on Dec. 13.
Late on Dec. 28, several smoke bombs of the type used for rodent control were tossed into the Marini house, scorching the floors, Chief Deputy State Fire Marshal Alan Brown said.
The Marinis said in a statement they offered "heartfelt sympathies" to the families of Wheeler and his wife, Katherine Klyce. Police have given no indication whether they believe the property dispute had anything to do with Wheeler's death.
"It is one facet of the investigation," Farrall said.
On Dec. 29, the day before Wheeler was last seen alive, he had asked a pharmacist in New Castle for a ride to Wilmington, about five miles away. Pharmacist Murali Gouro, who had filled Wheeler's prescriptions in the past, said Wheeler looked upset, The News Journal of Wilmington reported.
Farther south along Interstate 95, The Associated Press traced the garbage truck's path through downtown Newark before it headed to the Cherry Island landfill where workers saw Wheeler's body falling out of the truck as it unloaded. Investigators have said they believe the body was in a bin early in the truck's run.
Whoever dumped the body of a prominent national defense consultant into a garbage bin in a bustling college town risked being detected, either by witnesses or surveillance cameras, with some of the containers in well-lit parking lots, near restaurants and stores, according to AP's trace of the garbage route.
The garbage truck's route is 10 miles from Wheeler's home in New Castle. Investigators have searched the home, where yellow police tape was in the kitchen, but they have not identified it as a crime scene.
In New York, police searched the condominium Wheeler and Klyce shared in a brick building on 124th Street in Manhattan, where they had lived for at least three years.
Building superintendent Jay Hosein said Tuesday that he saw Klyce last week, and that she seemed happy and cheerful.
Efforts by The Associated Press to contact Klyce have been unsuccessful. Wheeler's family issued a statement through Newark police Monday asking for privacy.
Wheeler had twins, a son and daughter, by his first wife. Klyce has two daughters from a previous marriage.
Elizabeth Thorp, a board member of the Deafness Research Foundation, of which Wheeler had formerly been CEO, said the circumstances of his death were "too surreal."
She said he moved in a sophisticated crowd.
"This is not a guy who would end up in landfill or be murdered," she said. "It's a gigantic loss."
Associated Press writers David Dishneau in Hagerstown, Md., Kasey Jones in Baltimore, Randall Chase in Wilmington, Del., and Colleen Long in New York City contributed to this story.
Popular in the Community