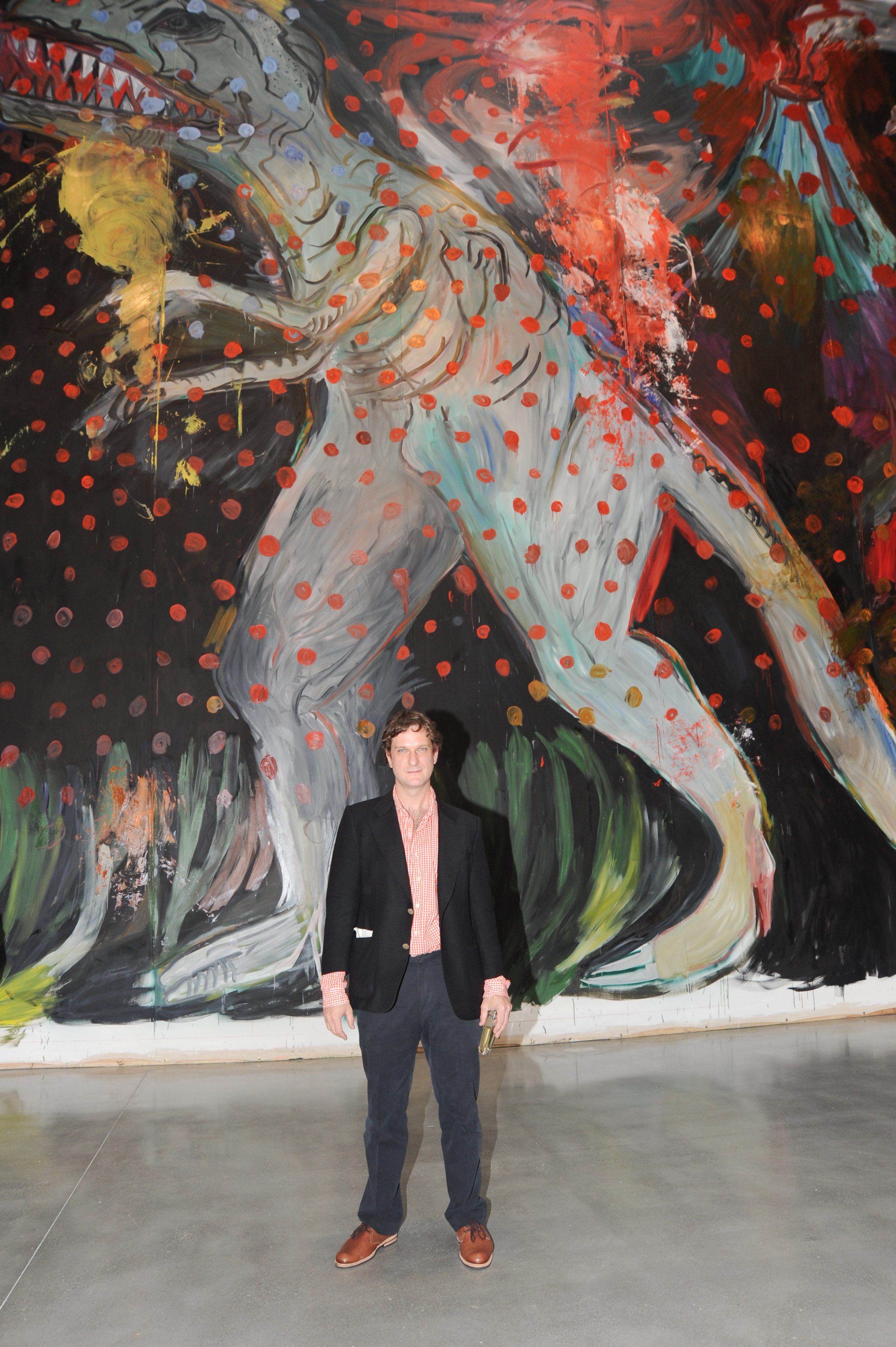 Josh Smith and his dinosaur painting, Brant Foundation/courtesy Billy Farrell Agency
If lush green paddocks, a pig roast, an abundance of celebrities, artists, art dealers, pretty young hipsters, collectors and, yes, champagne, could determine quality in art, then the New York-based painter Josh Smith, may have just hit the big time.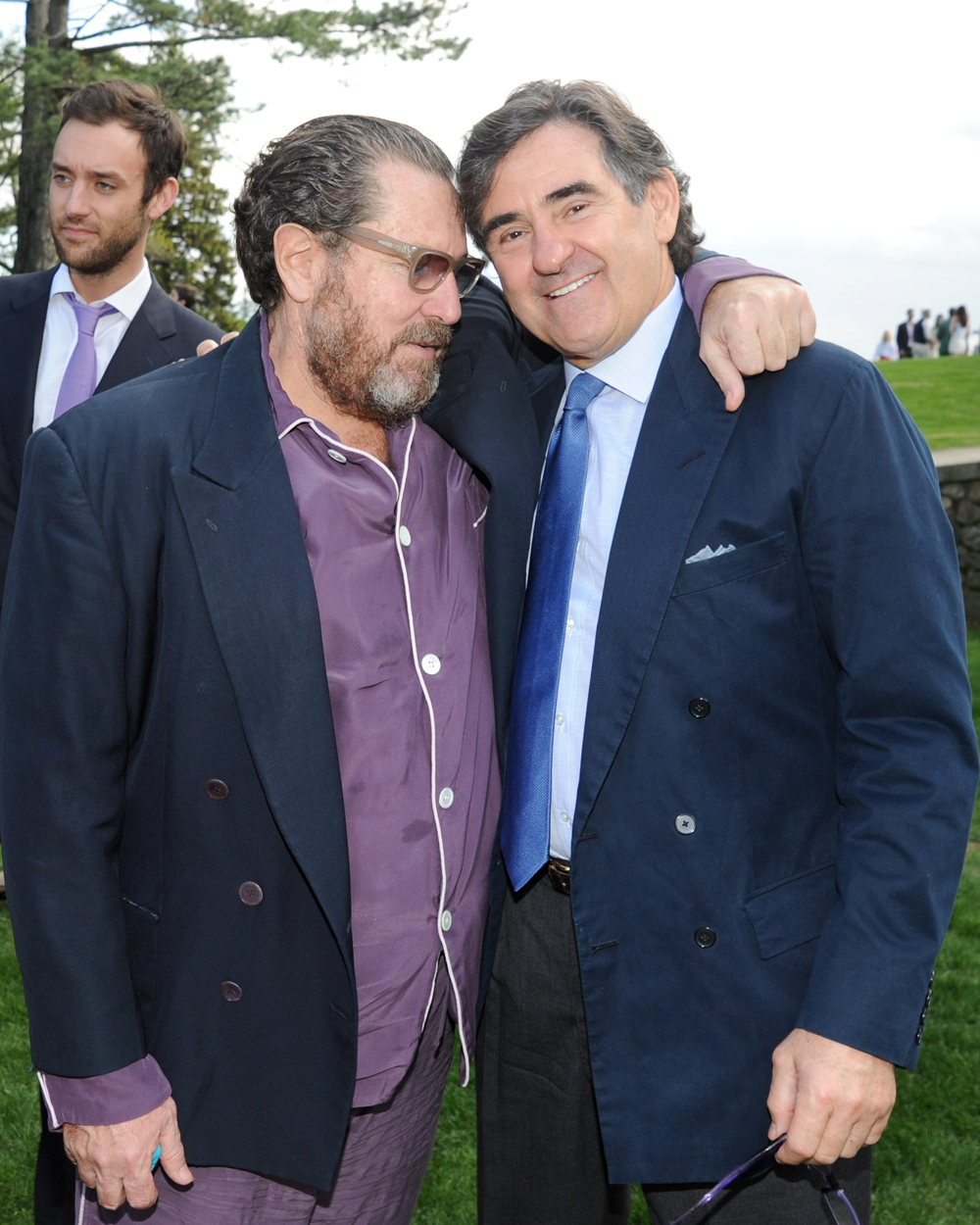 Julian Schnabel and Peter Brant/courtesy Billy Farrell Agency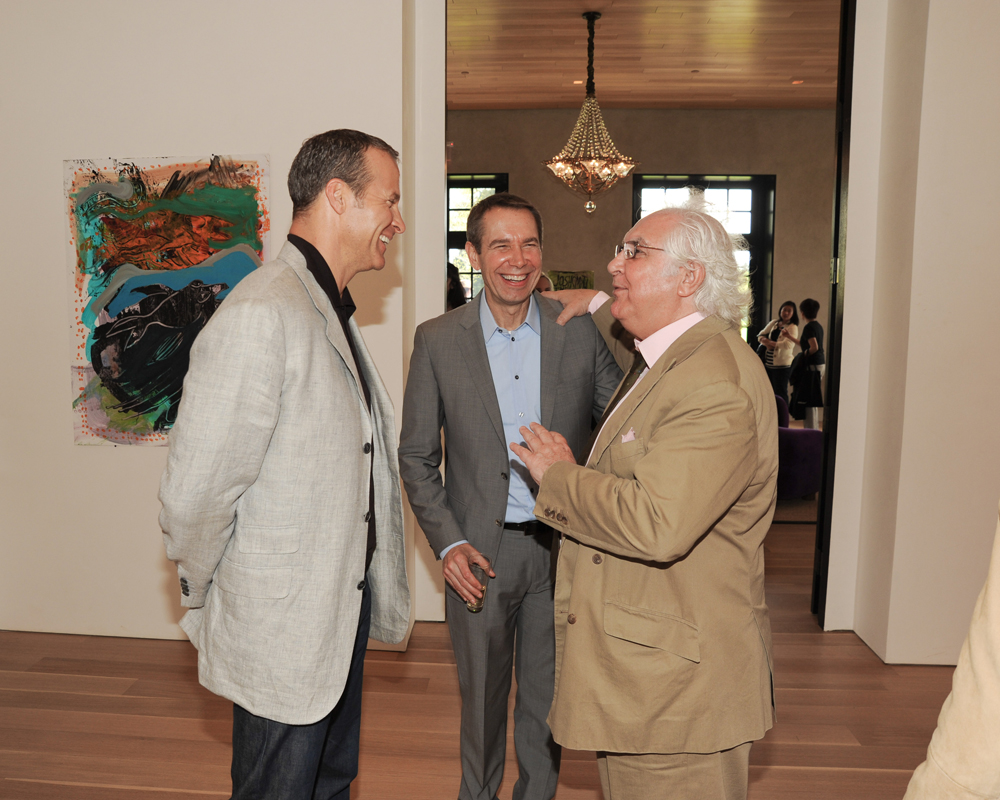 Vladislav Doronin, Jeff Koons, Tony Shafrazi/courtesy Billy Farrell Agency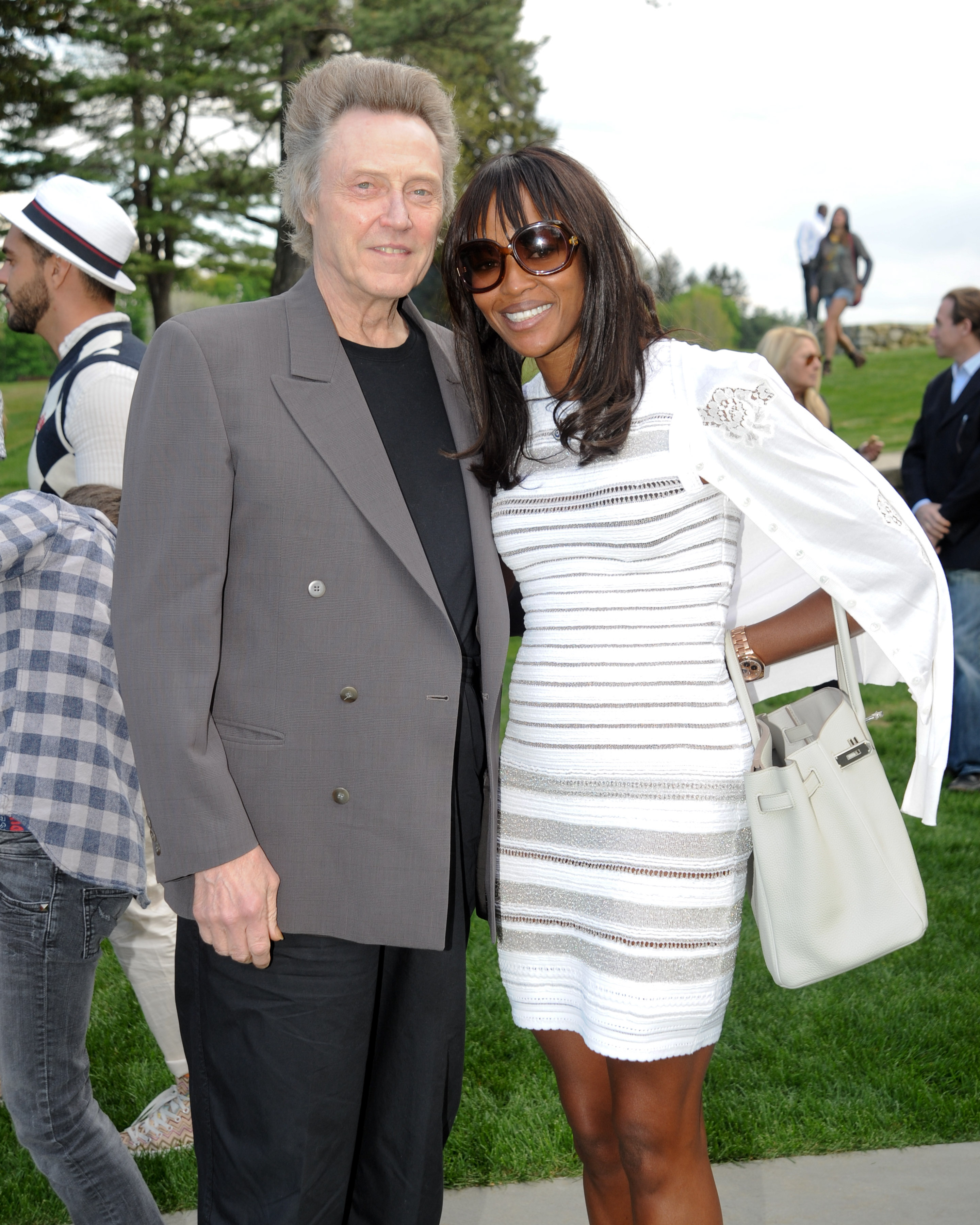 Christopher Walken and Naomi Campbell/courtesy Billy Farrell Agency
At the May 7th opening of his solo show, The American Dream, at the Brant Foundation Art Study Center, in Greenwich, Connecticut, cultural heavy-hitters showed up in droves to pay homage to their powerful host's most recent endorsement. Like a present-day Gatsby, newsprint magnate and mega-collector Peter Brant opened his converted barn to Smith's buttery large-scale paintings. Loosely rendered fish, skeletons, and a giant, exceedingly goofy, dinosaur, were all apparently dashed off in a single frenzied month.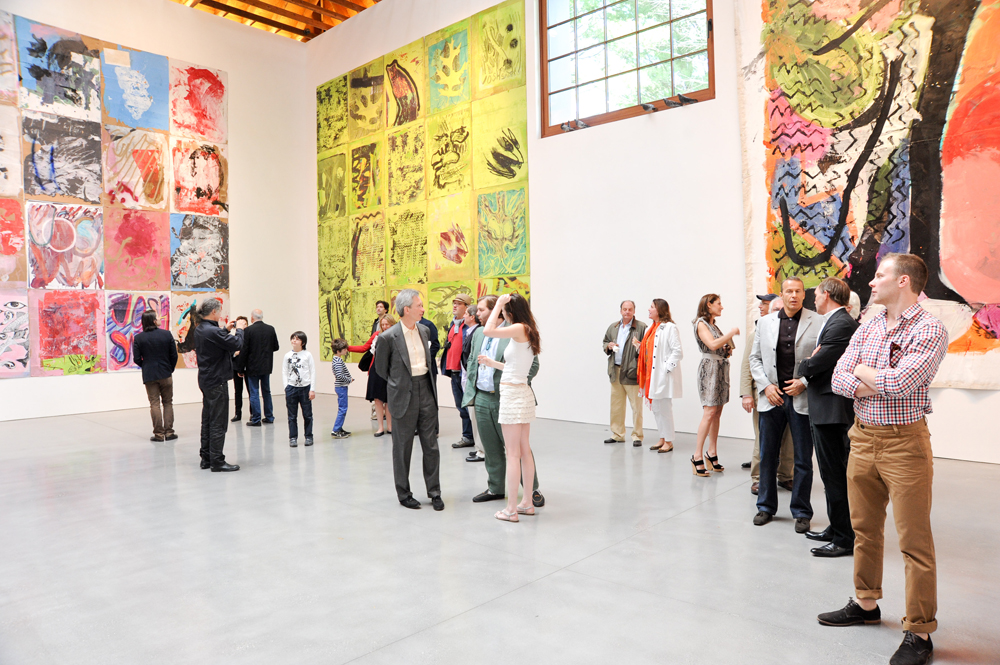 Party shot/courtesy Billy Farrell Agency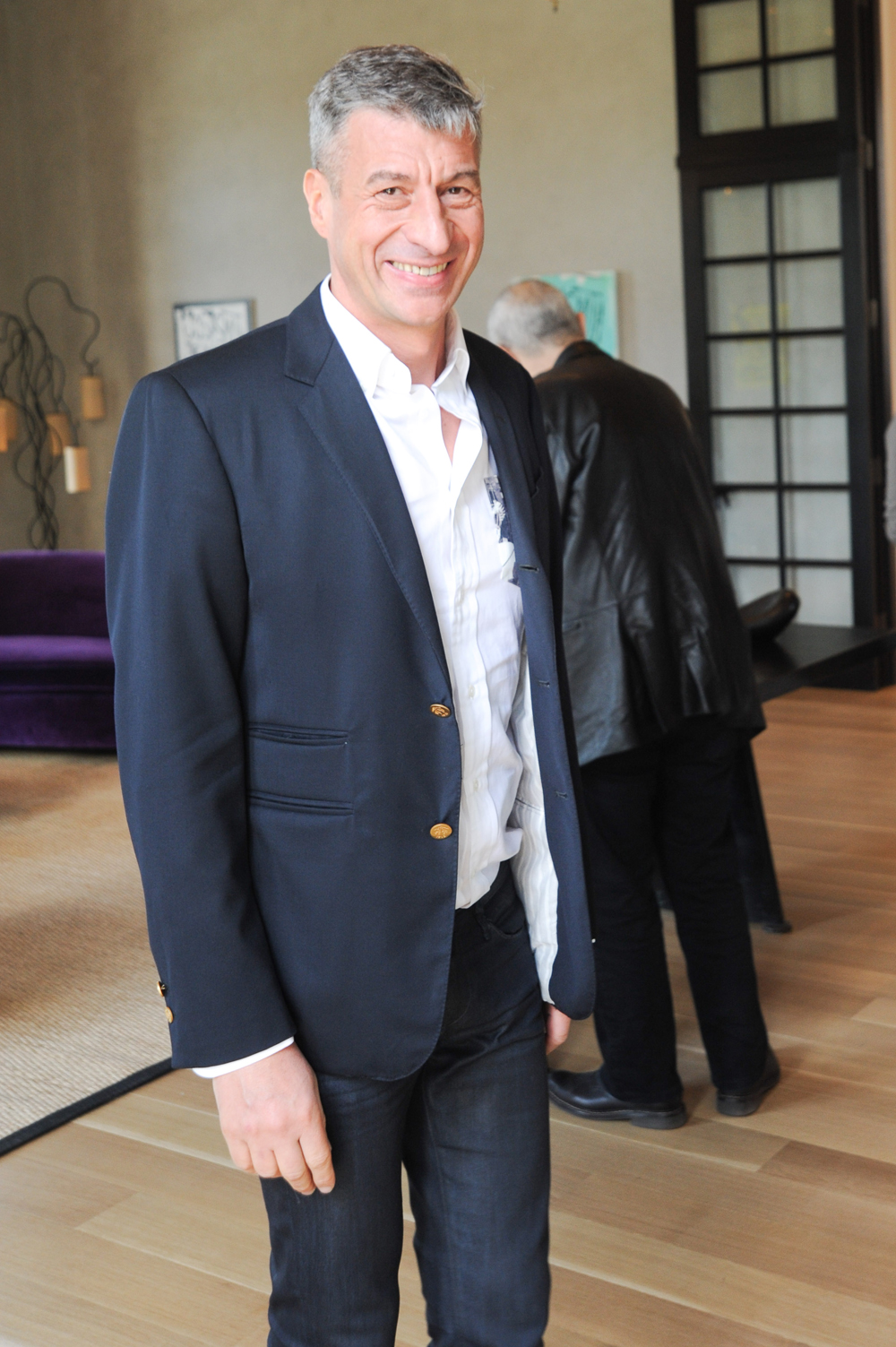 Maurizio Cattelan/coutesy Billy Farrell Agency
The fabulously dressed guests, the hushed, high-octane vibe (everything--from the valet parking to the catering--ran like a well-oiled machine), the spectacular sky, accented with the occasional fluffy white cloud, gave the party a magical feel, as if we were witnessing the American Dream incarnate.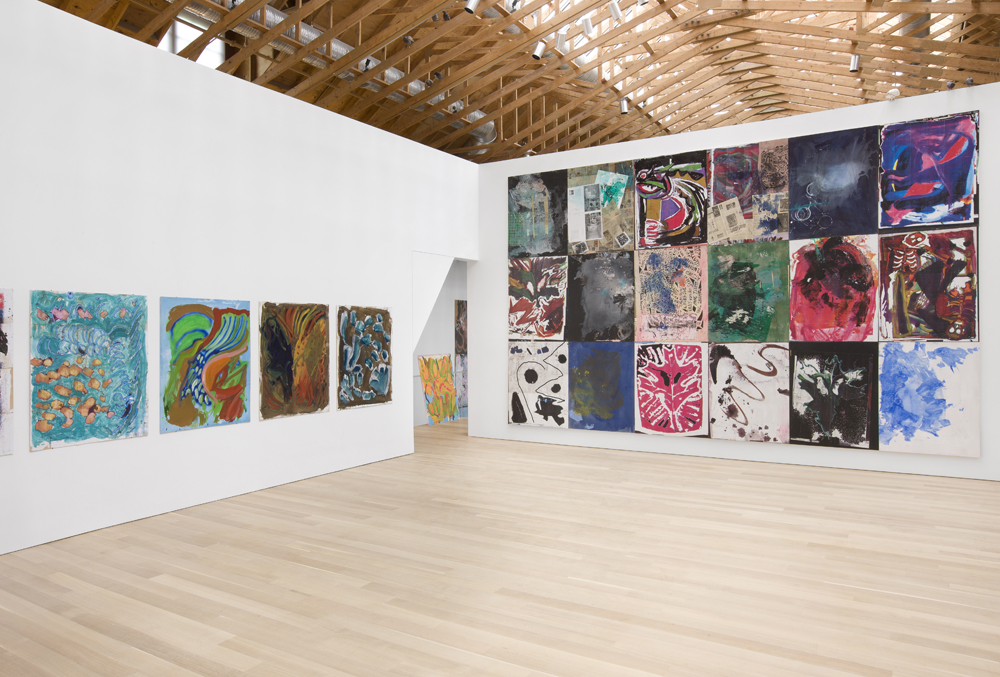 Installation view, Brant Foundation
Yet it was hard not to feel a tad skeptical about the pleased-as-punch smiles of Christopher Walken and Naomi Campbell, not to mention art stars Jeff Koons, Julian Schnabel, and Maurizio Cattalan. And what about those dealers? They all looked like best friends! It was as if the gorgeous day, and Brant's star-studded event, somehow made Smith's paintings wonderful by extension.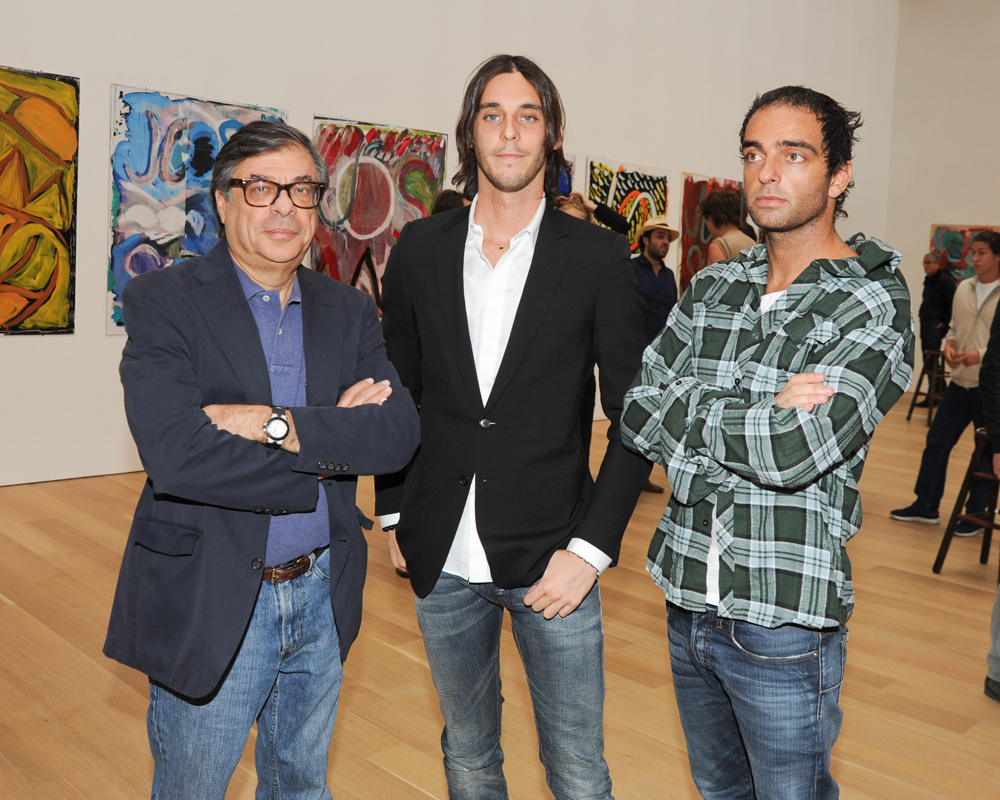 Bob Colacello, Vladimir Roitfeld, Andy Valmorbida/courtesy Billy Farrell Agency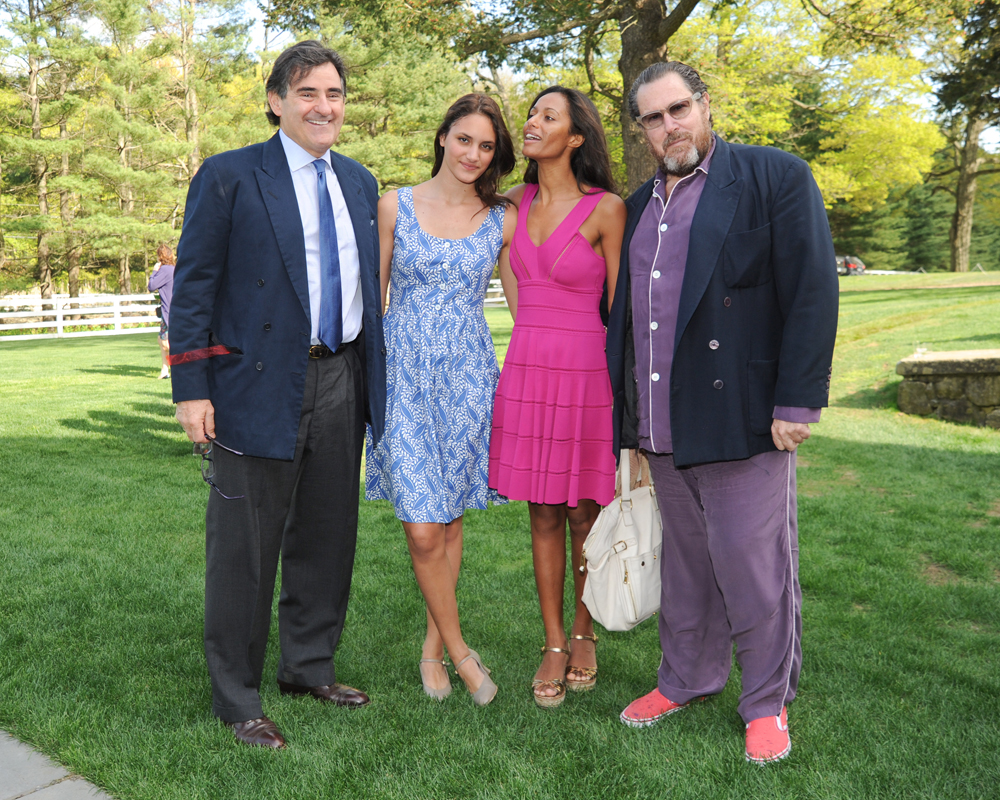 Peter Brant, Miral Jebreal, Rula Jebreal, Julian Schnabel/courtesy Billy Farrell Agency
Smith apparently consulted the Swiss provocateur, Urs Fischer, during the making of this show. Fischer's trompe l'oeil overhaul of the Brant Foundation last year was far more radical and intellectually layered. (Could he have kept his best secrets mum?) Schnabel, big man painter-cum-acclaimed-film-director, also put in his two bits. Maybe that was the problem. The art here looked as if it were intended for a movie set. It had a cardboard feel (some paintings even appeared to be painted on card board).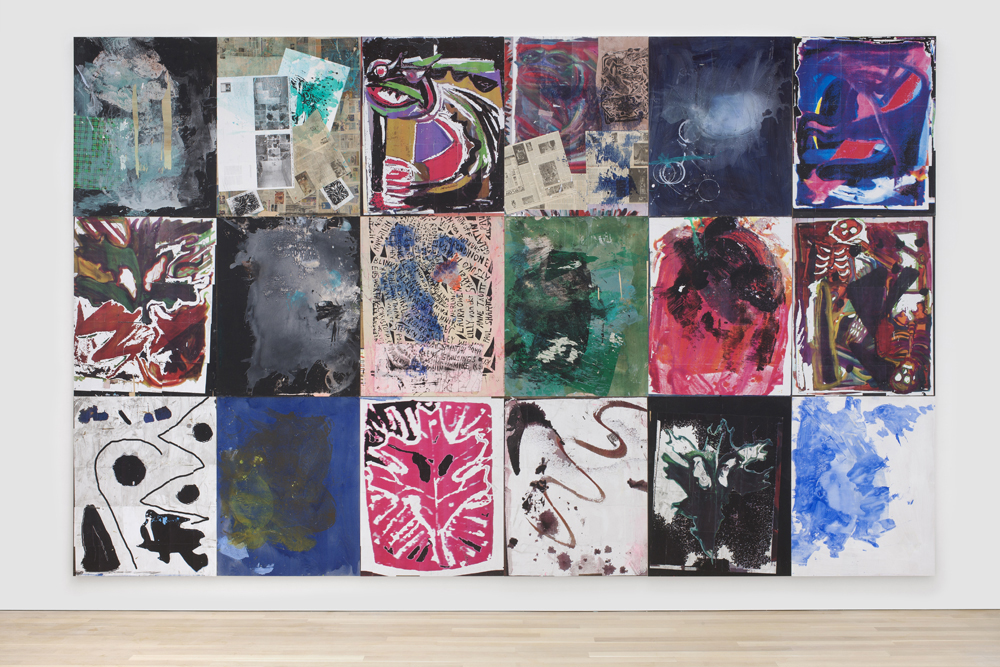 Installation view, Brant Foundation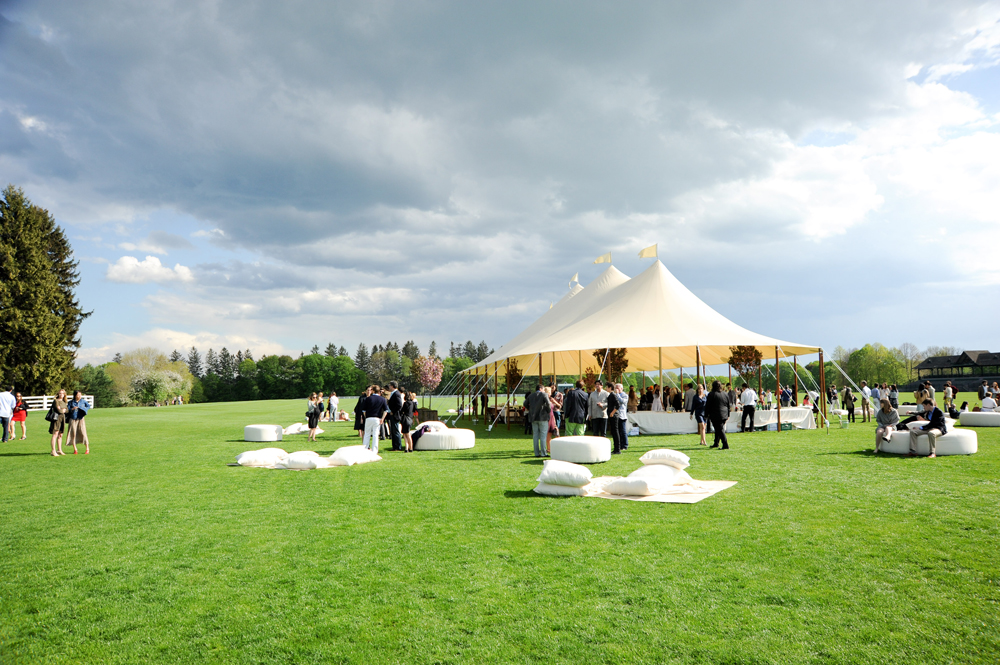 Party tent/courtesy Billy Farrell Agency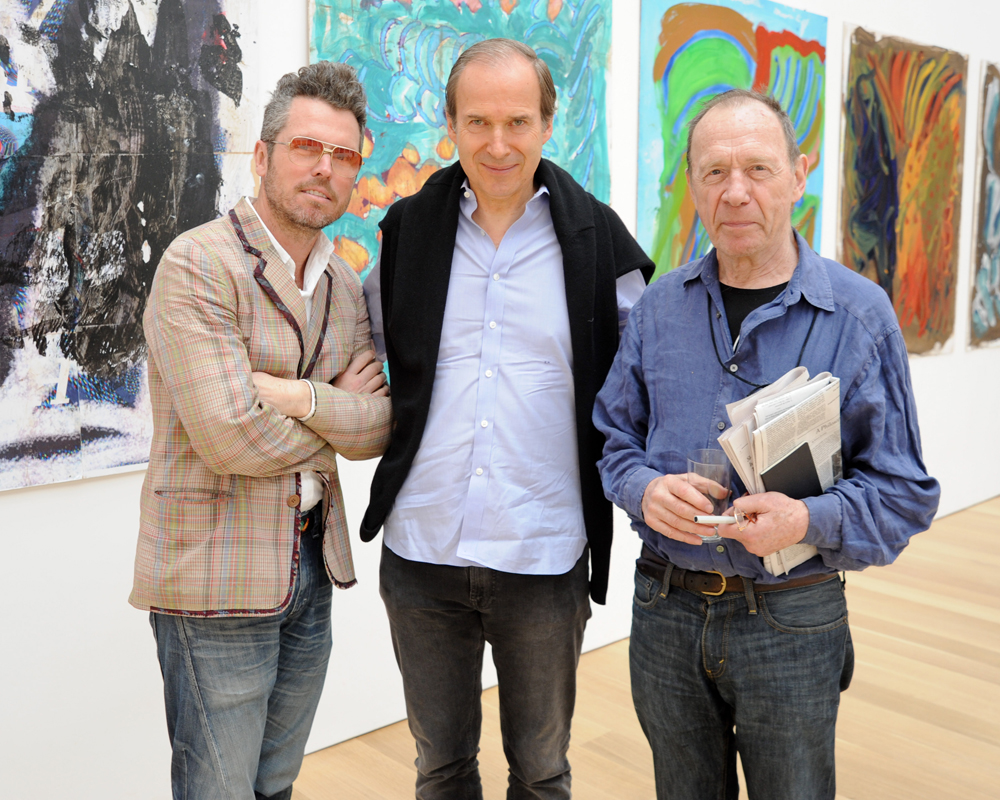 Bill Powers, Simon de Pury, Anthony Haden-Guest/courtesy Billy Farrell Agency
David Adjaye and Ashley Shaw Scott/courtesy Billy Farrell Agency
Which I guess, was exactly the point. These brightly-colored, gestural paintings looked exactly like what they are: empty painted gestures. They bear the imprint of so many other artists--Albert Oehlen, Martin Kippenberger, Jonathan Meese, and Christopher Wool came to mind, as well as party attendees, Schnabel, and perhaps most pointedly, 1980's copycat artist Mike Bidlo. That could make them funny. But there was an unctuousness to Smith's paintings, as if imitation were the only form of flattery he could come up with.
And Smith's repeated loopy signature, mocking the old-school concept of "signature style," while saying, "hey, look at me!" felt like a joke told so many times, so that instead of laughing, I just scratched my head.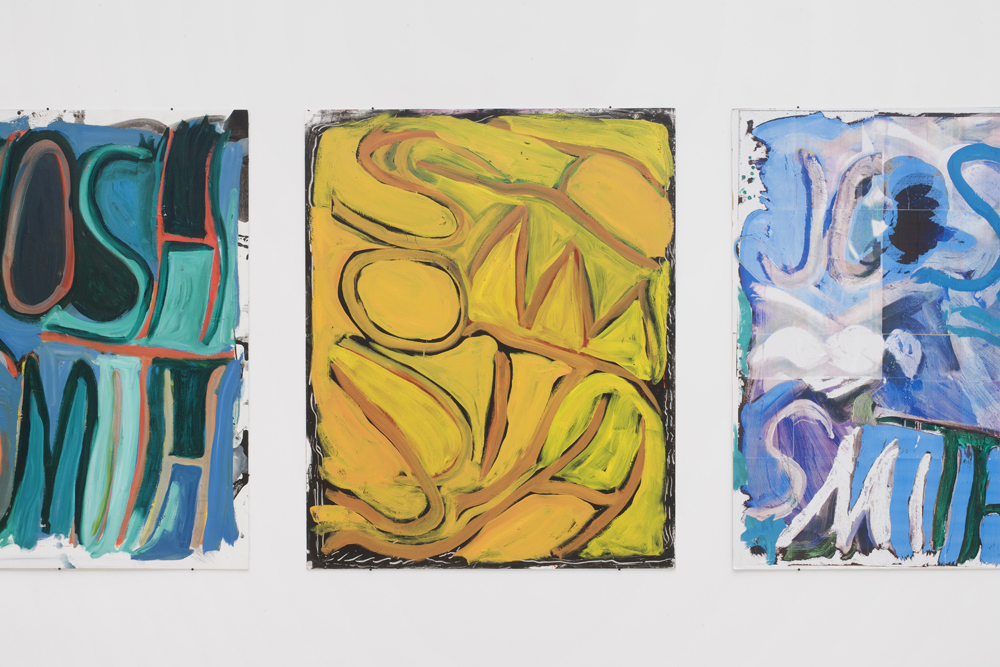 Installation view, Brant Foundation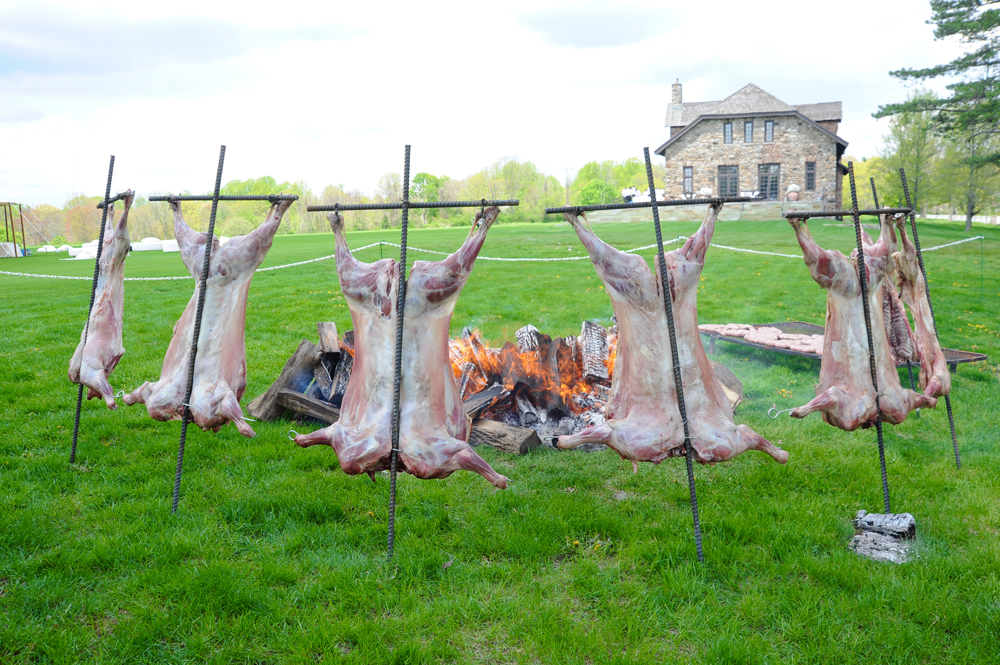 Pigs roasting/courtesy Billy Farrell Agency
Related
Popular in the Community