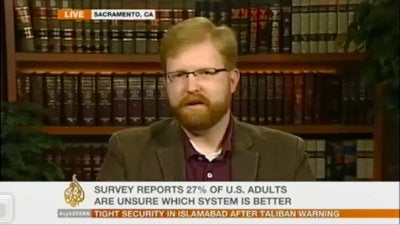 Joshua S. Treviño, a former speechwriter for the Bush administration and a co-founder of RedState.com, appeared to endorse racial profiling in border control on Monday.
Trevino wrote on Twitter, "Dear Border Patrol: my red hair and pale skin IS my passport, bureaucrats."
After criticism from other Twitterers, he later added, "For the record, kids: that border should be open, open, open. But if you're going to check documents, don't be a fool about it." He went on to say that he himself is half-Mexican (but, apparently, he doesn't look it). Accused of "self-loathing," he replied: "My loyalty is to my country, not my ethnicity."
Popular in the Community