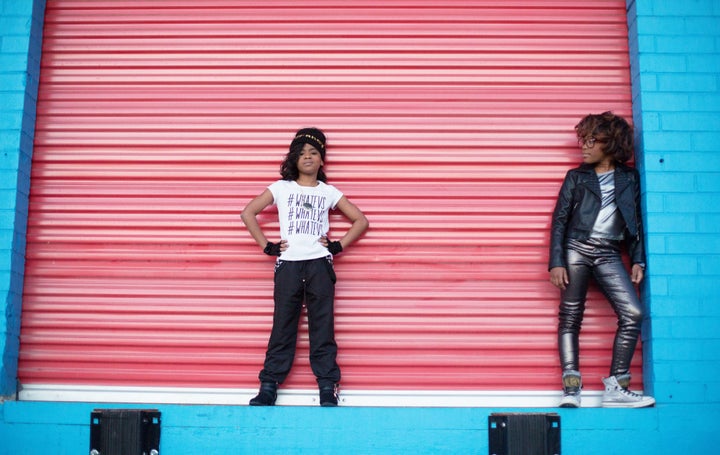 Kidpreneurs Madison Star and Mallory Iyana are not your typical grade school honor-roll kids. Immersed in their passion, the sisters —along with their mother, created body fragrances for little girls to express their true self, and smell like yummy foods too. The girls founded Angels and Tomboys for girls because all girls are created equally different. Plus, every girl has a bit of ANGEL and TOMBOY in her.
Getting their chance to seal a deal with ABC's Sharks Daymond John and Mark Cuban on "Shark Tank," the girls are in full production . Mallory, 12, and the tomboy half of the brand says being on the show was slightly nerve wrecking, "We were anxious and wanted to get it over with, but we hoped they would like it." Mallory's sister Madison, 10, is of course the angel part of the duo because she's the family's little princess.
Angels and Tomboys is a body care company for teenage girls. The body creams are a toast to all flavors that a teenager would want. Flavors such as candied apples, deep fried ice cream and frozen hot chocolate are some of the more popular sprays and lotions selling off their shelves. The girls didn't just think about the flavors but, they thought about how their bodies would consume the product. The paraben-free, vegan-friendly body line has shea butter, aloe and vitamins A, C and E to protect the skin.
So what makes these junior entrepreneurs so awesome? I talked with Mallory to get the latest scoop of these soon to be Forbes list business women.
What sparked the idea to start Angels and Tomboys?
Mallory: We came up with Angels and Tomboy's because their was no body line for girls like us. All products we tried smelled too much like an adult or was for little kids. We wanted to create something for girls our age that was very unique.
Which products do you and your sister like the most?
Mallory: I like the Frozen Hot Chocolate spray and Madison loves the Candy Star Glam which is a scent that matches her personality perfect. We like to make products that are like us.
How was your experience going on ABC's The Sharks? Did any of the Sharks make you nervous?
Mallory: I was nervous but overly confident and I knew we were going home with a deal. Daymond and Mark made me kinda nervous but, Kevin made us the most nervous!
Currently the girls are working with their mother on expanding their brand overseas and throughout major outlets in the U.S.
Be on the lookout for Angels and Tomboys in a store near you and support these little kidpreneurs.
Related
Popular in the Community