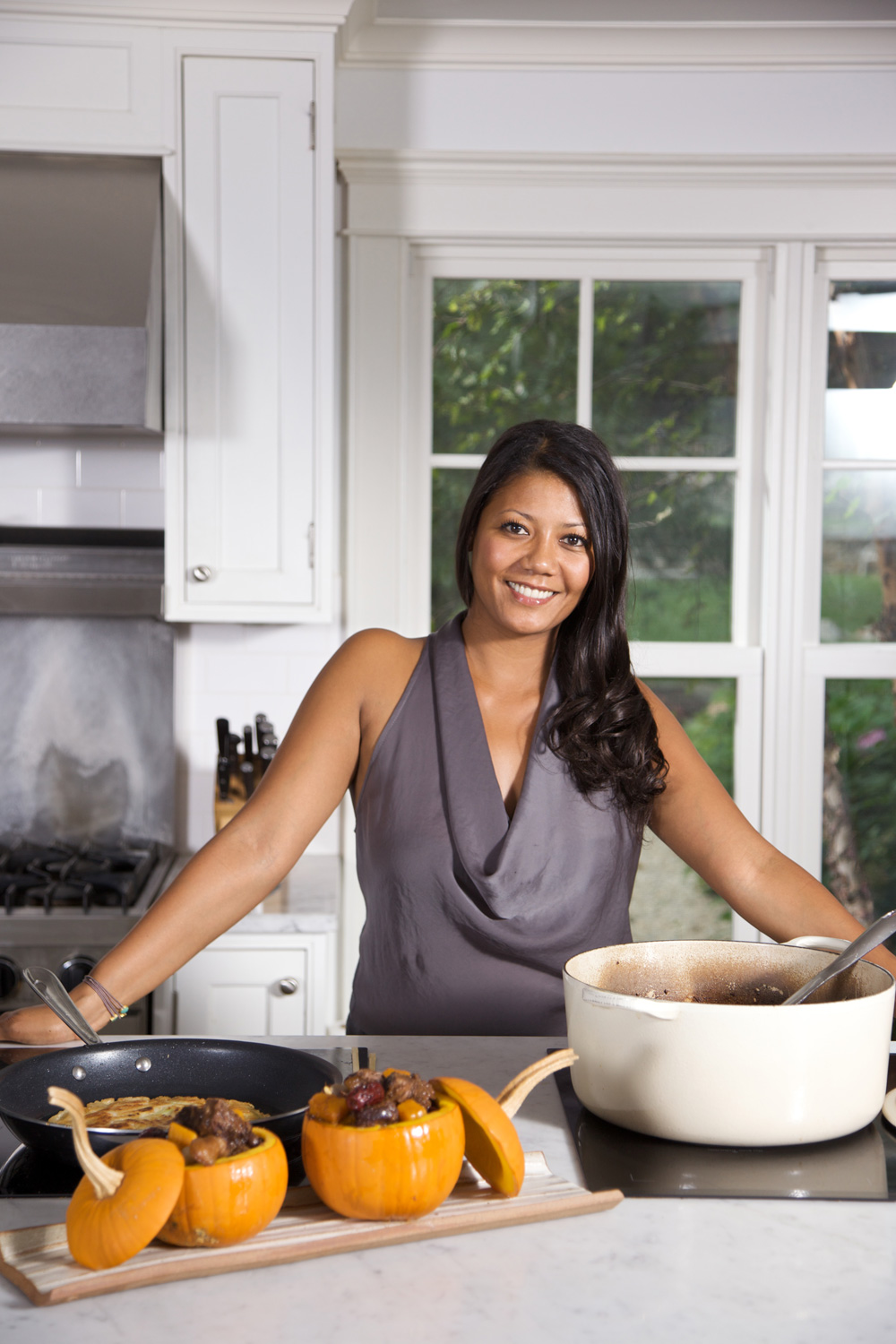 Marja Vongerichten in kitchen at home, Photo Courtesy of PBS
Once upon a time, there was a beautiful little girl born in Korea to a Korean mother and an African-American G.I. father. Due to hostile attitudes towards children of mixed heritage, she was denied a birth certificate, orphaned and at age 3, adopted by an African-American family and raised in Northern Virginia. At age 19, she miraculously found her birth mother and in 1999 met and married her prince charming, three-star Michelin chef Jean-Georges. But wait, just when you think the story couldn't get any better, the same Korean government that did not acknowledge her because she was half black when she was born, in 2011 embraced her as one of their daughters and made her an ambassador for Korean culture.
To some, this rags to riches story reads like a fairy tale, but for Marja Vongerichten is it real life. A beautiful life, where humble beginnings have led to a course of self discovery that will be uncovered on her new television series for PBS called KimChi Chronicles. Part travelogue, part food fantasy and part documentary, this show celebrates Korean cuisine and culture as well as a remarkable life story that no fairy tale could ever match.
Although food is our passport, Kimchi Chronicles is more than a cooking show. It is a fun exploration into Korean culture and history as we watch Marja, who was raised by 2 loving african-american adoptive parents, discover her Korean roots.
"I am proud to be Korean and I am proud of Korea and regardless of my lack of a birth certificate, I know Korea is my beginning and I feel connected to the air, the land every time I go there I know its my history. I don't need a piece of paper to tell me what I knew was always mine," says Vongerichten.
Food has been the greatest bridge between Marja's Korean and African-American identities and her life in America. From onset it would seem as if African-American culture and Korean culture would have nothing in common, but that could not be farther from the truth. Just like Korean food, African-American cuisine, or as many people affectionately call it "Soul Food", is deeply rooted in tradition because sharing food with family is synonymous with sharing love. Marja herself often refers to Korean food as the soul food of Asia.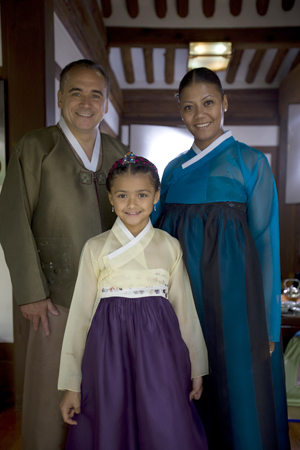 Marja Vongerichten with husband Jean-Georges and daughter Chloe, Photo Courtesy of PBS
Joining Marja on her food oriented tour of Korea is Jean-Georges, their daughter Chloe, as well as actors Hugh Jackman and Heather Graham. Marja says "The best part about sharing this experience was seeing Korea through their eyes. JG was so excited, going through the markets with it's live fish and amazing fresh produce. I totally get his enthusiasm and found myself marveling at a beautiful head of lettuce from time to time. Chloe had always loved going to Korea on vacation. It's one of her favorite spots!"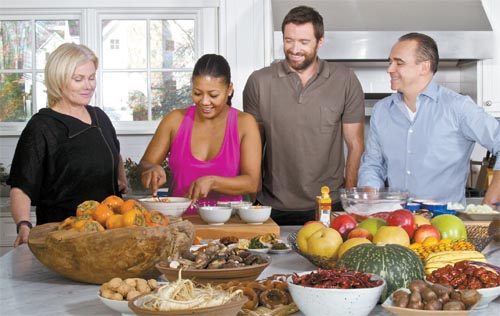 Marja Vongerichten, second from left, Hugh Jackman and Jean-Geroges Vongerichten make a Korean dish in this still from "The Kimchi Chronicles," Photo Courtesy of PBS
From watching clips of the show it is obvious that Marja puts a lot love, heart and soul in her cooking. She herself is a living and breathing of example of the harmonious beauty that comes from the blending of two cultures. From soul to Seoul, Marja is a shining example of how embracing who you really are can make life taste soooo good!
"I found that having full knowledge of both sides has enabled me to not have to choose which part of me I identify with more. I am equally Korean and AA," says Marja. "I think having a knowledge of oneself and where we come from is so powerful it's what we have to hold onto when we have nothing. I am who I am and embrace them both, not compromising one for the other and I'm happy with that."

Watch Kimchi Chronicles on PBS. The book "The Kimchi Chronicles: Korean Cooking for an American Kitchen" will be released Aug. 2.
See a sneak-peek of an upcoming episode of Kimchi Chronicles. Courtesy PBS.
REAL LIFE. REAL NEWS. REAL VOICES.
Help us tell more of the stories that matter from voices that too often remain unheard.