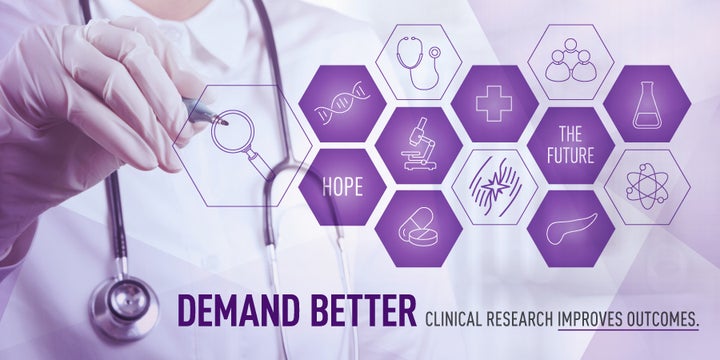 Every cancer treatment available today was approved through a clinical trial.
Let that sink in for a moment.
When Richard Blish was diagnosed with pancreatic cancer in 2009, he immediately considered a clinical trial as a treatment option. At that time, the five-year survival rate for the disease was a scant 6 percent.
With a bit of prudence and the guidance of his daughter Catherine, an MD and immunologist, he enrolled in a clinical trial – which shrank his tumor by 50 percent – allowing him to have a Whipple procedure, the only curative treatment available for the disease.
"I would not have survived without the clinical trial," he emphasized.
He's quick to let everyone know that too.
Despite the success of Richard and others like him, the clinical trial enrollment rate for pancreatic cancer remains too low at only 4.2 percent, due in part to many fears and misconceptions about clinical research.
Of the estimated 53,670 people diagnosed last year, about 95 percent were diagnosed with pancreatic adenocarcinoma, the most common and most deadly form of the disease. Less than 5 percent of those patients enrolled in clinical trials, representing only around 2,000 people. [1]
Lack of patient participation in clinical trials hinders lifesaving progress. When a prognosis for a disease like pancreatic cancer is still sadly measured only in weeks and months, every treatment option matters. But don't take my word for it, this is what a world without clinical trials looks like.
When patients participate in clinical trials, progress is made.
For example, just this past year, the immunotherapeutic drug Keytruda was approved to treat pancreatic cancer patients – as well as patients with other solid tumors – who possess certain biological characteristics. Doctors and researchers could not have determined the drug's effectiveness without patient participation in trials. Perhaps you've also heard about the recent approval of CAR-T cell therapy for adults or children with certain types of leukemia – or older blockbuster drugs like Herceptin or Gleevec – all of which were approved and are available to patients today after rigorous clinical testing.
As I mentioned in my last entry, pancreatic cancer is harrowing – but not hopeless. Richard is here today – almost nine years after diagnosis – thanks to a clinical trial. He and the countless patients who have participated have contributed to the uptick in recent years of the five-year survival rate.
And the Pancreatic Cancer Action Network (PanCAN) is also developing smarter clinical trials through Precision PromiseSM, a transformative, patient-centric clinical trial platform to dramatically improve outcomes for pancreatic cancer patients.
In the fight against the world's toughest cancer, clinical trials often provide the best treatment options and hope. I strongly encourage anyone making treatment decisions to consider clinical trials, including at diagnosis. PanCAN maintains the most comprehensive and up-to-date database of pancreatic cancer clinical trials in the United States free-of-charge to patients, caregivers and healthcare professionals. Learn more about clinical trials by visiting pancan.org/clinicaltrials or by speaking with a Patient Central Associate at 877-2-PANCAN.
[1] Matrisian & Berlin, ASCO Educ Book, 2016
Popular in the Community