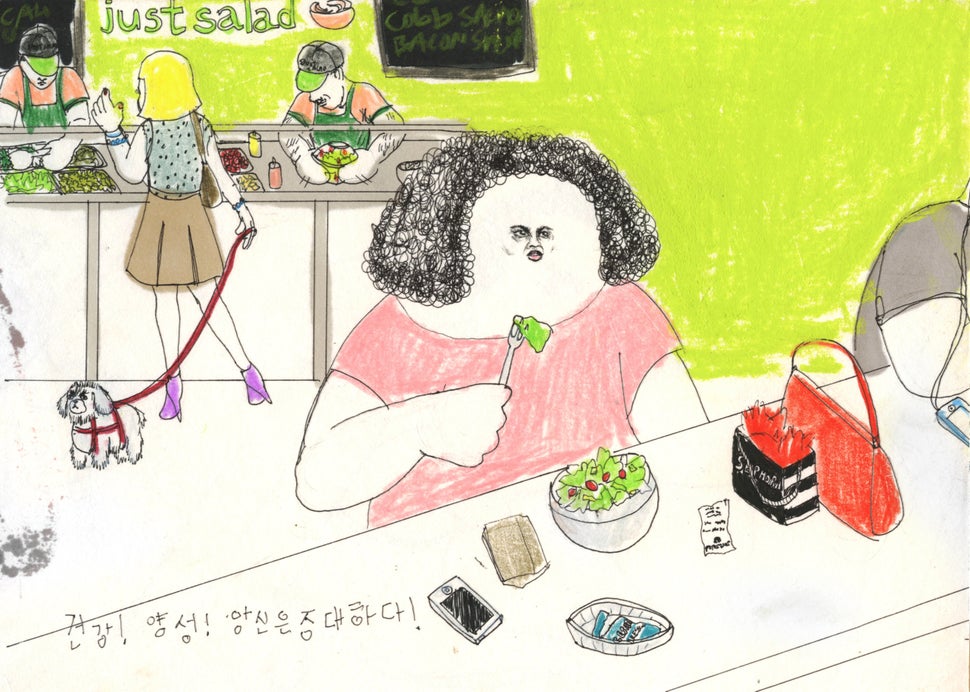 Kyung Me was born in 1991 in a very small, very white Long Island town. Born to Korean immigrants, she felt like the only Asian in her community.
"I think, generally, the big difference between Korean culture and American culture is: In Korean families, kids aren't coddled," she told The Huffington Post. "Kids are not raised like, 'You're smart, just be yourself!' Or, 'You're pretty, just be yourself!' It can cause a lot of self-loathing." 
A variation of this mindset is palpable in Kyung Me's drawing series "Bad Korean," a visual journal documenting her senior year of college in New York City from 2013 to 2014. The title, in part, references Kyung Me's disjointed relationship to her own heritage. She describes herself as "very Americanized," which is reflected in the purposefully clumsy, Google-translated titles of each drawing.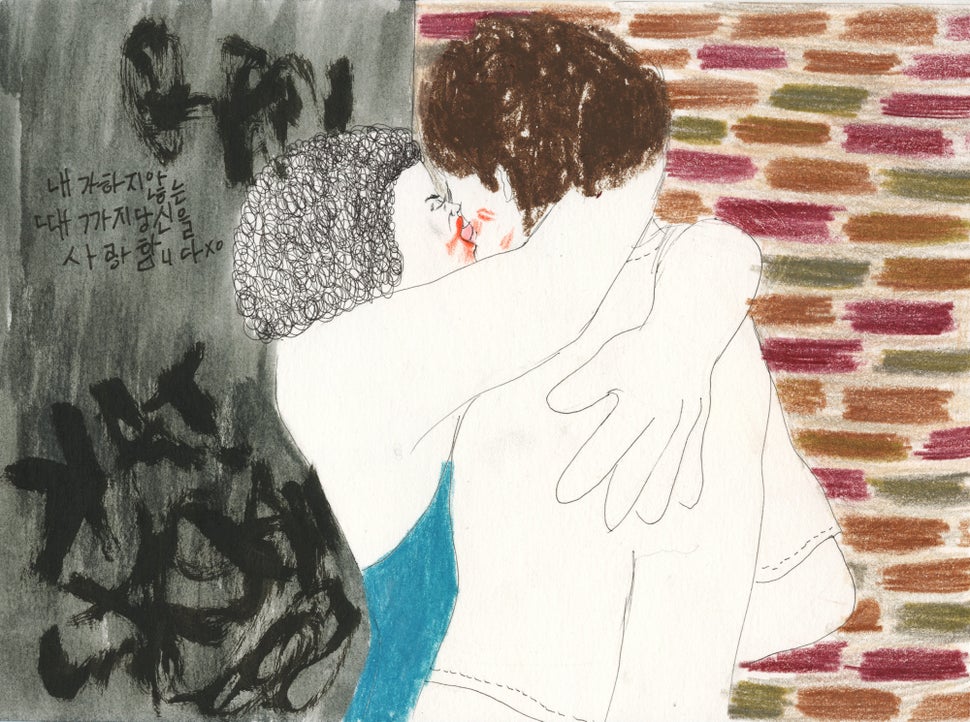 And yet, Kyung Me emphasized that her project was never meant to be a social commentary on Korean women, second-generation American women or anything other than her own story.
"At the time, she was me," she explained. "I created this avatar for myself. She was kind of this dumpy friend that I wanted to cheer on. Throughout my late teens and early 20s, I felt like a sidekick in all my relationships. It was fun to have this spinoff where I was the protagonist."
Kyung Me's drawings, rendered in colored pencil and pastel on paper, show flattened visions of everyday life in New York ― images of being optimistic and confused and gross and lonely and lost and hungry and in love. The series, despite what the title may suggest, is meant to appeal to a far broader audience than Korean women ― anyone who's ever felt out of place, out of whack or out of control will feel for Kyung Me's alter ego. 
"She's badly behaved," the artist said. "Makes bad decisions. She had bad hair, bad relationships, bad communication. Bad everything."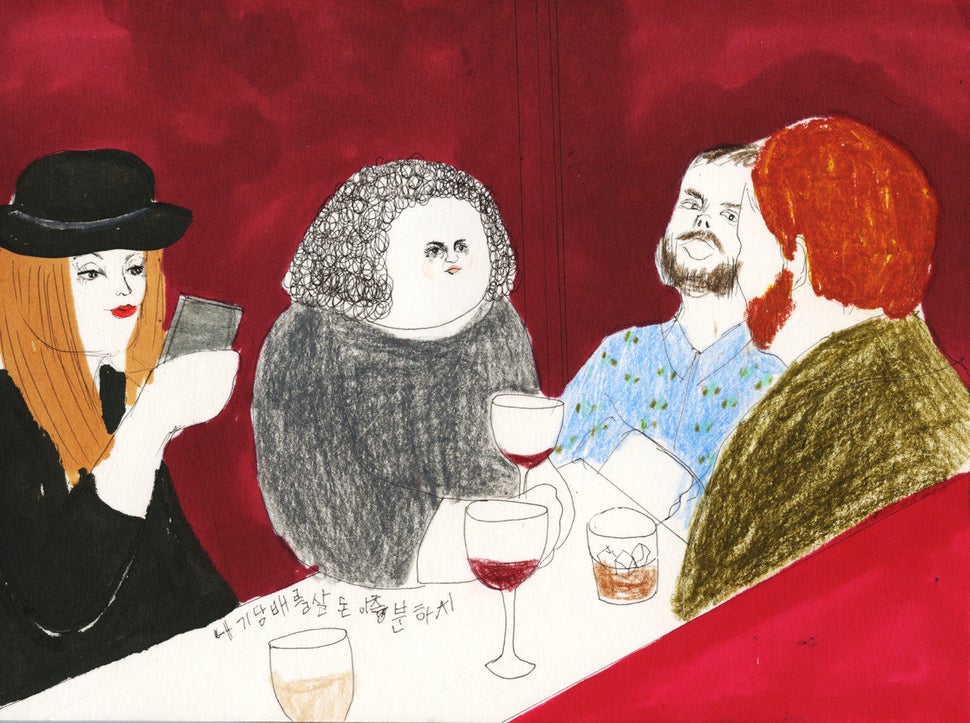 In one drawing titled "Health! Positivity! You Are Great," Kyung Me enjoys a positively mediocre looking salad at every New Yorker's least favorite dining establishment, Just Salad. A Sephora bag and crumpled receipt rest at her side. It's easy to imagine this very moment of starting fresh with a healthy lunch and life-changing, overpriced moisturizer. In another, "Is the M Train Still Running," Kyung Me stares blankly into space at a hip-looking bar, surrounded by wine glasses and presumably uninteresting banter. 
Her avatar is rendered with a hyperbolically round face, features tightly packed in the center, as if Marlene Dumas had made a comic strip. The aesthetic, the artist explained, exaggerates her insecurities tied to self-image, an insecurity she partly attributes to her Korean heritage. 
"Korean culture worships beauty," she said. "If you are beautiful as a woman, you have more weight in society. You can do things that other people can't. It's incredibly debilitating. In Korean culture, the beauty standard is to have a narrow face. Mine is wide, so I accentuated it." 
Three years after Kyung Me embarked on the "Bad Korean" series, her first foray into drawing, she is now enrolled in an MFA program at Yale. Her "Bad Korean" drawings have since been compiled into a book and are currently on view at MILLER in New York. It seems safe to say that Kyung Me's bad decisions paved the way for some very good work. 
Calling all HuffPost superfans!
Sign up for membership to become a founding member and help shape HuffPost's next chapter
BEFORE YOU GO
PHOTO GALLERY
Sally Nixon Illustrations