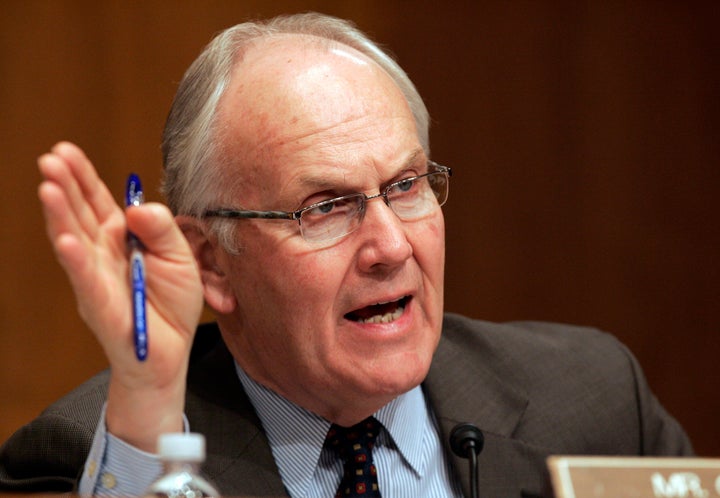 WASHINGTON -- Those walking around the halls of Congress on Monday afternoon were treated to a peculiar sighting as Former Senator Larry Craig (R-Idaho), long ago disgraced in a bizarre airport bathroom scandal and two-years removed from office, rode the subway that runs beneath the Capitol.
He was, he said, "making the rounds" to see former Senate colleagues. From which CNN reported that the Idaho Republican was now a lobbyist, free to talk shop with Congress members after waiting through a cooling off period.
Craig's firm, New West Strategies, wouldn't actually confirm lobbying was now part of his portfolio. "I didn't say that," said Mike Ware, a principal at New West, adding, with emphasis, that "the cooling off period IS over."
But the mere spotting of Craig back on the Hill was enough to raise alarms from those good-government groups who see danger in the coercive influence former members can have on old colleagues.
"This is sort of the way of Washington right now. It is not the exception to the rule but more or less a rule itself," said Dave Levinthal, Communications Director at the Center for Responsive Politics. "When you get out of federal office you think about how you can cash in that experience you gained from working in the public sector by going into the private sector."
For several of the senators who either lost their seats or retired in 2008, the transition to the world of lobbying began well before the mandated two-year cooling off period had ended. Under the chamber's ethics rules -- passed in 2006 and tinkered with thereafter -- "Senators cannot contact any Member, officer, or employee of the Congress on someone else's behalf...in order to influence their official activities" for two years. The language does not specifically bar former members from organizing lobbying campaigns in which they do not directly participate (as it is widely believe former Majority Leader Tom Daschle does on behalf of the firm Alston & Bird). Nor does it prohibit lobbying the executive branch.
In 2009 and 2010, former Senator Wayne Allard (R-Colo.), who lost office in 2008, registered as a lobbyist for his firm Allard Associates LLC. In that time period he was paid $100,000 to work on behalf of organizations like American Association of Veterinary Medical Colleges, Boulder Nonlinear Systems, Inc., and Environmental and Life Support Technology. He only lobbied federal agencies.
Former Senator John Warner (R-Va.), who retired in '08, has a similar story. Since leaving office and joining the firmer Hogan & Hartson, he has lobbied the Department of Defense on behalf of General Electric for the company's unsuccessful bid to secure funding for a dual engine program for the joint strike fighter. He was taken off the project when the influence-peddling applied to Congress.
Neither Allard's firm nor Warner's returned a request for comment.
Other members in that departing class have not, formally, registered to lobby (neither had Craig, though filing papers take 60 days to process). But nearly all are in a position to be either major rainmakers or influence-peddlers for organizations that have big business before the government.
Former Senator Gordon Smith (R-Ore.) is currently the President and CEO of the National Association of Broadcasters, a group that spent $13.7 million in lobbying in 2010, in addition to the $2.4 million that went to other lobbying firms.
Former Senator John Sununu (R-N.H.) joined the firm Akin Gump Strauss Hauer & Feld LLP as an adjunct senior policy advisor in the summer of 2010. The firm paid $35,640,000 in lobbying contracts in 2010, according to Center for Responsive Politics data. A request for comment was not returned.
Former Senator Norm Coleman is involved both with the conservative-activist group, American Action Network, and the Republican Jewish Coalition. The latter spend $80,000 on lobbying in 2010 but its Executive Director, Matt Brooks, told the Huffington Post, "Senator Coleman does not do any lobbying for us now, nor will he in the future."
Former Senators Elizabeth Dole (R-N.C.) and Pete Domenici (R-N.M) both appear to have taken the notion of retirement more literally than the others. But even the New Mexico Republican has ties that could bring him back to the Hill for a little elbow rubbing. The Senator has an institute named after him at New Mexico State University, a school that -- in hopes of procuring federal help -- spent $150,000 in 2010 on lobbying.
Retired or defeated Senators are, of course, just the most high-profiled of one-time congressional employees who can cash in on their relationships with others on the Hill. House members don't have to wait two years before they can legally lobby former colleagues. Their cooling off period is a year. Senior staffers have similar restrictions.
In all, in the first six months of 2011, just under 90 former Hill-ers will have been formally cleared to start lobbying, according to a review of federal records. How many will become lobbyists remains to be seen. But data suggests the figure will be quite high -- 43 percent of all members have spun through the revolving door, according to the good-government group Public Citizen.
"I was hoping the two-year cooling off period would have some dampening effect," said Craig Holman, the Government Affairs Lobbyist for Public Citizen. "Maybe it has had a little effect but clearly not enough... More and more we see members of Congress immediately conducting lobbying campaigns shortly after leaving Congress."

Popular in the Community