As we stood on the corner of 79th Street and Lexington Avenue in Manhattan, I confessed to my second-grade classmate that I loved someone. Dan named every other boy in our grade and then stopped guessing. That's when I disclosed my feelings for him. He looked down at his shoes and admitted, "me too."
That spring Dan asked me to walk home with him. We lived ten blocks apart, always leaving school headed in the same direction. Our walks were a secret, although I'm not sure why. Complying with his need for secrecy, I didn't even tell my best friend. Dan would signal me discreetly at recess or some other private moment to meet at the end of the block, where we rendezvoused after school. We convened there a couple of times a week, confident no one noticed us. Dan was smart and funny, and he made clever observations about people on the streets. Sometimes I carried his violin for him as we walked home.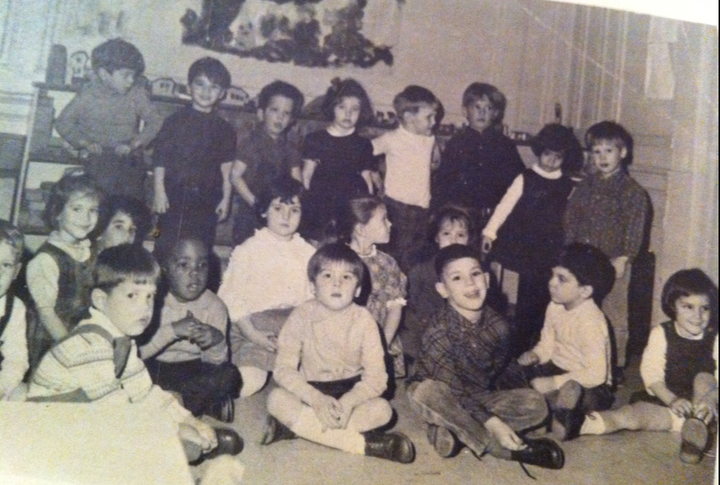 We attended the same school-sponsored summer camp in New Hampshire but barely spoke to each other during the eight-week sessions in order to maintain our secret. Our clandestine walks resumed once school started again in the fall. During the beginning of fourth grade, without forewarning or explanation, Dan ended our year-and-a-half relationship. Only ten, I recovered quickly. My family left New York to move to California at the end of the school year, but for the rest of my childhood I remembered our secret romance with affection and nostalgia.
Eight years after leaving New York, I attended an alternative college in Olympia, Washington. Few people were familiar with Evergreen then, which began its seventh year in 1978, my freshman year. The first week of college I spotted a slight, beautiful blond young man. My first thought was That's exactly what Dan might look like at eighteen. I noticed him several times during orientation week, and I finally stopped him to ask his name. When he answered, "Dan," I continued inquiring about his background and finally revealed my identity. Later that year, Dan confessed he'd recognized me immediately. I don't think he knew what to do. After eight years of wondering what happened to him, I couldn't believe he lived directly beneath me in the dorms.
Photos of Dan's girlfriend on the East Coast covered his bulletin board. He was a huge flirt but didn't yet understand how to manage non-romantic relationships. At one point, I declared that I was his friend, and he could take it or leave it. He seemed like the same insouciant, smart, sensitive person he'd been in childhood. I didn't need to sleep with him; I just wanted him in my life. Dan confessed that our secret childhood romance had also been one of the best parts of his early years. By Christmas break, we were good friends again. Dan expressed his friendship with customary as well as quirky expressions. He brought me small gifts when he traveled, and once he scaled the outside of the dorm from his room into mine just to say hello. Deeply unhappy at Evergreen, Dan told me after the holidays he didn't come back to school just because of me, but that I'd been one of the reasons he'd returned.
After freshman year, Dan left Evergreen and began writing to me. In college I studied stage management, and he'd encouraged me to go to the National Theater Institute (NTI) at the Eugene O'Neill Theater Center in Waterford, Connecticut, where his father taught. Depressed during his freshman year, Dan rarely showed enthusiasm for anything, so I figured the program must be great. He took a year off after Evergreen to sail and then transferred to Connecticut College, five miles from the O'Neill, the same semester I attended NTI. There we were, in the same place once more. In Connecticut Dan lived on his boat and showered at his father's office. We hung out together, sometimes going to the movies on my one free night of the week, and occasionally he attended activities with my class.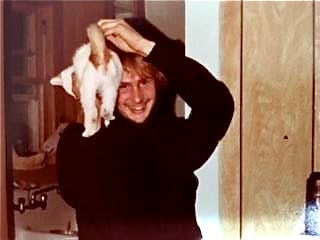 I have never been attracted to blonds, and we didn't have any chemistry. But I loved Dan deeply and was overwhelmed by my feelings. I didn't have a template for this kind of love. When I moved to New York that winter to work in the theater, we wrote each other, and I visited him at college a couple of times. In my senior year, I moved back to California and went on independent contract with Evergreen, getting college credit for projects. At some point, the letters stopped, and I decided to let our friendship go. I still didn't know how to handle my feelings, and I assumed he'd sensed it and perhaps felt uncomfortable.
I graduated from college on time with a mix of transfer credit, internships, and independent contracts. For graduation, my father gave me a plane ticket to New York City, but I delayed the trip until the spring of the next year. On a whim, I called Dan's father, my former teacher, who informed me he'd be seeing his son that afternoon and would put us in touch. During my trip to New York, I took the train to New London, where Dan was finishing his degree at Connecticut College, but my feelings didn't resurface. I made no attempts to contact him when I got home.
A couple of months later while packing for a move, my phone rang. Dan greeted me at the other end of the line. For the rest of the summer, he called me every week. Eventually the calls turned into a correspondence, and we wrote each other long, heartfelt letters. To this day, I don't know what made Dan decide to rekindle our friendship, but it slowly grew again. My feelings returned, but they no longer made me uncomfortable. I had matured, and I was just happy to have him back.
Dan is a world-class sailor, and in 1984 he and his father began a year-long trip that set a nautical record. They are the first and second people to have sailed around Cape Horn in a 25-foot sailboat. They later co-authored a best-selling book about their adventure, My Old Man and the Sea. During this voyage, Dan sent me postcards from the ports he visited. My favorite depicted a romantic couple on a tropical island. He wrote, "Not me in the picture. I'm horny. Love, Dan."
When I was twenty-six, I moved from California to attend social work school at Boston University. When I told him I'd be moving to Boston, Dan wrote to say he would be studying at BU that fall. I couldn't believe we'd end up in the same location for the third time in less than a decade. Dan confessed he had a hard time letting people know he needed them, but in Boston we soon continued our old habit of going to movies and hanging out. Dan favored horror movies, not my favorite film genre. Together we saw Halloween, Return of the Living Dead, and Angel Heart. After Angel Heart, a film that scared me, I informed him he could no longer choose our movies. To be fair, we also saw great films like Ordinary People and the Elephant Man.
Part of what bonded us was our shared history reaching back to nursery school. And I could tell Dan anything and never worry about being judged. Not outwardly emotional, he sometimes revealed feelings so personal it felt as though I'd been handed a small, fragile bird. Whoever we both were at three, we still were with each other, and without the usual defenses that develop by adulthood. We could just be.
Dan left Boston after a year, and I've only seen him once since. Our paths stopped crossing in our late twenties, but to date we share a thirty-eight-year correspondence.
Although we rarely speak to each other, it feels as if we've been having a decades-long conversation. Both writers, we're able to share our thoughts and feelings easily without face-to-face or phone contact. And no one in my life is as frank as Dan is in his letters.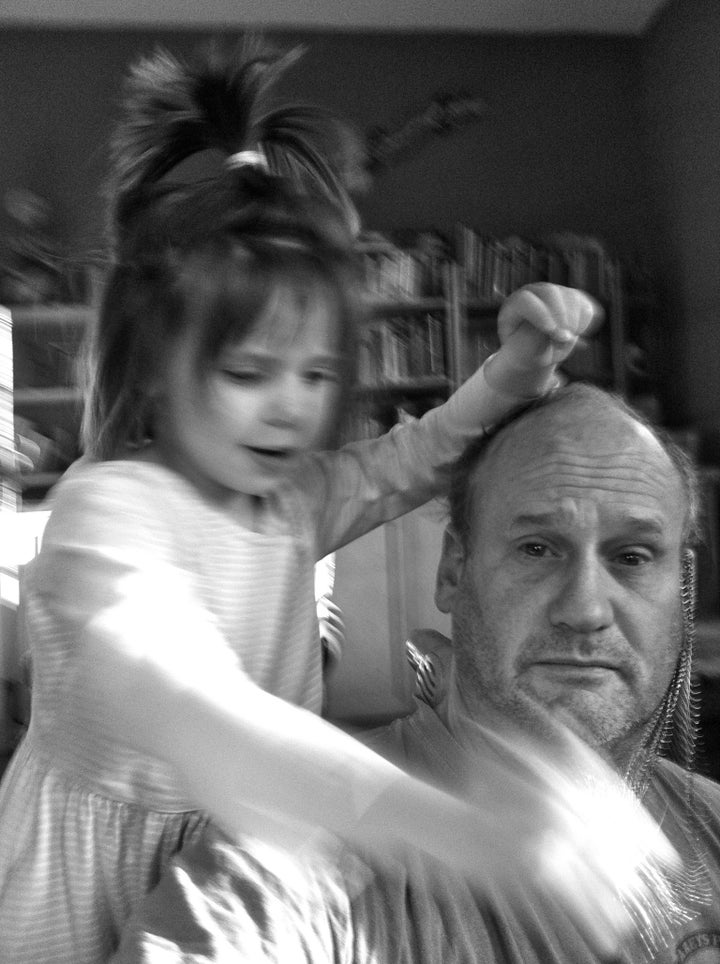 Now that Dan and I have both been married to other people and divorced, various friends sometimes ask if I want to explore a romance with him. My answer is always no. My romance with him ended in 1969. I want what I have now—absolute intimacy and trust. I still love him deeply and appreciate his feelings for me. During my divorce, he wrote, "You are important," one of the most comforting things anyone said to me in that painful time. On the rare occasions when I phone him, if his voice mail picks up, he calls me throughout the day until he reaches me.
When I tell people the story of this relationship, they are incredulous for several reasons: that I fell in love when I was eight years old; that our lives kept crisscrossing in our twenties; and that we've written to each other for almost forty years.
Dan tells funny stories about me going all the way back to first grade and knows all my secrets. We're perfect just the way we are.
Popular in the Community