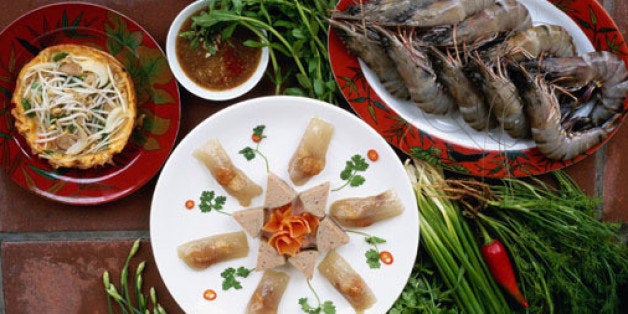 I was in Chinatown recently and asked the owner of a restaurant why certain Vietnamese dishes weren't on the menu and he said, "People don't order what they don't know. We put on menu what people know." You get so used to ordering the same number associated with the dish you know that you forget to try other things on the menu and might not realize that other dishes exist.
My conversation with the restaurant owner got me thinking about a question I was asked a few weeks ago by a local food writer. He wanted to know what Vietnamese dishes I would recommend other than pho, which is probably the most known Vietnamese noodle dish and bahn mi, a popular Vietnamese baguette sandwich. There are many Vietnamese dishes that are just as delicious and flavorful as pho and bahn mi but you wouldn't know to try them if you don't know what they are. Here are a few dishes that I grew up with. I've included the Vietnamese name as well so you can find it on a menu or at least have the opportunity to call out a new number.
1. Three bean drink aka Che.
This has been a favorite of mine since I was a little girl. It's like a grownup snow cone in a glass instead of a paper cup. There are many variations but the good ole standard is a mixture of red & white beans, mung beans, tapioca jelly, coconut cream and crushed (melts right when it touches your tongue) ice. It comes with a wide straw and a spoon, giving you a choice on how to eat or drink it. The texture of the ice, beans and the creamy coconut milk makes this a delicious combination.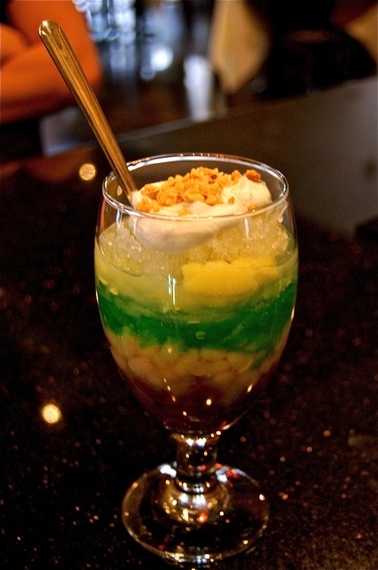 [photo courtesy of soIthinkIcancook.com]
2. Rice Crepe aka Banh Xeo.
This is a savory crispy crepe that is fried that is filled with sautéed jicama & onions, bean sprouts and pork or shrimp. It's served with a plate of Asian veggies, which include lettuce, basil, mint and cilantro and a little bowl of nuoc cham (dipping sauce). The crepe gets its yellow color from the turmeric powder not to be confused with an actual egg omelet, even though it resembles one. You wrap the crepe in the lettuce, add your veggies and dip away. Guy Fieri recently tried Banh Xeo on his show Diners, Drive-Ins and Dives at The Bunker in Ridgewood, NY. and thought it was the most amazing thing he's ever eaten.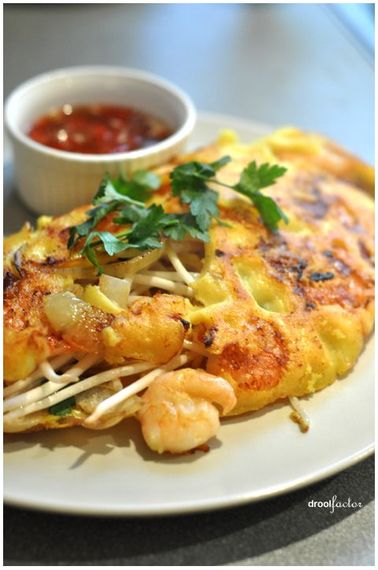 3. Steamed Rice Rolls aka Banh Cuon.
The rice rolls have a nice soft texture and is a great base for the delicious filling. They are filled with ground pork and mushrooms and served with dipping sauce. You can also order these plain and top with soy sauce and veggies. I've used a gluten-free, low sodium soy sauce called Little Soya, which adds a really nice flavor.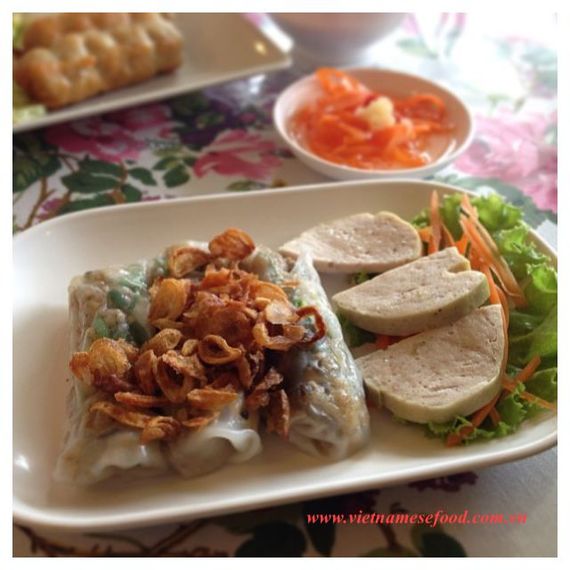 4. Vietnamese Caramelized Pork with Eggs aka Thit Kho.
This is a flavorful aromatic meat and egg dish that is served with steamed rice. The pork is simmered for a few hours in lemon grass, green onion & fish sauce. I usually make a really big pot of this and eat it for days.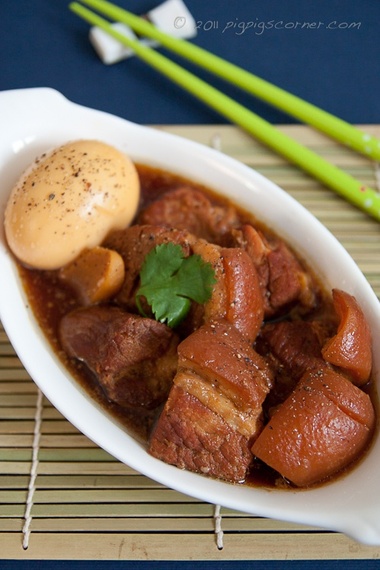 5. Steamed Pork Buns aka Banh Bao.
I remember going to Chinatown in Seattle with my mom and there was always fresh batches of these softball-sized balls of YUM with the steam still coming off the tops. Banh Bao is a steamed rice flour bun with a marinated pork mixture and bits of hard-boiled egg in the middle.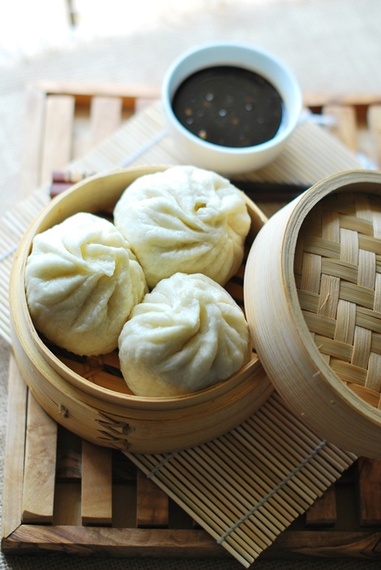 [photo courtesy of yumgoogle.com]

6. Vermicelli Noodle Salad aka Bun Thit.
This is what I like to call the Asian Super Salad. It's a layered salad that starts with a base of shredded lettuce, then vermicelli noodles, then sliced cucumbers, carrots, cilantro and lots of Asian herbs. It's served with a sauce called Nuoc Cham that you pour over the top of the salad. It can be topped with slices of egg rolls, bbq pork, beef, the options are endless. This is a great dish to share at the table before the main course.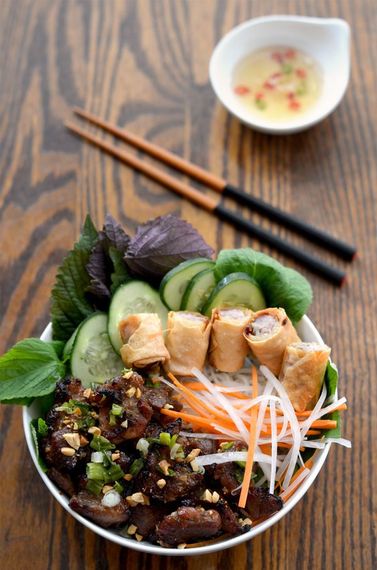 [photo courtesy of hungryhuy.com]
7. Tapioca Pudding with Coconut Milk and Plantains aka Che Chuoi.
Whenever you hear the words tapioca and coconut milk, you know it's going to be heaven for your taste buds and a major party in your tummy. This is very similar to a tapioca pudding. The creamy coconut milk concoction makes the pudding really sweet and the plantains add a bit of tart and texture. This can be eaten either warm or cold. It's generally topped with chopped peanuts and a salt, sugar, sesame seed mixture.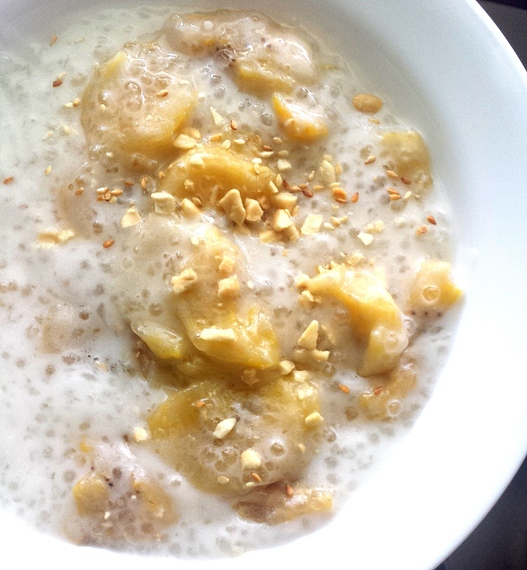 [photo by Kimlai Yingling]
8. Sweet Rice Ball soup aka Che Troi Nuoc.
I used to love making this with my mom when I was little. You boil the little balls of rice dough in water, which you can fill with a sweet mung bean mixture or leave plain. You know the balls are done cause they literally pop up to the top of the pan. When you're a kid lots of things are super entertaining and cooking these little white balls with my mom was always a highlight. The very fragrant sauce is made from simple syrup, ginger bits and pandan leaves.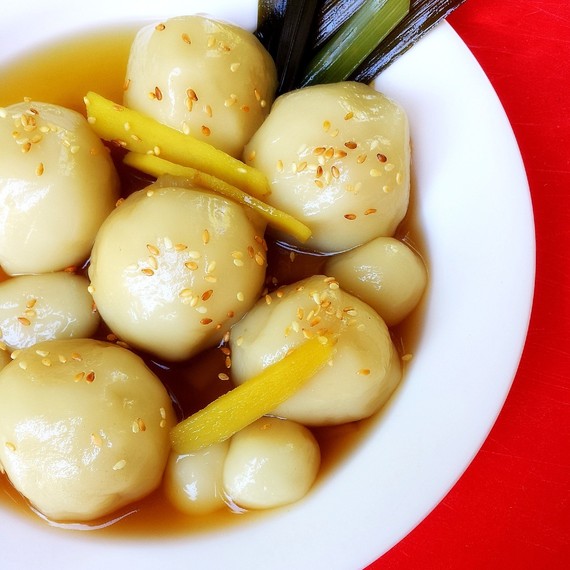 [photo by Kimlai Yingling]
9. Sweet n Sour Soup aka Canh Chua.
This was one of the first soups my mom taught me to make and it remains a favorite because of the sweet and sour combination. It's made with a fish stock and lots of seafood. We made ours with white fish, shrimp, and pineapple bits. You can eat Canh Chua over vermicelli noodles, plain or with steamed rice. This soup needs to be topped off with all the Vietnamese herbs (cilantro, basil, mint, lime wedge) and a bit of shrimp paste for salt. Mix it all up and enjoy!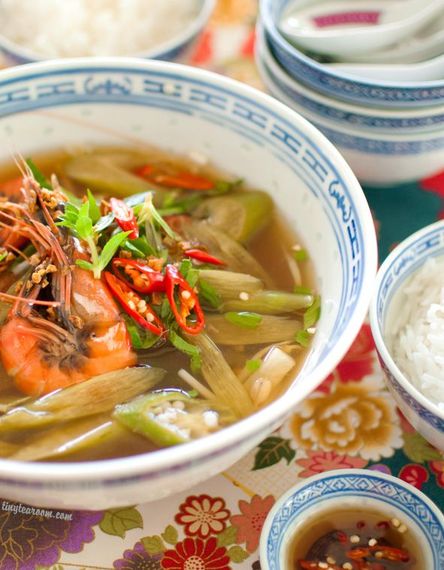 [photo courtesy of honestcooking.com]
There are so many wonderful Vietnamese dishes but this is a good list to start with. Happy eating!