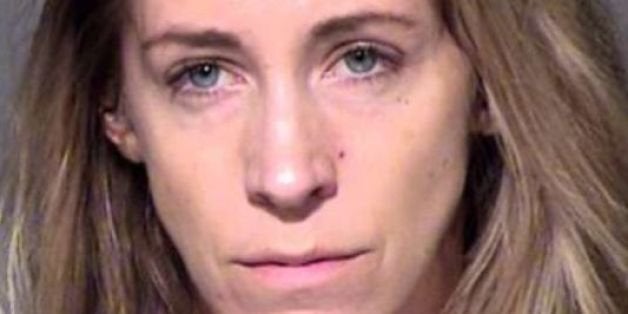 The attorney for a Scottsdale, Arizona, woman accused of performing a sex act on a teen at a bar mitzvah says his client was slipped a date-rape drug prior to the illicit encounter.
Lindsey Radomski, a 33-year-old yoga instructor, faced 21 felony charges -- including sexual conduct with a minor and sexual abuse -- in March, following alleged lewd conduct at the bar mitzvah. The event was attended by 80 to 100 people, including children.
According to court documents, Radomski exposed her breasts to a crowd while intoxicated at a bar mitzvah party at a home in Scottsdale. She was told by other adults not to do it again, but later flashed a group of boys by the swimming pool in the backyard.
That night, once most of the guests had left, Radomski allegedly led a group of seven boys aged 11 to 15 to a bedroom, where she allowed them to fondle her breasts. She is also accused of performing oral sex on a 15-year-old boy later on. According to KPHO, the boy told his parents about the incident the following day.
In her initial court appearance in March, Radomski pleaded for leniency and admitted she had been intoxicated. She told police she remembered flashing the crowd, but said she was too drunk to remember any of what allegedly transpired afterward.
Blackwell said he does not know who drugged Radomski. He told The Arizona Republic that the grand jury's decision not to return an indictment was "not at all" a surprise to him.
Since the grand jury did not indict Radomski, the case will be returned to the Scottsdale police. The Maricopa County Attorney's Office's has suggested additional investigation, Scottsdale police spokesman Sgt. Ben Hoster told The Arizona Republic.
The case could also head to city court, where Radomski would face misdemeanor charges for indecent exposure, the newspaper reports.
Popular in the Community