One of the reasons I attend Americana music festivals is for the opportunity to be exposed to new music and musicians I might never have sampled on my own. Following is a list of some my favorite Americana musical discoveries of 2014 in no particular order and where I first heard them. I hope that you will share your own discoveries.
Sunliner -- Rooster Walk 6 and Reynolda House Backyard Barbecue and Brews
Sunliner is a song-driven roots rock band that fuses the artistry of The Infamous Stringduster's lead singer and bass player Travis Book and his singer/songwriter wife Sarah Siskind, whose songs have been featured on ABC's hit show Nashville and Pretty Little Liars, among others. At SXSW 2013, Time Magazine called her "one of the 5 best voices." According to their website, Sunliner's sound is unique, encompassing rock, folk, country, jazz fusion and blues, but the music remains firmly rooted in the Virginia soil where they now make their home. Both amazing artists in their own right, I hope to hear more from this husband and wife team in 2015.
Balsam Range -- MerleFest
Balsam Range is made up of five outstanding acoustic musicians and singers from Western North Carolina. According to their website, for their band name they thoughtfully and respectfully adopted the name of a majestic range of mountains that surround part of their home county of Haywood, where the Smokies meet the Blue Ridge, the Balsam Range. The band received numerous top honors in the 2014 IBMA Awards, including Entertainer of the Year. Balsam Range was also honored as Vocal Group of the Year. Buddy Melton was named Male Vocalist of the Year, and Tim Surrett received a Mentor Award. The band's fifth album, Five, made its Billboard Chart debut at No. 4 and remained on the Billboard chart for an impressive six weeks. I heard them playing one afternoon at MerleFest and they had me at their single, "Trains I've Missed." I believe they will have your attention if you give them a listen.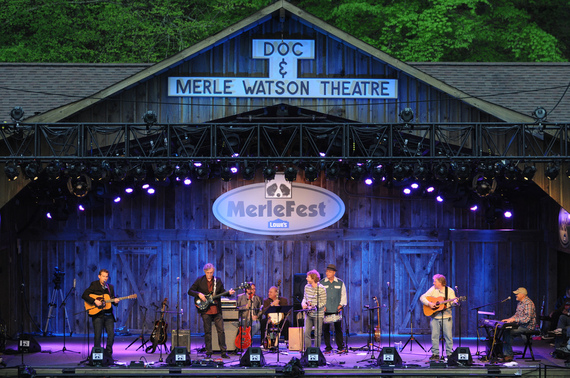 Sturgill Simpson -- Prairie Home Companion (My backyard)
So this one you may say doesn't count because I didn't hear him perform in person, but I did hear Sturgill Simpson perform on Prairie Home Companion "live" on my radio in my backyard and he is too good a find to leave off my list (and hey, it's MY list, after all, so who's to say who does and doesn't count?). If you haven't heard him, it's only a matter of time. He and his new album, Metamodern Sounds In Country Music, made a number of best of 2014 lists, including NPR's 10 Breakout Artists of 2014. He's been compared to Waylon and an early Hank Williams Jr., But don't take our word for it, judge for yourself here.
The Deadly Gentlemen -- MerleFest
The Deadly Gentlemen were the last act I caught at MerleFest 2014 before listening to Merle Haggard, who closed out this year's festival with an impressive performance. The only reason I happened to hear The Deadly Gentlemen was because they hit the Hillside Stage after Jerry Douglas, whom I will stand in the pouring rain to hear make sweet music with his dobro. Based out of NYC (yes I know, it seems unlikely that a band from THE city would be playing in the hills of Wilkesboro, N.C.), they had me wishing for more. I think you will, too, after you give them a listen here.
After Jack - Rooster Walk 6
After Jack caught my attention at Rooster Walk with their amazing harmonies and foot-stomping, old-timey string band tunes. The Franklin County, Va., trio merged in 2011 after meeting while working as performers in a professional theater company, according to their website. Their first album, Echo, was produced by Aaron Ramsey of Mountain Heart. After Jack couples a modern sensibility with distinctly old-time energy to blend bluegrass, gospel and folk elements. The band won the Local Roots Band Competition at the Red Wing Roots Music Festival in July 2014. After Jack, which is scheduled to perform at Rooster Walk 7 over Memorial Day weekend, was named the 2014 Americana Vocal Band of the Year by the Appalachian Cultural Music Association and competed in the 2014 Telluride Bluegrass Festival Band Competition.
Hackensaw Boys -- FloydFest
The Hackensaw Boys caught my attention at FloydFest 2014 when someone mentioned they were tied to Old Crow Medicine Sbow, one of my all-time favorite groups. Turns out, according to Wikipedia, Phillip "Jigsaw" St. Ours played washboard in both Hackensaw and Old Crow early on (1999-2001), and then for Hackensaw in (2008). Like OCMS, The Hackensaw Boys are a lot of fun to watch, and I dare you not to dance when you hear them play.
Sanctum Sully - MerleFest and Rooster Walk 6
I am slipping Sanctum Sully on this list because they had a new album in 2014, Southern Trees. To be honest, however, I actually discovered them last year for the first time at Rooster Walk 5. This rockin' bluegrass band is so good, and were so amazing at their MerleFest 2014 debut, I had to add them to this list so that I could share their music with an even wider audience. The hit TV show Moonshiners should use Sanctum Sully's Lost Cove as its theme song. Based out of Asheville, N.C., the band describes their music as coming from beer-stained bar stools where blues, rock and bluegrass swap stories and trade tall-tale tunes. The polished five-piece acoustic group has been voted one of Western North Carolina's top three bluegrass bands for four years running. As their website states, three-part harmonies, mandolin, guitar, banjo and bass, Sanctum Sully can certainly pull off a traditional bluegrass tune in style. They are also a lot of fun. Mountain Xpress describes Sanctum Sully as, "Like Steep Canyon Rangers or Chatham County Line, the band's melodic pathways are paved mostly with pop, harnessing tangled acoustic instrumentation to make hooks as unavoidably catchy as mountain bramble." Give them a listen. You won't be disappointed.
Mandolin Orange --- MerleFest
I caught a few strains of Mandolin Orange performing on the Americana stage and knew immediately I wanted to hear more. What I didn't realize at the time was the duo hails from Kernersville, N.C., just down the road from me. Over the past few years, according to their website, Mandolin Orange has shared bills with Rosanne Cash, Chatham County Line, the Steep Canyon Rangers and Abigail Washburn, and traveled as far as the UK to perform at festivals, including Ulster's 21st Annual Bluegrass Festival, Shakori Hills Grassroots and Hopscotch Music Festival.
TAUK is a bit of a divergence from the rest of my list, but after interviewing these guys from Oyster Bay, N.Y., at FloydFest and discovering how genuine they are and hearing everyone else's reaction to their music, I felt compelled to include them. The quartet keeps popping up on my Sirius radio as a reminder of what I heard from them last summer and their newest album, Collisions. Their website describes their music as heavy instrumental rock fusion created by Matt Jalbert (guitar), Charlie Dolan (bass), Alric "A.C." Carter (keyboard-organ) and Isaac Teel (drums). The Washington Post says: "TAUK's instrumental music melds genres and styles, creating a hard-charging, often melodic fusion that -- thanks to a penchant for improv -- offers limitless possibilities" and The Deli Magazine singles out the band's compelling melodic sense through explaining: "the quartet has a rare ability to channel emotional melodic leads, and all without a lead singer."
Popular in the Community