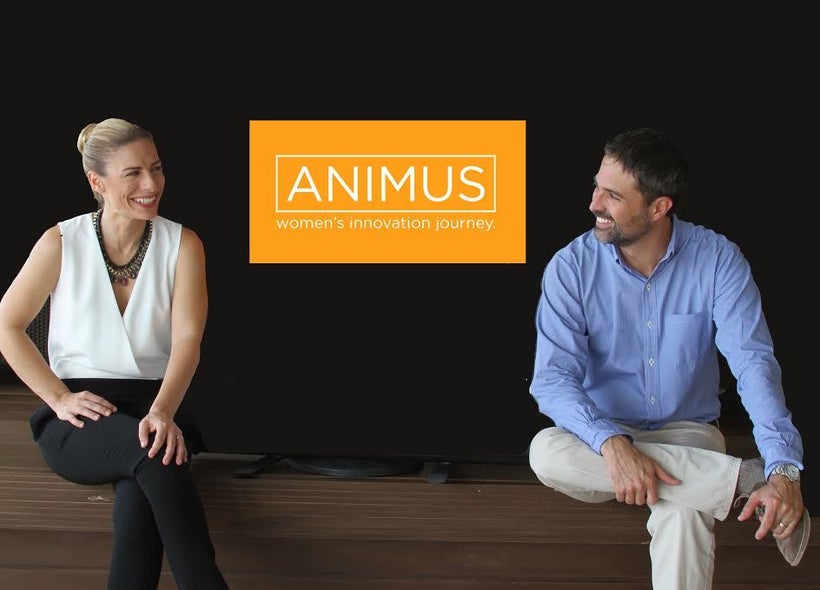 In advance of the Animus summit, an innovation platform designed to maximize women's economic and personal development around business, mindfulness, empowerment, and entrepreneurship, to be held on September 30 in San Juan, Puerto Rico, I spoke to founders Lucienne Gigante and Carlos Cobian. We discussed entrepreneurship and social innovation, issues to be discussed at this year's summit, and much more.
Tell me about your interest in entrepreneurship and social innovation. Was there a moment or experience that sparked your journey into this space?
Lucienne Gigante: There is a Kauffman Foundation study that talks about women entrepreneurship as key of unlocking economic growth. It changed my life the first time I ran an accelerator to drive women's entrepreneurial growth. Mainly because of its multiplier effect, the employments created, the lives impacted. It became clear that a platform was needed at a larger scale to fill the gaps towards women's economic development. Especially in Puerto Rico, where 60% of women, head-of-household in the labor force live below poverty levels. Investing massively in women economic development can truly be a key solution for Puerto Rico to thrive out of its long-term recession.
Carlos Cobian: I have been an entrepreneur since I was a little kid, getting involved in social projects and, at a later age, hosting music festivals and private events in Puerto Rico. Seeing first-hand how entrepreneurship contributes to the creation of wealth and jobs has always inspired me to seek new projects and opportunities. The moment that sparked my journey was when I realized I had the chance to help grow the economy of my country by empowering other entrepreneurs to use technology and their network to grow their own businesses. That led me to realize that it was possible to build a business globally from your country even though its economy was struggling and on decline. By sharing my story with others I seek to empower people with the tools to make it happen.
At the next Animus Summit in September, what kinds of issues will you be tackling and what kinds of speakers will participate?
LG: Animus is about three things: aspiring, connecting and taking action. We want to provide a tool kit that can be implemented immediately to improve women's personal, professional and entrepreneurial lives. This is why we have more than 30 speakers from different backgrounds and fields sharing experiences, successes, failures and insight to move forward. 
CC: I am obsessed with the concept of solving any problem through creativity. I tend to observe, hear, connect with people from different backgrounds and perspectives, ask the right questions and then I create a hypothesis based on what I've learned, and then I test it to see its viability. Matching my observations with global trends, has helped me focus on developing local initiatives that promise the greatest growth long term. Right now, given the economic struggle Puerto Rico is facing, I am focused on developing initiatives in agriculture, innovation-based entrepreneurship, women empowerment and next generation jobs. I truly believe developing those areas will help entrepreneurs in Puerto Rico shift the direction of our economy and level the playing field for new opportunities to flourish. 
Billed as an event to maximize women's economic and personal development, what was the motivation behind starting the Animus Summit?
LG: The motivation is to drive women's economic development. We believe that investing in women is key to economic growth for a household, community, state and country.  I've been working in women's economic development for years while Carlos had launched a very successful summit for tech-based entrepreneurs with a similar vision. Combined, aligned with a common vision, we united forces to launch the Animus platform hoping to drive change and economic growth on the island and nationwide. 
The statistics are there to prove it too. According to American Express OPEN's 2014 State of Women-Owned Businesses Report, it is estimated that there are nearly 9.1 million women-owned businesses in the United States, generating over $1.4 trillion in revenues and employing nearly 7.9 million people. Of those, as of 2016, there are just under 1.9 million Latina-owned firms, employing 550,400 workers and generating $97 billion in revenues. Between 2007 and 2016, the number of Latina-owned firms increased by 137% - the highest increase seen among minority women-owned firms.
CC: The mission behind Animus is to prove that having more business women embrace their leadership skills, at a personal and professional level, will result in great success and growth, both for their businesses and at a macro level, for our country. After the first Animus Summit, we realized the impact it had on attendees. Now we are excited to see the impact of what they have created.  Our vision is to expand Animus globally in order to empower more women entrepreneurs in other growing economies.
Lucienne Gigante is responsible for the creation of many corporate social responsibility platforms. She was also involved in developing the community program, Women of Success, which is an accelerator program that resulted in the creation of over 40 new women-owned businesses. Gigante has received over 50 awards throughout her career such as PR News' 'Community Person of the Year' award. She has also received recognition from the Commission on Women Issues of the Senate of Puerto Rico. She is the Co-Founder of Animus and the Co-Founder of AccessLatina, a women's business accelerator program run in the United States. 


Carlos is an accomplished entrepreneur known for developing and fostering the growth of Latin American businesses. Cobian co-founded Idea Wireless, a pioneer in the use of mobile devices as marketing tools for brands. Wireless Idea allowed content providers to monetize their content via mobile devices across 17 countries in Latin America. Carlos Cobian is the founder of Cobian Media, H3 Tech Conference, AgroHack and the co-founder of Animus. Cobian is also the Founder and President of Entrepreneurs' Organization (EO) of Puerto Rico. He is a board member of The San Juan Tech Meetup, a mentor of the Founders Institute of Silicon Valley (who recognized him as Startup Ecosystem Champion in 2015), and an adviser for the global Puerto Rican based accelerator program, Parallel18. In 2016 he was recognized by the Chamber of Commerce of Puerto Rico as the 'Business Person of the Year'.
Calling all HuffPost superfans!
Sign up for membership to become a founding member and help shape HuffPost's next chapter
This post was published on the now-closed HuffPost Contributor platform. Contributors control their own work and posted freely to our site. If you need to flag this entry as abusive,
send us an email
.