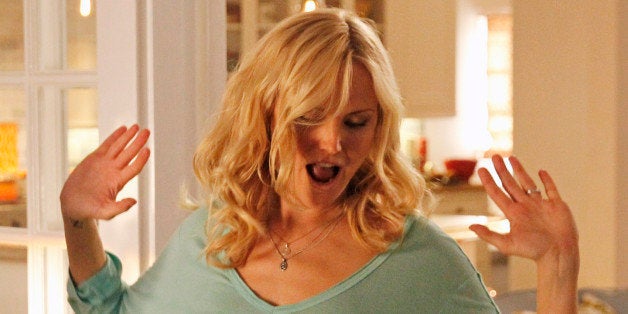 Instead, she stars as Kate, a party-girl-turned-doting-stepmom married to Pete (Bradley Whitford). "Trophy Wife" could easily become another yawn-inducing family sitcom, but Akerman and her strong supporting cast (Marcia Gay-Harden and Michaela Watkins co-star as Pete's first and second wives, respectively) have made it one of fall's best new shows.
We caught Akerman on the phone for a quick conversation about Kate's made-up backstory, the love lives of Pete's first and second femme and why she's pretty sure she'll be his last wife.
NOTE: This interview contains minor spoilers for the Dec. 3 episode of "Trophy Wife."
It seems like there's absolutely no jealousy between you and the other wives, Jackie (Watkins) and Diane (Gay-Harden).
There aren't any jealousy issues. I think Jackie is just so quirky and out there, but I do think Kate feels a little inferior to Diane's character. That may be a struggle for Kate because she doesn't feel good enough when she's around Diane. But with Jackie, it's sort of like they were never even married because she can't quite comprehend how they were ever together. But I do think Pete and Kate have the base of any good relationship. That's why "Trophy Wife" is a little tongue-in-cheek, because this truly is a really good and healthy relationship.
I think this is one of the stronger relationships you see between a husband and a wife on TV these days and I was wondering why you think that is?
Pete has tried on a few different hats. So, he's figured out what works for him. For Kate, my own personal backstory of her life is that she comes from a screwed up family and finds this sort of instant family where she's finally part of something that really is more important than boys and partying she's been doing. Aside from that, they have the same sense of humor, they can joke about things and they don't take life too seriously.
It's such a diverse cast. How did you feel when you first started working with these TV legends for the first time?
I was intimidated all right. I'm sorry, Marcia Gay-Harden? Oscar winner. Bradley Whitford? Emmy winner. Michaela Watkins? improv extraordinaire. I'm the weakest. There's always that nervous-ness of putting together a cast and not knowing if someone's going to be a diva. But, the very first day we just clicked. It was incredible. It was one of those things, this was one that I really hoped would work because it's such a great group of people.
In the Dec. 3 episode, we meet Diane's lover (Dennis Haysbert). Do you know if we're going to see more of him?
Isn't it great?! Dennis is so fantastic. Listen, we all hope these characters come back and visit us and that becomes a regular thing, like Jackie's relationship with Sad Steve (Nat Faxon). It creates an extra dynamic and expands the family to be even bigger.
You said it yourself that Kate has no idea why Pete ended up with Jackie. Do you think Pete has a type?
I think depending on which way the wind blows that day! But the real story is that he and Diane were college sweethearts and they ended up marrying young and having kids. She's very type A. I think when anyone gets out of a relationship, your rebound ends up being the complete opposite of what you just got out of. I think that's completely what Jackie was. I don't think she was as quirky when he first met her. She was probably a yoga teacher and that's it. But I think the thing that both Jackie and Diane lack is that fun sense of humor and normal-ness. He wasn't allowed to be himself. I think Diane kind of took over and it was her way or the highway and I think Jackie was too kooky. It's like Goldilocks and the three bears. Kate was the perfect flavor.
Watch a preview for the Tuesday, Dec. 3 episode of "Trophy Wife," which airs at 9:30 EST on ABC.
REAL LIFE. REAL NEWS. REAL VOICES.
Help us tell more of the stories that matter from voices that too often remain unheard.
BEFORE YOU GO
PHOTO GALLERY
ABC's New Shows 2013-2014