 State Police arrested an Indianapolis man on Tuesday after he allegedly drove his SUV up the steps of the Indiana War Memorial, wrapped himself in an American flag, and lit a small fire.
Officials identified the half-naked protester as 49-year-old Daniel Whitaker, WTHR reports.
Whitaker, who described himself to police as a member of the "Texas army," placed a large cross on the memorial, which he briefly stood before while wearing a metal helmet fashioned with a plume and carrying a bright blue staff, police said.
Police also said that once Whitaker drove up the memorial, he poured a canister of gasoline down the steps and lit a fire, WSBT reports.
After lighting the fire, Whitaker, who was wearing only a pair of khaki cargo shorts and draped in an American flag, began ranting how the world was safer 50 years ago when people could go outside without having to carry a gun. Ironically, Whitaker was armed with a loaded semi-automatic pistol.
Police officers managed to talk Whitaker into surrendering his weapon, "which resulted in Whitaker unloading the pistol and throwing it to the ground," the press release explains.
Fire authorities extinguished the fire before it could cause major damage, according to WISHTV.
Police arrested Whitaker for Terroristic Mischief, a Class 'C' Felony, and escorted him to Wishard Memorial Hospital for 72-hour psychiatric surveillance.
LOOK: Check out photos of this bizarre scene at the Indiana War Memorial: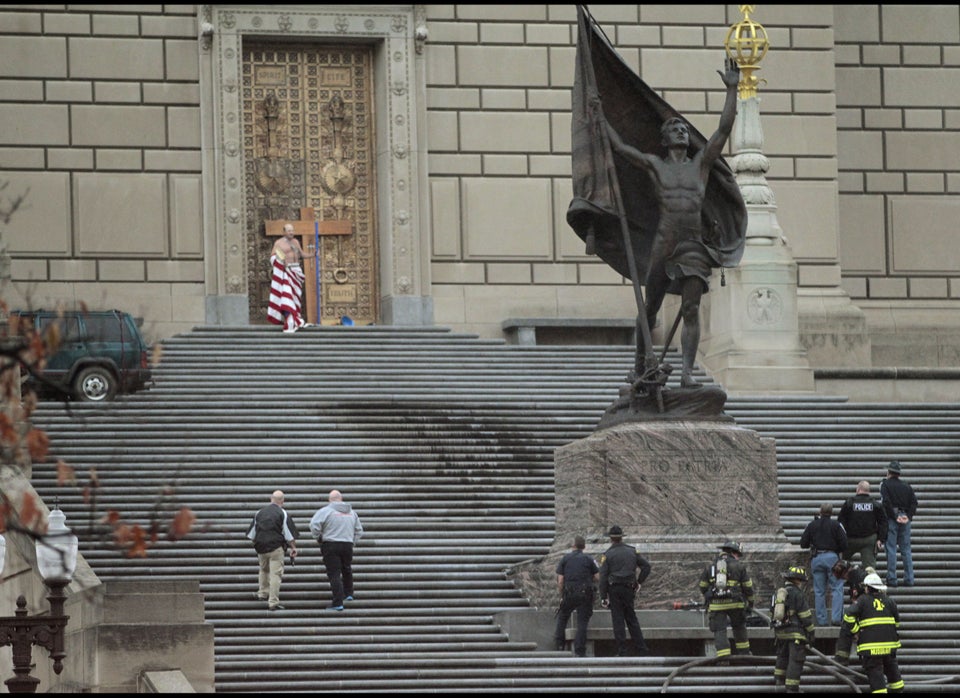 Popular in the Community