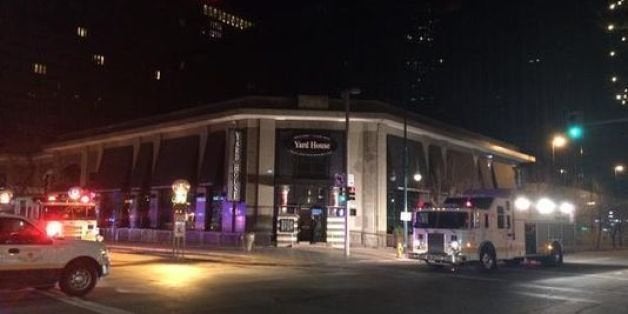 Police were called to Yard House at 11 p.m. Tuesday night after employees said a man fell through the ceiling, 9News reports. Initially, the unidentified suspect was hard to find, but officers spotted him walking around the scaffolding above the restaurant.
The ceiling dweller disappeared from view and somehow managed to trip a water main, which began flooding the restaurant below. It took nearly three hours to find the man. Officers heard moaning coming from the front of the restaurant, and when they pulled back one of the chairs there, they saw the man's feet behind a wall.
"I have not seen a call like this ever," Denver Police Cpl. James Ballinger told 9News.
It appeared he had fallen 20 feet from the scaffolding to the floor behind the wall, WSOC reports. Firefighters had to cut part of the wall out to free him, and he was taken to a nearby hospital with unknown injuries. He was also charged with damaging the restaurant.
In the ceiling, police found the remnants of alcoholic beverages. They believe he'd been staying there for a long time.
"He was only wearing pants when we found him behind the wall," Ballinger said.
Yard House didn't immediately return requests for comment by The Huffington Post.
Calling all HuffPost superfans!
Sign up for membership to become a founding member and help shape HuffPost's next chapter