Police confirmed on Wednesday that the body found at Hains Point in Southeast D.C. was identified as Marc Washington, who had been released from jail on Monday.
Police said that they got a 911 call at about 8:15 p.m. Tuesday from a man. The U.S. Park Police responded to the first block of Ohio Drive SW, at Hains Point, and found an empty car with clothing located nearby.

Police and Fire Department dive teams found a man in the cold river shortly before 9:30 p.m. He was rushed to an area hospital where he was pronounced dead, according to Gwendolyn Crump, the D.C. police department's chief spokeswoman. Authorities would only say that the investigation was continuing. The police statement did not say how Washington died.
Washington was accused of taking naked photos of a 15-year-old girl in early December. NBC Washington reports that last week at a hearing, evidence was presented that Washington had "hundreds of photographs on his digital camera dating back to 2011, many of which depicted women who were victims of domestic violence."
Police Chief Cathy Lanier said that Washington's case is believed to be unrelated to that of another D.C. police officer, Linwood Barnhill Jr., who stands accused of running a teenage prostitution ring. Police found a 16-year-old girl who had been reported missing at Barnhill's D.C. apartment last week. According to court documents obtained by the Washington Post, the girl said Barnhill gave her the nickname "Juicy," told her that he'd set up sex dates for her with men for which she'd be given $80 -- $20 of which was to be given to Barnhill -- and said he'd buy her "new clothes, shoes and a hairstyle."
An 18-year-old girl was also discovered in the apartment, reports the Post, along with "nine pairs of shoes, one bra, two boxes of condoms, computers, cellphones and a mirror that authorities said had the names of other suspected prostitutes written on it."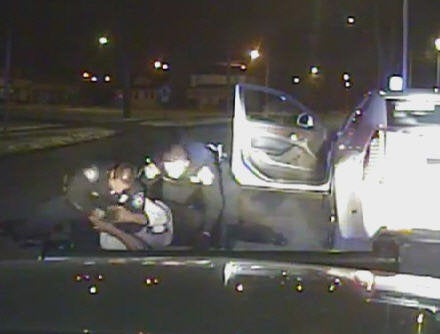 Police Brutality Incidents