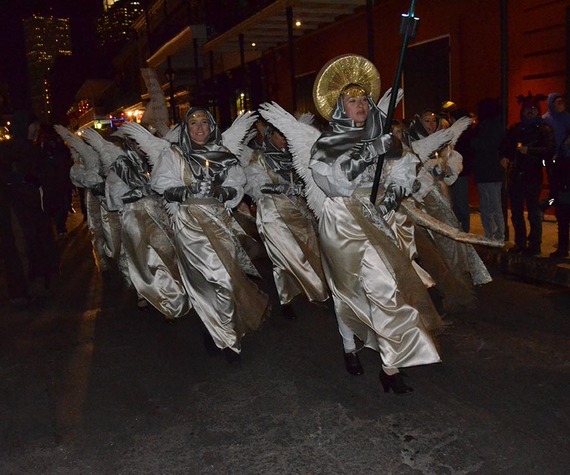 The French Quarter was freezing tonight. Freezing! Not a word I often use to describe New Orleans weather. But there it is. We wondered, my girlfriend and I, if anyone would even be out to witness Joan Of Arc, our first parade of the Mardi Gras season. But the square filled quickly, and when the parade finally came by, there was a crowd to welcome it. Joan of Arc had arrived, and with it, Mardi Gras!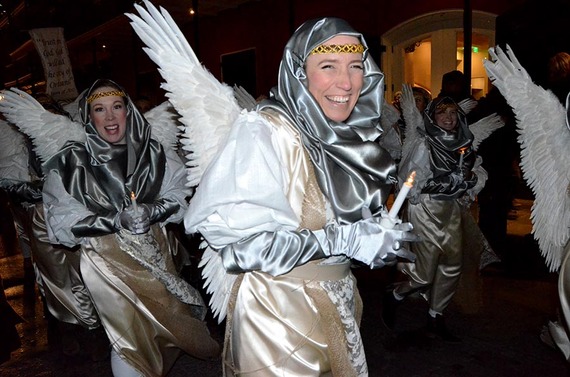 Joan of Arc is a fairly recent parade: this was its sixth year. The brainchild of Amy Kirk Duvoisin, the parade is held on January 6, the Feast of the Epiphany, which is the day on which Carnival season begins: the first day of Mardi Gras. Duvoisin, a long-time Joan historian, noted that folklore holds Joan's birthday to be January 6, and that many New Orleaneans believe Joan of Arc is our city's patroness saint (she's not, but she may as well be). So the idea was formed to honor our earstwhile patroness on the first day of the festival season.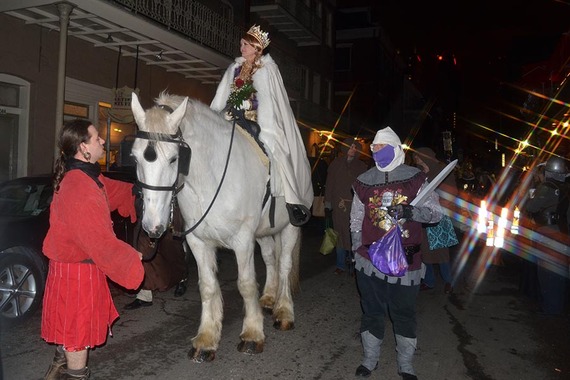 It may be fair to say that visitors to New Orleans think of Mardi Gras as a single day, "Fat Tuesday," a movable feast held each year on the Tuesday before Ash Wednesday, the start of Lent in the Catholic Church. While Mardi Gras itself is, indeed, a single day, the Carnival season, of which Mardi Gras is our local observance, begins at the Epiphany and goes until Lent, sometimes as many as six weeks.
So the Joan parade gives us a good excuse to start the Mardi Gras season by asking a few key questions about Mardi Gras and our local celebrations...
What Is Mardi Gras? Mardi Gras, meaning fat Tuesday, comes from ancient Roman celebrations of the harvest. These celebrations commemorated the God Bacchus, God of wine, and Goddesses such as Pomona, Goddess of apples, and Demeter, Goddess of grain. As Catholic Christianity became the religion of Rome, these Gods were remembered in feasts leading to lent, a time of repentance: the idea is that you sin by feasting to Roman Gods, then repent at Lent. Carnival literally means "meat festival," and one eats meat, forbidden after Lent begins. One celebrates with music, wine, food and love before the time of repentance. The celebration culminates on "Fat Tuesday," when one eats and drinks to excess, and then repents during the Lenten season.
Because New Orleans was settled by French Catholics, Mardi Gras and Carnival season was kind of a big deal. It became even bigger as New Orleans grew to be a city of music, food and celebration. Brass bands and "krewes" became major elements of Mardi Gras parades. Today we welcome millions of visitors to our city for this celebration, though locals still celebrate the way we have for over three hundred years.
Whats the big deal about parades? Last year a friend of mine moved to New Orleans from California. My girlfriend and I invited said friend to see the Muses parade. The friend was undecided. "I worked all day," she said, "and I'm kind of tired." "It's Muses!" we exclaimed. She finally consented.
During the parade said friend was amazed, awed and bedazzled. When we reminded her that she hadn't wanted to come along, she said "well the only parade I'd ever seen before was the Rose Bowl parade, and I thought it would be like that."
If you have never seen a New Orleans parade, it's hard to explain the energy, the magnitude and the sheer excitement. The best way I could describe Krewe du Veiux upon seeing it for the first time was "a quarter mile of moving chaos." Our parades are all-consuming events, not just presentations. My personal favorites are Krewe du Vieux, Muses, and the local Red Beans, as well as Saint Anne's and Zulu, both held on Mardi Gras day: I also love the Mardi Gras Indians parade, a much less structured event held a few weeks after Mardi Gras.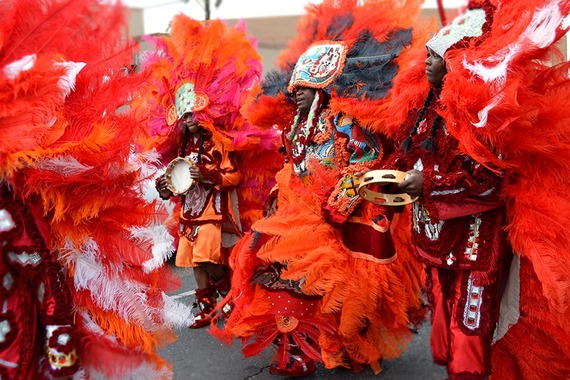 What is local Mardi Gras like? Mardi Gras is a different experience in the vastly different neighborhoods of New Orleans. While Bywater residents dress in costume for Saint Anne's parade, which ends in various outdoor dance parties on Frenchmen Street, Treme residents line the streets for Zulu, a wild parade whose "throws" are decorated coconuts. One thing all natives have in common is that we tend to avoid Bourbon Street on Mardi Gras -- that's for the tourists.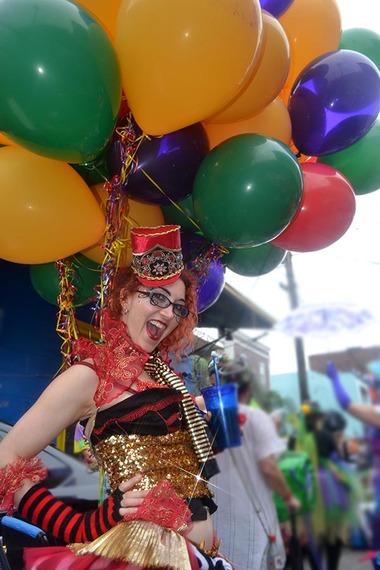 Above: local burlesque celebrity Ginger Schweikert during a Mardi Gras dance party on Frenchmen Street. Below: a musician plays for Frenchmen Street dancers.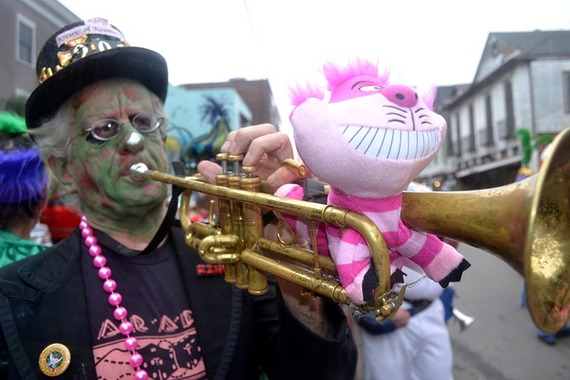 Do you have to show your private parts to get Mardi Gras beads? While it seems to be a custom on Bourbon Street that women expose their chests for beads (thrown from balconies by tourists), our parades send "throws" into crowds regardless of gender, age or exposed skin. While most parades throw beads, some have exclusive throws. The all-women krewe of Muses throws hand-decorated shoes, meant for a specific person in the crowd singled out by the krewe member who made the shoe: the Red Beans parade, a local Bywater celebration, sends throws made of red beans into the crowd: and Zulu krewe members throw hand-decorated coconuts. These parades are family friendly for the most part, and kids often get favored in the throwing. Again, no skin is exposed.
Who runs the parades? Parades are run by social clubs called krewes. Each krewe member pays a yearly due, used to put on the parade. Krewes often do charitable work year-round. For instance the Krewe of Muses donates to an organization that assists female veterans in returning to civilian life. Other krewes support tutoring and scholarships for young students in their neighborhoods.
Within each krewe are sub-krewes; these are sort of specialty acts within the larger krewe carnival. Krewes will also use specialty groups like the Muff-A-Lottas, the 610 Stompers, or the Rolling Elvi, within their parades. In addition, the larger parades use high school marching bands for their music. Unlike the image of geeky kids playing in bands across the rest of the U. S., our high school marching bands, twirlers and drill teams are amazing, talented super-stars.
What is King Cake? Mardi Gras deliciousness, with a tiny plastic baby inside. A Mardi Gras tradition that dates back to the Roman Pagan celebrations of the harvest. Be careful not to swallow the baby!
Mardi Gras, like many things in New Orleans, is complex and multi-layered. A single blog cannot explain the many emotions, events and experiences of the season. You have to be here to get a feel for the thing. And often, once you've seen it, it's nearly impossible to explain it to someone who hasn't. Yet, I try, and will likely keep trying.
I'm back from the freezing cold of the Quarter, sitting in my warm bedroom, thawing out my fingers. But all that aside, I would not have missed Joan of Arc for anything. Our first parade of the season, our patroness (at least I like to think so), and the beginning of another amazing Mardi Gras. You should come down. It's gonna' be fun!
All photos by Kenny Klein.
Related