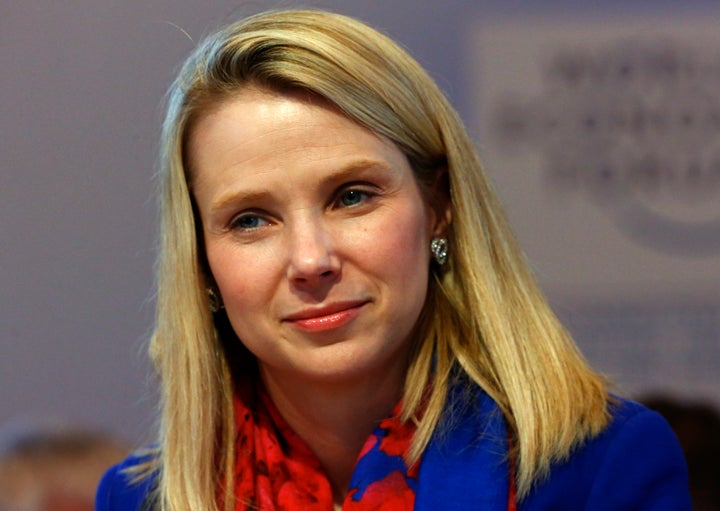 Yahoo CEO Marissa Mayer is so committed to her job that just minutes after giving birth she was back to work, a friend and Silicon Valley entrepreneur recently boasted. 
"[Mayer] is by far the hardest working person in Silicon Valley," Max Levchin told Pando's Sarah Lacy. "She gave birth to twins and then traded emails with me about a feature of a product she was launching in a week, within, from what I could tell, 20 minutes of giving birth," said the PayPal cofounder, speaking before a group of people. 
The audience tittered. "She is intensely committed to her cause. She's awesome," said Levchin, who is now devoted mainly to a new consumer finance startup called Affirm. He also talked about how much he respects Mayer for being a pioneer and one of the few women to ascend to such a high level in tech. "She is a woman who rose through the ranks in the male-dominated world," he said. "I think that's pretty special."
Levchin's comments do more than just celebrate his friend, though. Applauding such an extreme work ethic sends a pretty clear message to those interested in growing and developing their careers: Work all the time and give up everything if you want to succeed. 
Every time an influential person makes a statement like Levchin's ― celebrating someone's obvious personal sacrifice, it sets both men and women back just a bit. If work culture demands us to always put work first ― even during precious once-in-a-lifetime moments ― then we're all in trouble.  
What's also troubling about Levchin's comments is that he would never have made them about a man. A male CEO who sends a work email just moments after his wife gave birth would hardly be remarkable.
Because, first: that's expected. And second, women, particularly mothers, are held to some truly impossible standards. Some will judge you as a bad mother for working so soon after giving birth (and many have judged Mayer). Others will see this as a sign you're a great worker.
But really it's neither of those things. Putting in long hours and sacrificing your personal life doesn't necessarily mean you're a great worker or, on the flip side, doing anything wrong in the parenting realm.
Working 24/7 just means you've given in to the absurd cult of overwork. There's really no need to celebrate that fact.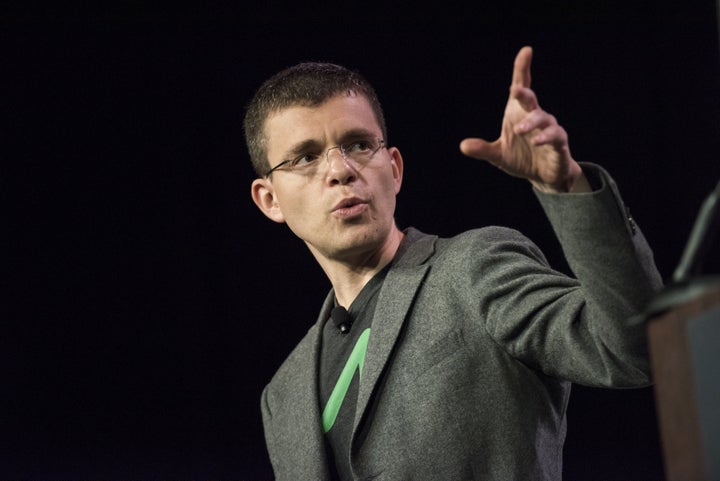 On a personal level, the massive downsides to the cult are obvious: No one dies regretting that they didn't work more, is the old cliche. Time with your new baby or your kids is time you will never ever get back.
Professionally speaking, more people are realizing that working all the time doesn't lead to excellence. It can often lead to burnout and poor decision making. It can lead more workers to quit their jobs or suffer from work-related stress. 
More often, the pressure to always be on ― to respond to emails during childbirth, in the middle of the night, from your kids' graduation ― means we get trapped in what one researcher at the Harvard Business School calls, "the cycle of responsiveness."
"We don't think about better, faster, and more effective ways of working," Leslie Perlow wrote for Harvard Business Review in 2012. "Rather, we just keep working more and more, perpetuating and amplifying the bad intensity in our work — those unnecessary iterations, the lack of communication and alignment, the last-minute, late-night changes and those weekend "emergencies" that get in the way of doing our best at work and having time for life outside of work."
Taking breaks and time off can be good for your productivity, giving you time to pull back from the minutia of the everyday to focus on more big picture thinking.
"Our research shows that being always available is actually dysfunctional for everyone at some level," Erin Reid, an assistant professor at Boston University's Questrom School of Business, recently told The Huffington Post. 
Yet, many workplaces don't value time off ― instead reinforcing a culture of hard-charging overwork, as evidenced by Levchin's remarks. At another point in the interview he and Lacy joke about how during PayPal's early days, Levchin would work next to a box of T-shirts. He'd pull an all-nighter, stink up a shirt and then pull another one out of the box. "It's really not your body that smells," he said, to explain why this is an effective strategy to avoid stinking. 
For a recent research paper, Reid looked at a consulting firm where overwork was so expected, men just lied and pretended to work 80 hour weeks in order to get ahead. If they were upfront about their commitment to family ― and sometimes prioritized their personal lives ― they were penalized with fewer promotions.
I'm not here to judge Mayer for working right after childbirth. She was already put through the wringer after announcing she'd work throughout her two week long maternity leave. She runs a public company ― one that's going through a very rocky time ― and she can choose to structure her life any way she wants. She's only one of an extremely rare breed ― a female CEO in the Fortune 500. There are only about 20 other women on that list.
Mayer herself has been open about her choices and the fact that she is, truly, exceptional ― as one of the very few young female CEOs out there. 
But if we continue to only laud and value women and men who work 24/7 as the best kind of workers, we'll probably continue to have only about 20 women on the Fortune 500. Because, it's often women who must make a choice: Send emails 20 minutes after giving birth, or slow down your career trajectory. Many of us choose the exit lane.
The idea that we need to celebrate overwork and hold that up as exemplifying some kind of gold standard of work, though, is the issue.
Why didn't Levchin talk about an amazing insight or decision Mayer's made? No one remembers Steve Jobs for his overwork, but for his ideas. Ideas don't always require you to work at 2 a.m. on a Saturday or while nursing your infant.
Yet, in certain circles, sacrificing your personal life ― working flat out at all hours ― still signifies that you're a good worker. That's sure to be a turn-off to a lot of people picking a career track.
If the tech industry is serious about its commitment to hire more diverse workers ― people of color, women, older workers, parents ― they can't send the message that working in the industry requires a complete disavowal of your life.
Unless that's truly what it takes.
Calling all HuffPost superfans!
Sign up for membership to become a founding member and help shape HuffPost's next chapter