The art came before the music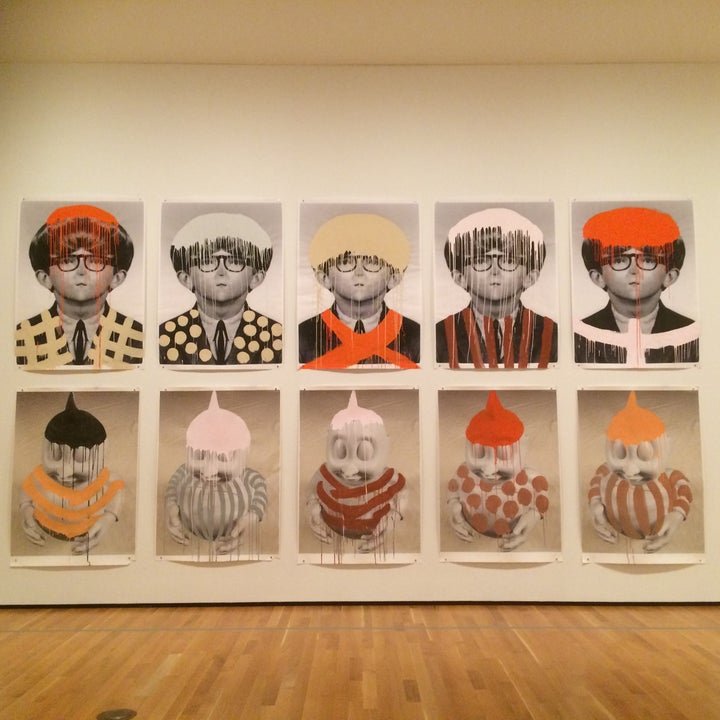 Musician and Artist, Mark Mothersbaugh has long been on the music world's radar for his important contribution as the co-founder and lead singer of the iconic punk band Devo. These days he is also known for his musical achievements through his production company, Mutato Muzika. He has composed soundtracks for television, films and video games such as Rugrats, Pee Wee's Playhouse, The Lego Movie and several Wes Anderson films, including, Bottle Rocket, Rushmore and The Royal Tenenbaums. What is lesser known, is that these lifelong musical achievements are really only half the story. Mark Mothersbaugh has always considered himself as much of a visual artist as he is a musician. From the moment Devo first took to the stage Mark has always believed that the art and music were intertwined. Looking closely, this thread of his own visual artistic journey weaves itself through the entire length of his career. The world has been invited in for a closer look at the retrospective exhibition, Myopia. After traveling to several museums throughout the country Myopia is having its last stop at the Grey Art Gallery at New York University through July 15th.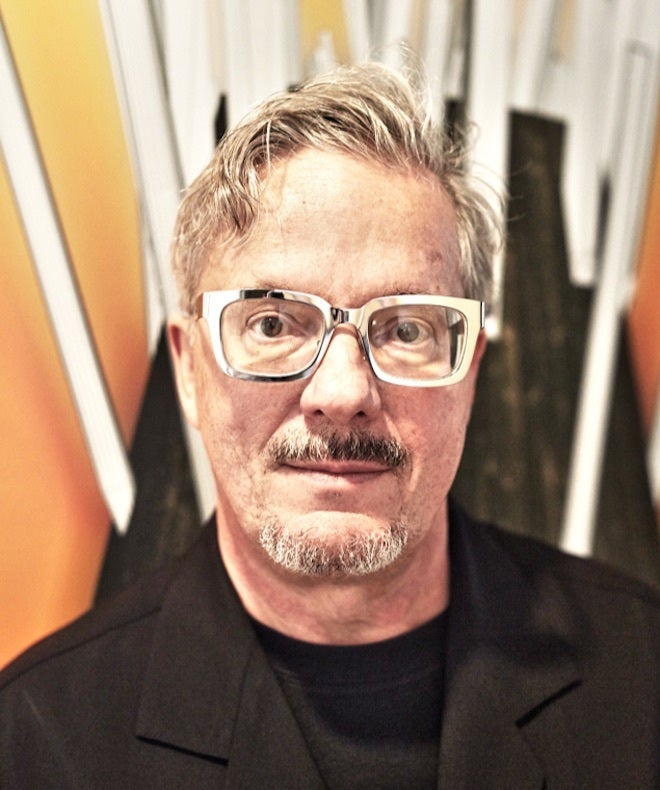 The wonderfully weird, eclectic and nearly magical art of Mark Mothersbough springs from his earliest experiences in Akron, Ohio; a world framed by the limitations of his sight. An undiagnosed visual impairment which made him legally blind (Myopia) imposed an alternate reality in which his vision extended only six inches. Beyond that distance existed only light and shadow and it was a world without tree tops, roofs and telephone wires. Although he saw pictures of what was out there he had never seen it for himself. He found the world both mysterious and frustrating. School was difficult and he had no idea why it was different for him than his classmates. At age 8 he was fitted with a pair of glasses and his world was whole for the first time. He remembers it fondly as "a very inspirational day." The next day he started drawing, especially focusing on the wonder of trees. The teacher, who often punished him for not knowing the right answers, picked it up and said, "You draw a tree better than me." He recounted this as a significant moment and that it was the first time he received acknowledgement for something that he was good at.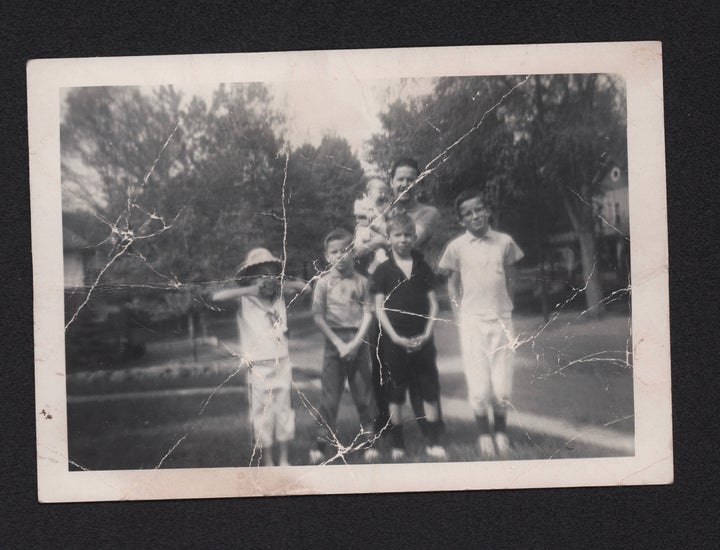 That night, he dreamt that he would become an artist someday and that was the start of not only seeing the world for the first time, but recording it and infusing it with his own particular vision. This primordial connection between his visual limitation and his art was articulated in a 2015 interview. "That early experience was always a creative draw. I feel like I use that as a portal. When I take my glasses off, especially at night, the first thing I see in the morning is that other world, it's the portal for exploration where I can go beyond the 10% of my brain that's the caretaker for my body and the nanny for life. It's the part of my brain that has to deal with driver's licenses and credit cards and mortgages and kids getting to school. The other 90% could be the 4th dimension, the really interesting part of the brain, where everything creative and everything inspirational comes from. So I think its like reaching through a mist." [1]
From that first day of drawing, Mothersbaugh's passion for art was equal to his passion for music. The roots of Devo actually began when he was an art student at Kent State University in Ohio. As a sophomore, he joined other art students, Jerry Casale and Bob Lewis to collaborate on art projects in the early days of the unfolding of their de-evolution philosophy. This idea of witnessing the backward evolution of the world took on a more immediate and compelling purpose after the shootings as Kent State University. During their time there, in May of 1970, four students were killed and nine injured during a peaceful protest of the Vietnam War. A response, rooted in both music and art determined Devo's next steps. According to Mothersbough, in the beginning, their priority was to create films in order to propel the concept of de-evolution. In fact, the early members of the band opened a print shop in Akron solely to fund the making of films and closed it when they had the $3,000 to make their first film. This marriage of film, performance art and music was completely new and they, in fact, viewed themselves as an art band, equal parts artists and musicians.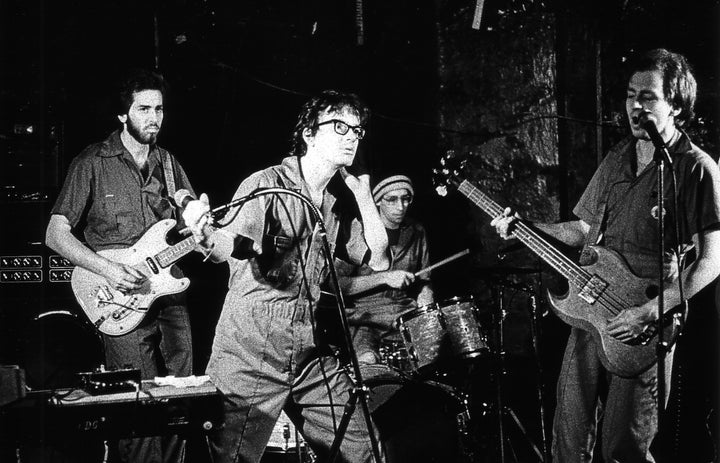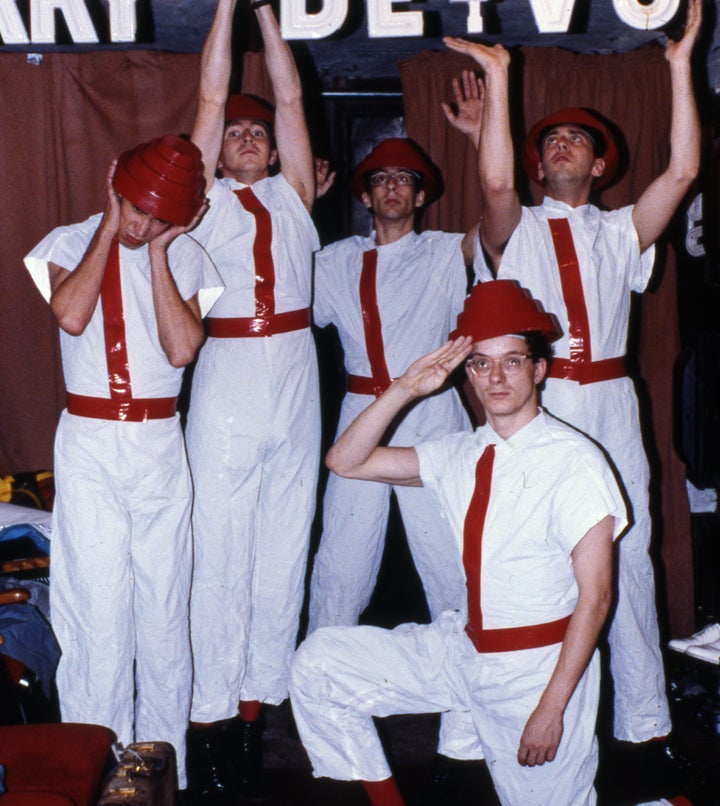 This focus on combining both art and the music propelled them to perform in New York after years of germination in Akron. Their shows in New York were unique in their integration of theatrical elements such as set design, costumes and adaptive characters. On the weekends that they were performing in New York they would rent a projector from the Akron Public Library to show their films. Each show began with a film projected on a sheet hung from the ceiling, dropped to reveal the band in matching outfits shown in the film. They even used their graphic arts experience to produce industrial themed 3 feet x 4 feet posters which they had printed for 50 cents a piece at architectural print shops. The oversized posters plastered around New York stood out among the other flyers advertising other break out bands like Talking Heads and The Ramones.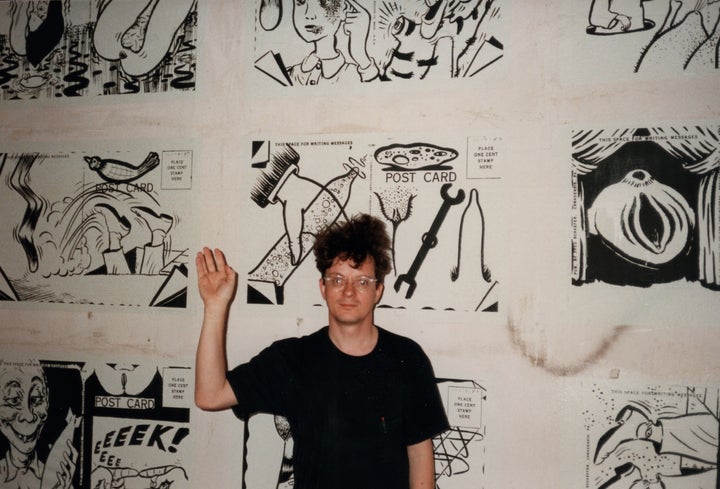 As the archivist of the band, Mothersbaugh often spent time in hotel rooms working on his own art, which included looking through dumpsters for discarded advertisements and posters to repurpose into art. During his days with Devo he would often show his artwork in local galleries in cities where they were touring. He also continued his life long routine of daily drawing on postcards, a kind of visual diary. He looked at this habit as a place to express uncensored visual thoughts and describes these as "a stream of consciousness" practice. To date there are over 30,000 postcards which are organized in over 300 binders of 100 each. This collection is one of the centerpieces of the current retrospective.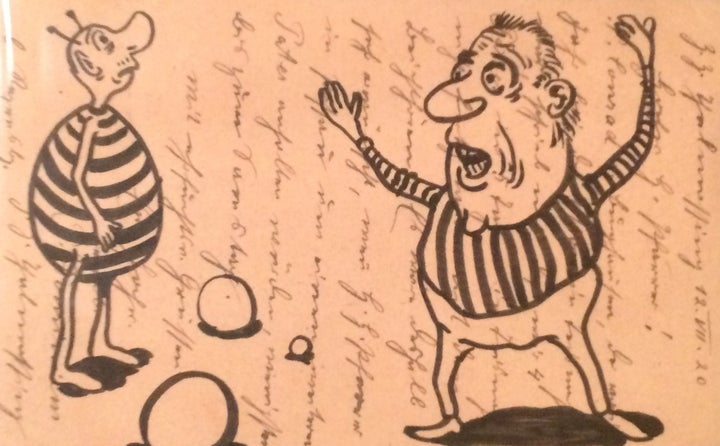 As his musical career developed beyond Devo as a singer, songwriter, composer and record producer art continued to take center stage although the world did not know about it. He chose to keep much of his work private foregoing the exposure of a gallery or art museum. In his desire to put the creative process before the economics of art, he now admits that his aversion to traditional art venues has changed. In the course of collaborating with Myopia curator, Adam Lerner, Director of the Denver Museum of Contemporary Art, Mothersbaugh discovered the intellectual and cultural value of museums. In his words, "I discovered that museums are the NPR of the art world." He found that they are indeed scrambling for funding similar to other public art programs and organizations. He grew to appreciate the work of museum staffs whom he found to be "in it for the love of art" Exhibiting at museums have proven to be a successful collaboration for both parties. Myopia has traveled to Minneapolis Institute of the Arts, Cincinnati Art Museum, Austin Contemporary, Museum of Contemporary Art in Cleveland and the Akron Art Museum.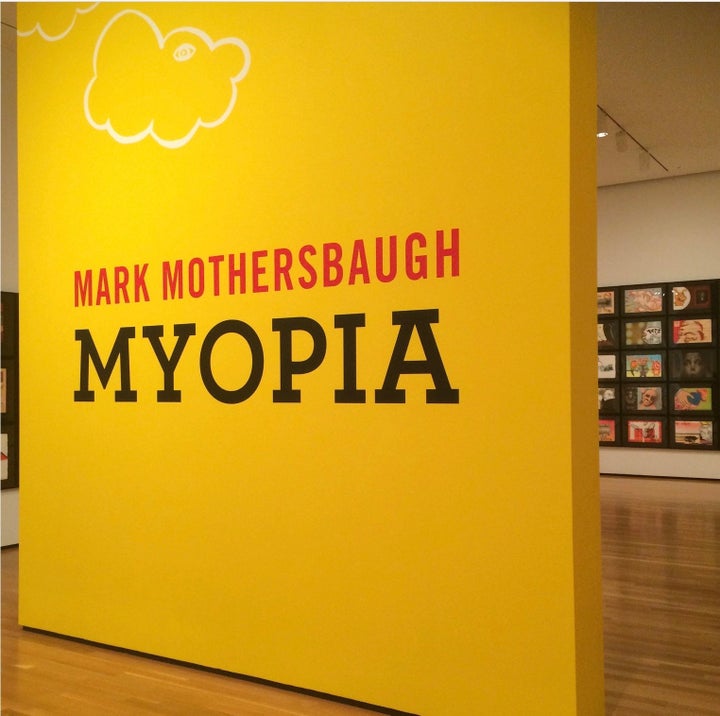 Walking into Myopia is a bit like entering a parallel world full of comical characters, fanciful creatures and anomalies of nature. The exhibition consists of paintings, prints, manipulated photography, rugs, oversized sculptures, whimsical musical inventions and the collection of 30,000 postcards. The themes encompass personal musings, explorations of technology vs. man, the nature of humanity and the creation of whimsical creatures. A creative force evident as his personal vision unfolds in room after room. For Mothersbaugh, this retrospective offered a very personal look, not only to the wider world, but to the people closest to him, like his daughters. He admits that he wondered how his daughters would react to the postcard collection after living with the binders stored purposely on shelves high above their reach. This foundational exhibition reveals both vulnerability and purpose, a balance between personal and the collective and a willingness to question cultural ideas and institutions.
The work has been well received by the public and Mothersbaugh is already thinking about what is next. Currently he is creating a series of paintings and writings around the talisman of the Evil Eye. His fascination with the eye and vision as metaphor continues. Lucky for us, through his unique lens he helps us all see things clearly that we might not have seen before.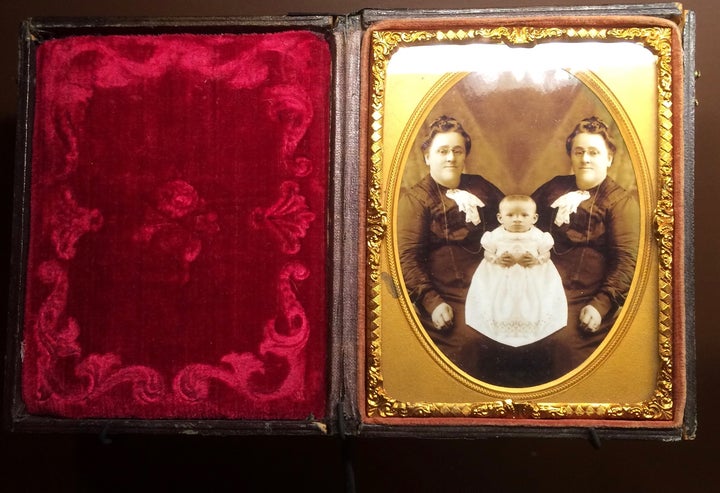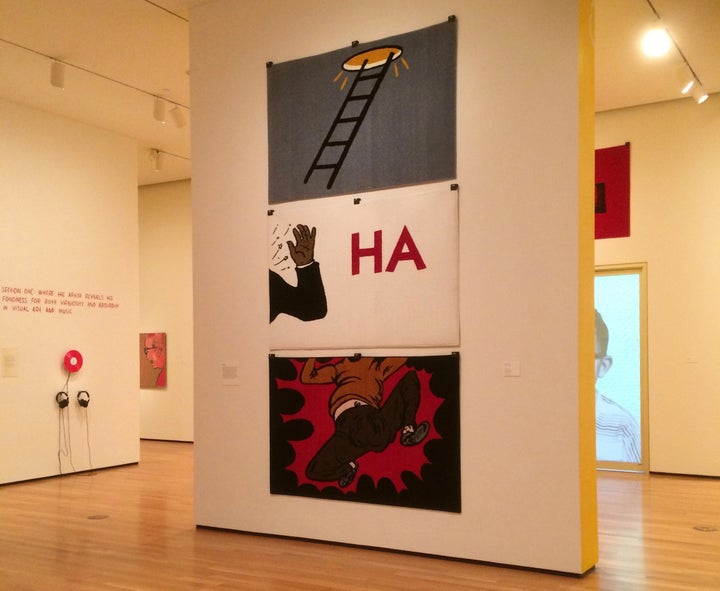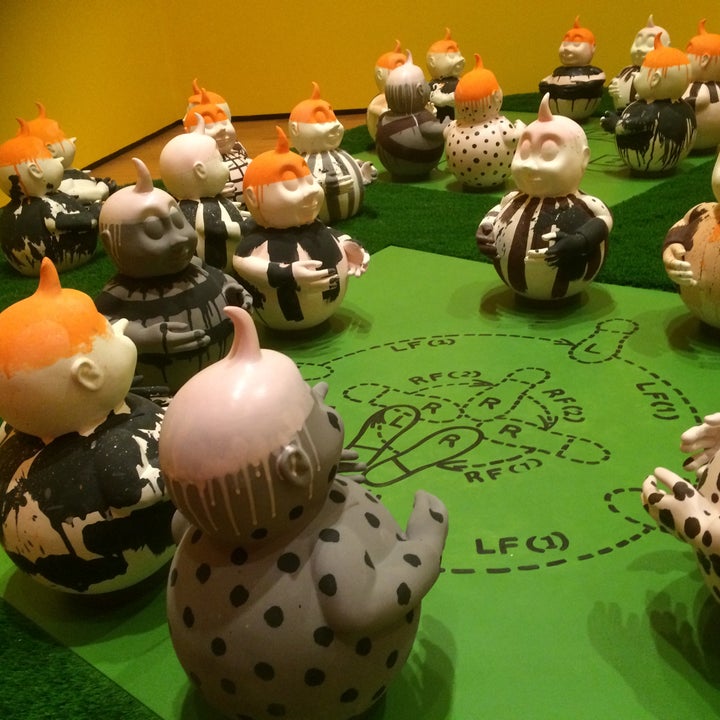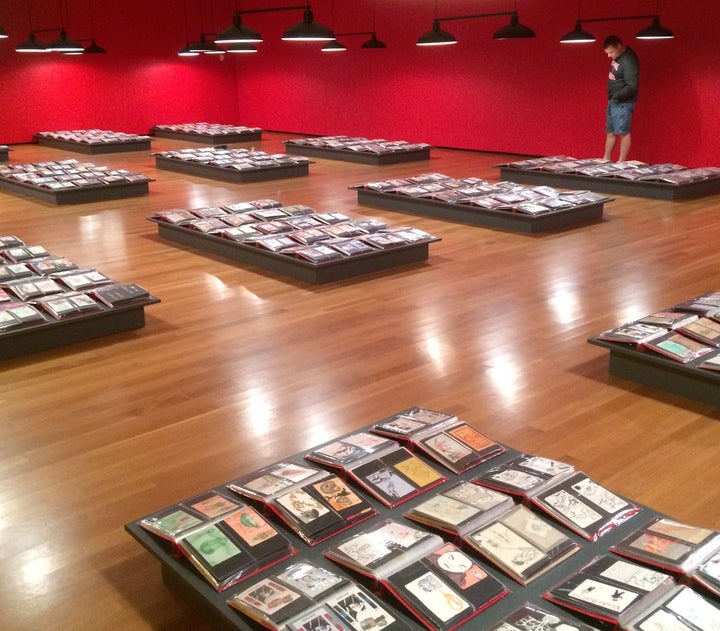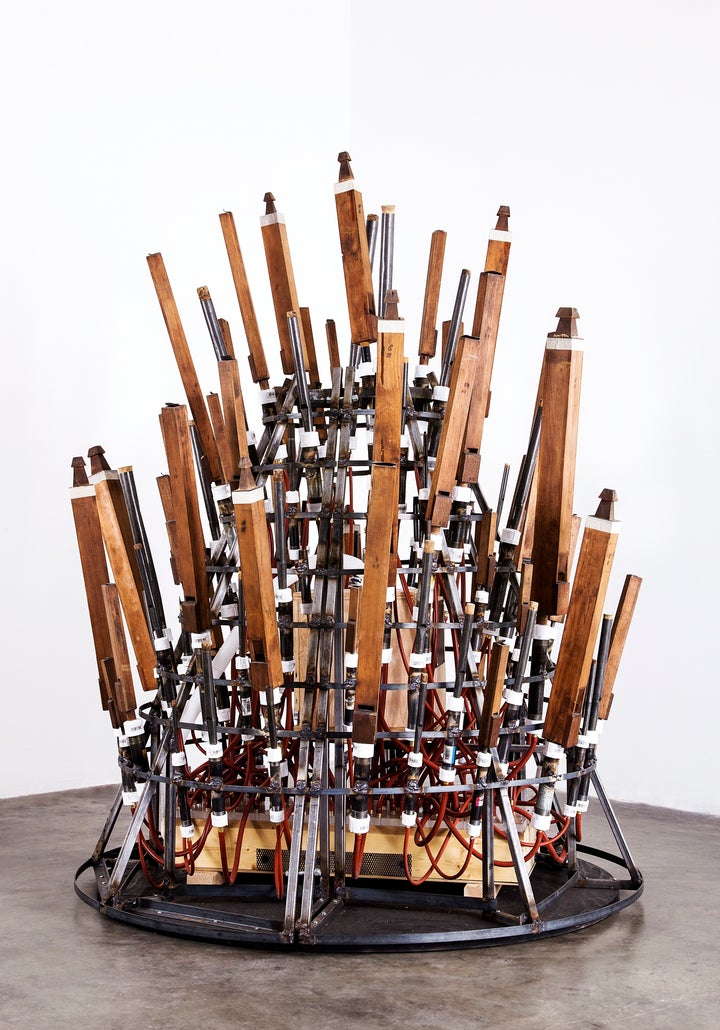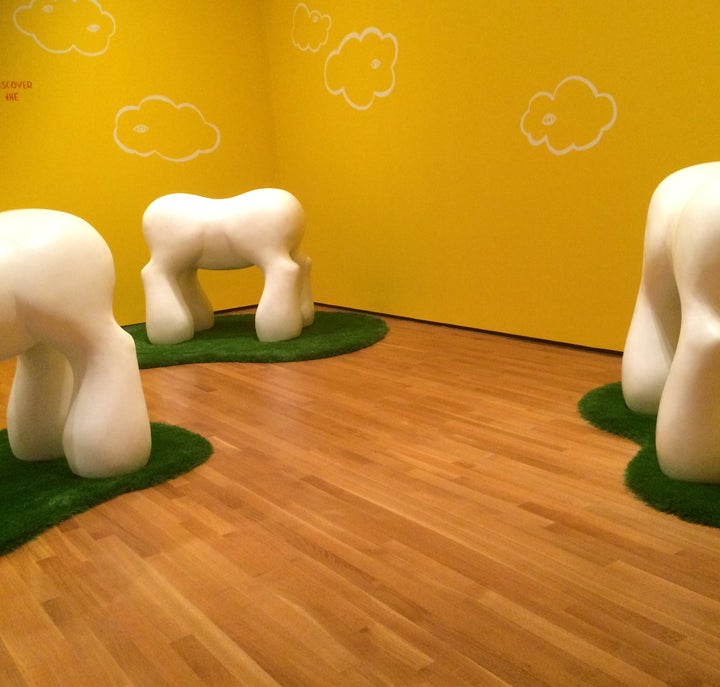 Myopia will be on exhibition at Grey Gallery until July 15th.
Gray Gallery, 100 Washington Square East, NY, NY
[1] Rae Ann Fera, Jan. 8, 2015, Sound and Vision: Mark Mothersbaugh on Art, Music and Myopia, Fast Company, NY, NY.
Popular in the Community