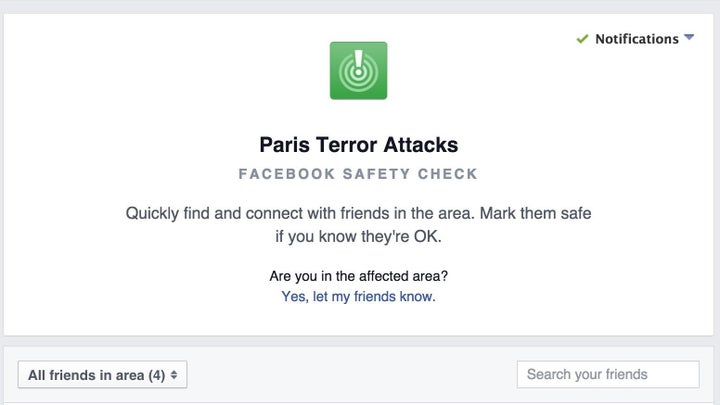 Facebook started developing Safety Check after the 2011 earthquake and tsunami in Japan as a way for people to "check on loved ones and get updates," according to a company blog post. The latest version of the tool launched in October 2014 as a notification system after natural disasters.
On Friday, however, Facebook turned on Safety Check in response to the Paris terror attacks that killed 129 people and injured 352, which is the first time it has been used in response to a crisis caused by human activity.
"Many people have rightfully asked why we turned on Safety Check for Paris but not for bombings in Beirut and other places. Until yesterday, our policy was only to activate Safety Check for natural disasters. We just changed this and now plan to activate Safety Check for more human disasters going forward as well. Here's more detail on Safety Check and our policy for deploying it from the Facebook Safety page:

https://www.facebook.com/fbsafety/posts/930229667014872

Thank you to everyone who has reached out with questions and concerns about this. You are right that there are many other important conflicts in the world. We care about all people equally, and we will work hard to help people suffering in as many of these situations as we can."
Alex Schultz, Facebook's vice president of growth, explained in a separate post -- referred to by Zuckerberg in his comment -- that the company will activate Safety Check for "serious and tragic incidents in the future."
Schultz also said that Facebook will explore providing options for users to "show support for other things that they care about through their Facebook profiles." (Facebook enabled users to easily add a temporary profile picture with a silhouette of France's flag over the image after Friday's Paris terror attacks.) The criteria that will be used to determine which issues and events users will be able to "show support for," however, aren't clear.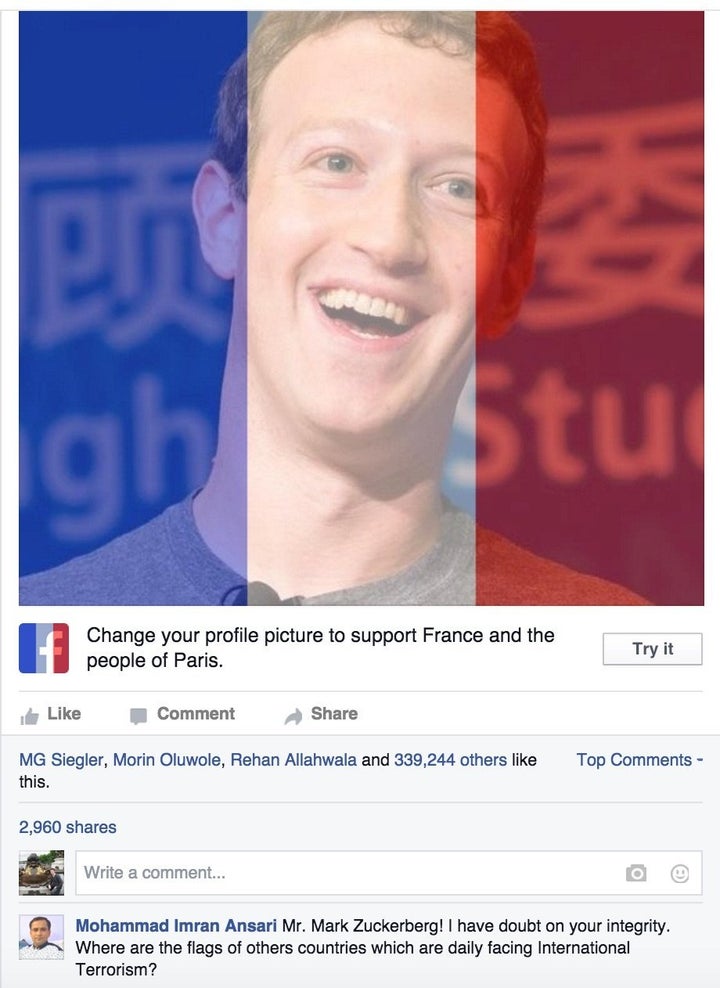 Schultz wrote that Facebook considers the scale, scope and impact of a natural disaster when it decides whether to activate Safety Check. Facebook activated the tool five times in 2015: after earthquakes in Nepal, Afghanistan and Chile, as well in the aftermath of Typhoon Ruby in the Philippines and Tropical Cyclone Pam in the South Pacific.
Schultz, though, says Facebook doesn't view the current version of Safety Check as useful for wars or epidemics, such as the ongoing Syria conflict or the 2014 Ebola outbreak in West Africa, because "there isn't a clear start or end point and, unfortunately, it's impossible to know when someone is truly 'safe.'"
Facebook has also faced challenges with users abusing the tool. After the Nepal earthquake people who weren't even in the country marked themselves as "safe." The high volume of bogus check-ins overwhelmed the social network's notifications. Though engineers fixed that meltdown, Schultz acknowledges that "Safety Check remains a work in progress."
He also said that the tool, "has helped many people stay in touch with their friends and family during difficult times. We're going to continue working to make it better and more useful."
"We create products that we think will help people and we work hard to perfect the solution over time," he added.
Facebook connects over one billion active users in dozens of countries around the globe. Providing equitable access to tools like Safety Check isn't just a helpful thing to do: It's the right thing to do.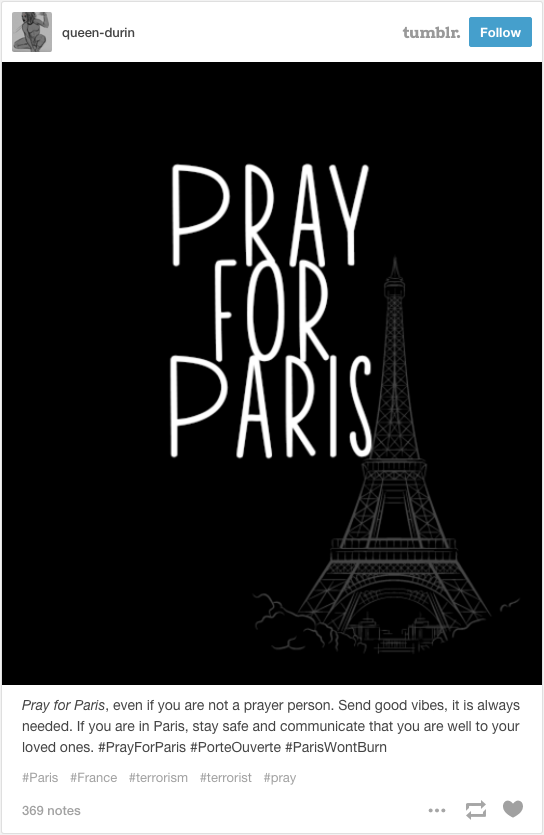 Messages Of Solidarity For Paris
Related