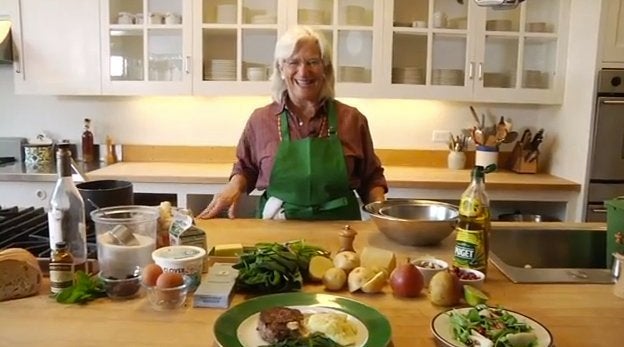 Risley, the San Francisco-based chef and culinary educator, made headlines last month with her Thanksgiving-themed viral video -- a turkey-roasting demo that encouraged viewers to cook simply and resist the urge to succumb to the enormous pressures of hosting a "perfect" holiday. And with her latest video, "Fed Up with the Holidays? Just Pound the Peppercorns!," Risley captured the same no-nonsense spirit for a low-maintenance holiday meal -- for one.
"Maybe you're alone on New Years Eve!" said Risley in the video. Risley explained how the meal could easily be altered to accommodate two to four people, but the sentiment of the video sent perhaps an even more refreshing message than the first: it's ok to be alone on the holidays.
In the video, Risley teaches viewers to make a rustic pear salad, steak au poivre with potatoes gratin and spinach and a chocolate-cherry bread pudding. "Look at this," said Risley about the salad. "Isn't this a beautiful salad? Doesn't matter whether you like Santa Claus or Jesus. Or none of them. It's just a nice salad for this time of year."
Besides her trademark jokes and wisecracks, Risley also offered plenty of valuable cooking tips, such as the two rules to pan-cooking a steak ("don't push it around and don't crowd the pan") and the secret to dealing with tempermental melting chocolate. ("Don't add any liquid halfway through the cooking.")
"And remember," said Risley at the close of the video. " Whether you're with people you like or don't like, you can always take pleasure in a good meal."
The video certainly shares similarities (an understatement) with the original. But even if Risley proves to be a bit of a one-trick-pony, we continue to be moved by her nontraditional and alarmingly sincere message: f*ck convention -- do what makes you happy.
Check out Mary Risley's video "Fed Up With The Holidays? Just Pound the Peppercorns!" by Jaded Palate Productions below:
Popular in the Community