Matthew Espinosa's first trip to the racetrack won't be his last. After spending opening day at southern California's Del Mar Thoroughbred Club with friends and family, Espinosa is hooked, "I'm definitely going to go back, I had a lot of fun, a calm day. You can have a good time betting on horses and the people watching is a whole different world!"
Originally a digital star with an army of social media followers numbering in the tens-of-millions, 20-year old Espinosa is the lead in the 2016 film Be Somebody, and he shares his rise to success in his book, More Than Me. Before hitting the track, his impression of racing mostly came from media, "The closest I came to horse racing were random clips, like on Entourage."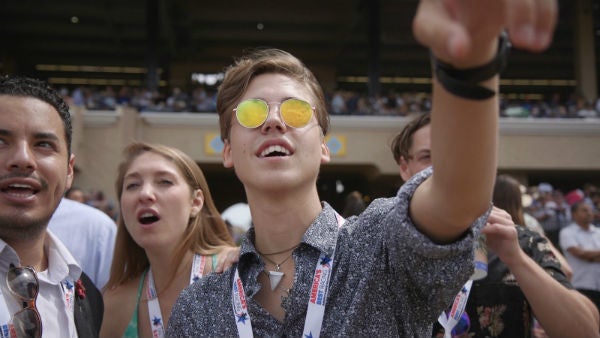 America's Best Racing hosted Espinosa and his crew at Del Mar and had handicapper-racing pundit Jose Contreras guide the newbies in the basics. "I brought my friend Q, my sister and her boyfriend and they were talking that it was a lot of fun, a lot more fun than we expected. We didn't know what to expect, none of us had been there before. It was really cool for all of us, placing bets, understanding how it all works. I won two races, I'm 100% into new experiences!"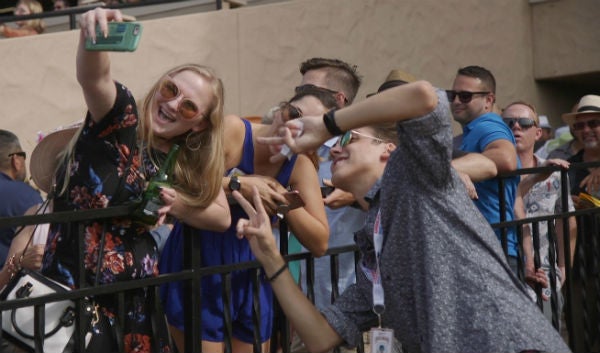 Billy Koch of Little Red Feather Racing invited Espinosa and company down to the winner's circle if the Little Red Feather horse won. Alas, it was Koch's horse was nipped at the wire. Koch mentioned there are ways of having fun as an owner in a partnership. Asked about that later, Espinosa didn't rule it out in the future when he'll have more time for hobbies.
The opening day fashion parade caught Espinosa's eye. "I was randomly taking photos of people with really cool outfits. I was thinking this is really unique, I gotta document this. I was very under-dressed. I'm like 'Whoa, what's going on here?' Gotta step it up with a suit the next time. Is there some kind of checkeredsuit.com?"
Horse racing will have to wait until Espinosa returns from his upcoming Going Global Tour, where he'll be appearing in 22 European cities from August 4 to 31.
Related
Popular in the Community