MC Hammer has jumped on board as Command Brand's first celebrity spokesperson with the launch of the "Do. No. Harm." campaign. The iconic performer joined Command Brand at New York City's famed Vanderbilt Hall at Grand Central Terminal to rejoice in a #TBT moment. Those attending were invited to have a lip sync duet with the only hammer who hates nails. Fun was had lip syncing along to the famed MC Hammer's most iconic hits such as the fabulous "U Can't Touch This."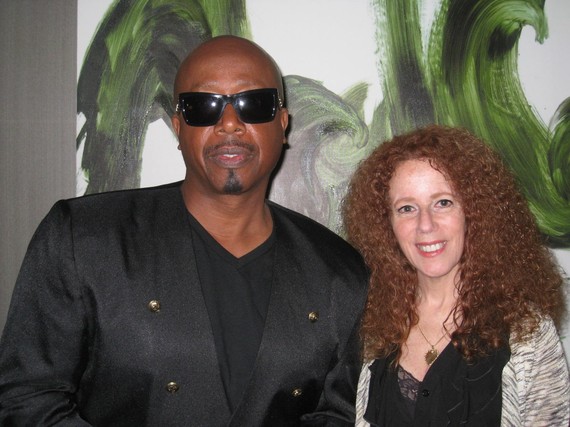 MC Hammer Commands an Interview
Having a chance to speak with the wonderful musician about music, life and his dream décor reveals a man who has a quest to live life to its fullest.
Carol Ruth Weber: What new music do you have planned and how has it evolved with the new hip hop that is now on the scene? Are you still dancing?
MC Hammer: I dance every day! Music is finite with only a certain amount of notes and keys for new artists to interpret. Chance The Rapper just released a new mixed tape called "Coloring Book". It is the perfect interpretation. He uses different colors of music. You hear different sounds like colors, such as using every color of the spectrum musically. Caribbean, hip hop, jazz and all sounds are each part of the spectrum.
CRW: How are you celebrating the 25th anniversary of "Too Legit to Quit"?
MCH: We are celebrating "Too Legit to Quit" by taking the album and diving into the cultural icons that are in the original video. There are over 20 sports Hall of Famers and the many music icons, as well as celebrities such as James Belushi. We are going to look back and see the snap of that moment in time to make a documentary. We also have great footage from the "Adams Family" movie that the song was featured in, with Raul Julia and the rest of the amazing cast. There are behind the scenes footage and extended versions to bring back in order to revisit the moment when the music ties everything together.
CRW: Well known for your fashion as much as your music, how has your appearance evolved?
MCH: fashion in itself always repeats itself. As an artist the fashion looks I created came back with icons in Hammer pants. I made a cameo in Zoolander 2 playing myself in locked in fashion prison for my Hammer pants. Meanwhile there was a conversation about the pants and the director didn't realize that three people were wearing the fashion crime.
CRW: How is your family life?
MCH: it's fine. Sons, daughters and nephews from age 10 live with me. I have seven who have graduated college so far and am very proud.
CRW: Joining with Command means having the chance to explore what you would like to hang on your own dream walls. What home decorating projects do you like to do?
MCH: I like redecorating and changing color schemes starting in bedroom and then moving out to the other rooms. I love colors so I enjoy changing decor every couple of years.

CRW: How would you use Command to help decorate your own dream man cave?
MCH: I would start by taking off the current pictures on the walls. Then I repaint, and then hang new pictures. I like to change it up between the seasons of winter and summer. The Man Cave has to stay fresh!
In the effort to spread Command Brand's word that one does not need to harm walls when hanging items, Hammer is starring in a delightful video to spread his message, "This Hammer hates nails!"
By partnering with the amazing MC Hammer Command Brand is celebrating 20 years of offering their damage-free organizing and decorating solutions. The famed recording artist is touting, "I'm a nail hating hammer" in celebration of how Command products allow for all to put away the toolbox and to hang fearlessly without damage to walls. MC proves to be a truly wonderful man on a mission to command new generations with his wonderful talent.
Popular in the Community