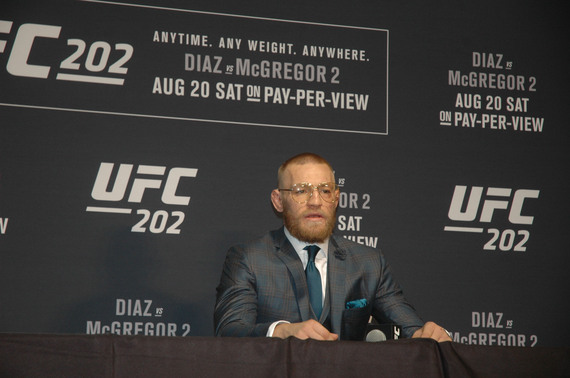 UFC featherweight champion Conor McGregor finally has a win as a welterweight.
Returning to the Octagon for the first time since his lone UFC defeat, McGregor (20-3, 8-1 UFC) needed the full 25 minutes to earn the majority decision over Nate Diaz (19-11, 14-9 UFC), 48-47, 47-47, 48-47. And when the final bell sounded, McGregor avenged the submission loss he suffered at UFC 196.
The bout was named the UFC 202 Fight of the Night, and will likely top many "Fight of the Year" lists.
"The media, to the fighters wrote me off this one," stated McGregor, who injured his shin in the bout. "He took every shot. I dropped him multiple times. He just keeps coming. His face was bust open and still came forward. I knew from the last contest. I stayed calm ... I stayed in the pocket. I knew I was gonna have the moment where he was gonna be in my face ... ... it was a hell of a fight."
Using a patient and methodical approach never before seen during his MMA career, McGregor threw leg kicks early and often. And while McGregor's plentiful kicks landed, it was with his hands that the Irishman did the majority of his damage, dropping Diaz in the first, and then twice in the second frame.
Diaz battled back in the third round, lighting McGregor up in close range. Mixing body shots in with punches to the head, Diaz gained steam as the round progressed, even landing several palm strikes for his signature "Stockton Slap."
McGregor looked visibly tired in the third, but returned to form in the fourth frame, out-landing Diaz with volume and power. And likely aware that he was up on the scorecards heading into the final round, McGregor avoided Diaz's constant baiting, bantering, and pressure.
The win likely sets up a trilogy fight between McGregor and Diaz, although there's still a pending defense of the featherweight title McGregor won at UFC 194.
For Diaz, he's only willing to accept a third fight with McGregor next, even if it's at 155 pounds, as McGregor stipulated after the fight.
"I didn't think for a second that I lost that damn fight," commented Diaz. "He did a lot of running away. In the old days, in a real fight ... in boxing you'd get pointed for, so I think they should've took points from him for running."
In the evening's co-main event, light heavyweight contender Anthony Johnson needed just 13 seconds to finish second-ranked Glover Teixeira.
Teixeira pressured forward right out of the gate, looking to connect. But it was Johnson who landed first, with a crisp right uppercut that sent Teixeira crumpling to the canvas.
And with Teixeira out on the mat, Johnson followed up with two ground strikes to seal the victory, likely setting up a rematch against current champion Daniel Cormier.
"There is no secret to power. It's not about how hard you hit him, it's where you hit him," said Johnson. "I told my coaches this morning, I said 'if I knock Glover out it's gonna be by uppercut.'"
Donald Cerrone continued his roll at welterweight, becoming the first person to ever stop Rick Story with strikes.
Landing an early takedown, Cerrone battled through bad positions in the first round to take the frame on the judges' scorecards.
In the second period, Cerrone found his signature form, lighting Story up with crisp punches. A four-strike sequence sealed the deal for Cerrone, landing a right hand to the head, followed by a left to the body, another right, and then head kick.
Cerrone improves to 3-0 as at 170 pounds.
"You know, they say you need to be able to win on your worst day and today was mine," commented Cerrone. "It was hard to find the groove tonight ... there were moments where I didn't know what I was doing but I'd hear my coaches and fire back up. I was able to do a good job out there even when I was not feeling great so that's all that matters."
UFC newcomer Mike Perry made an immediate statement on the biggest stage in mixed martial arts, earning a first-round technical knockout over Korea's Hyun Gyu Lim.
Overcoming a significant height deficit, Perry (7-0 MMA, 1-0 UFC) found his range early, dropping Lim (13-6-1 MMA, 3-3 UFC) on three occasions.
Perry followed the knockdown shots up with a barrage of ground strikes before the fight was waived off at 3:38.
"Each punch was wilder than the next and I was dropping him so I felt good. I tried to compose myself, clean it up and finish him and I got the job done," recalled Perry. "I was surprised by how tough he was."
Kicking off the night's main card, veteran welterweight Tim Means put on a striking clinic against UFC newcomer Sabah Homasi.
Starting off slow, Means (26-7-1 MMA, 8-4 UFC) found his rhythm, throwing dynamic punching combinations, knees to the body, and a bevvy of elbows.
Means quickly bloodied up Homasi (11-6 MMA, 0-1 UFC) with his crisp and highly accurate striking attack. And late in the first round, the finish seemed imminent.
Still, Homasi survived the first frame, but midway through the second, referee Herb Dean had seen enough, stopping the fight at 2:56.
"It feels absolutely incredible to be back! It had been a while so I went out there swinging for the fences," offered Means, who returned from suspension. "Other fighters need to take notice of what we do. Right now, I don't want to take it for granted."
Highly touted prospect Cody Garbrandt earned his fifth win inside the Octagon, and tenth overall, starching veteran Takeya Mizugaki in just 48 seconds.
Racing out from the opening bell, Garbrandt (10-0 MMA, 5-0 UFC) quickly found a home for his right hand, dropping Mizugaki (21-10-2 MMA, 8-5 UFC), and following up a series of punches.
With Mizugaki dazed, Garbrandt continued to throw the right hand until referee John McCarthy stepped in to stop the bout.
"I have power in my hands and I throw hard and heavy ... I knew with a fighter like that and a veteran like that, I had to get in there early and take him out. I put him away faster than [bantamweight champion Dominick] Cruz," commented Garbrandt while lobbying for the next tile shot at 135 pounds. "I'm a different beast than Cruz ... I'm going to show him who his daddy is."
Capping off the UFC Fight Pass portion of the preliminary card, welterweight Lorenz Larkin (18-5 MMA, 5-5 UFC) upset seventh-ranked Neil Magny (18-5 MMA, 11-4 UFC) in a brutal striking affair.
On the final fight of his current UFC contract, Larkin landed early and often, damaging Magny's left leg with a series of low kicks, also scoring two knockdowns as a result of push kicks. And while Magny wanted to keep the bout on the floor, Larkin would have none of it, forcing the fight on the feet.
Larkin, who improves to 4-1 at 170 pounds, finished the bout at 4:08 of the first round, using elbows to the side of Magny's head to force the stoppage.
"I came in feeling like I had something to prove tonight," stated Larkin. "I knew his leg would be out there and I made him pay. I came in with a 'finish or be finished' mindset."
UFC 202 Results
Conor McGregor def. Nate Diaz via majority decision (48-47, 47-47, 48-47)
Anthony Johnson def. Glover Teixeira via KO (punch) Rd. 1, 0:13
Donald Cerrone def. Rick Story via TKO (strikes) Rd. 2, 2:02
Mike Perry def. Hyun Gyu Lim via TKO (punches) Rd. 1, 3:38
Tim Means def. Sabah Homasi via TKO (strikes) Rd. 2, 2:56
Cody Garbrandt def. Takeya Mizugaki via TKO (punches) R1, 0:48
Raquel Pennington def. Elizabeth Phillips via unanimous decision (30-27, 30-27, 30-27)
Artem Lobov def. Chris Avila via unanimous decision (30-27, 30-27, 30-27)
Cortney Casey def. Randa Markos via tapout (armbar) R1, 4:34
Lorenz Larkin def. Neil Magny via TKO (elbows) R1, 4:08
Colby Covington def. Max Griffin via TKO (strikes) R3, 3:18
Marvin Vettori def. Alberto Uda via tapout (guillotine choke) R1, 4:30
REAL LIFE. REAL NEWS. REAL VOICES.
Help us tell more of the stories that matter from voices that too often remain unheard.