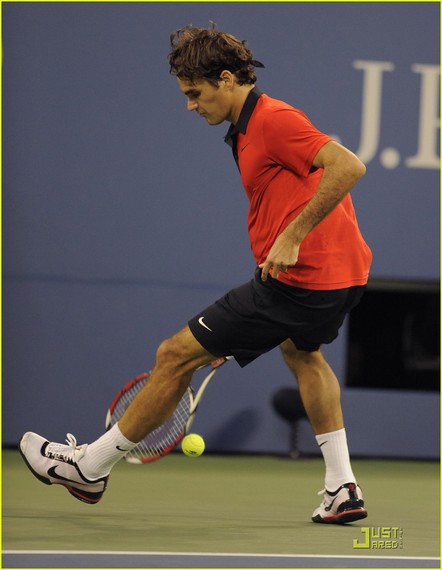 Now that the U.S. Open has drawn to a close, with Novak Djokovic taking out the valiant Roger Federer in the final, over four hard fought sets, 6-4,5-7,6-4,6-4; I think that its about time to look at the men's tennis landscape going forward. There were in fact only two points that separated them in the end. It seemed that despite losing in four sets, Federer was close to Djokovic the whole way, and there were really only a few points that decided the match. It is perhaps the most telling statistic that Federer failed to convert 19 of the 23 break points that he created. And against a player of Djokovic's caliber you just cannot allow him to have that many second chances. It seemed often at times though, that Federer was just being pummeled by the power of Djokovic's shots, and the way that he managed to constantly get the ball back was nothing short of incredible. It is now his last three Slam finals that Federer has lost to Djokovic. I will go about analyzing in this article whether I think that Federer can win another Slam, and furthermore whether that matters all that much. I will look at whether I think Nadal can win another, how many Djokovic will win, and who will be the new major winners to emerge on the scene.
Starting off with Federer, I will say what I think, which is that I don't think that he will win another Slam. And furthermore, I don't think that it matters in any way to his legacy. In fact, I think that not winning another Slam, and reaching all of these finals, improves his legacy more. When we think about who should be judged as the greatest of all time, the key distinction is whether the decision is based on the best at a point in their career, or whether the greatest is someone who has been the greatest over a consistently long period of time. Looking across at the world of golf, no one would ever say that John Daly was as great as Greg Norman. Yet Daly and Norman both won two slams each. But Norman will always be judged as greater because he was so often a fixture on Sunday. Federer likewise is so often a fixture at the weekend, and the fact that he continues to do it at 34, is nothing short of amazing. However, as Federer steadily gets older and older, the likelihood that he will be able to get over the final hurdle is diminishing. And whether that hurdle will be Djokovic or someone else, it doesn't matter. There will always be a top form player in a Slam, and at the French Open Stan Wawrinka was one such example. Federer may reach another final or two, but I am afraid that the Djokovic's and Wawrinka's of the world will continue to deny him his 18th major.
Djokovic on the other hand is the ultimate form player right now. Because of his strict diet, and other changes he made to his life at the end of 2010, he is right now at the same stage that Federer was at the end of 2006 (at age 25). At that time in Federer's career it looked like his dominance would continue for the next decade. Apart from Rafael Nadal on the clay, there appeared to be no contenders to his number 1 crown. Looking across the men's tennis landscape today, there likewise doesn't appear to be any serious and consistent contenders to Djokovic's crown. The Milos Raonic's, Thomas Berdych's, and Bernard Tomic's of the tennis world just don't have what it takes. The only (other) players who I think do have a chance at the Slam's in the next couple of years, aside from Djokovic, are Andy Murray and Kei Nishikori. Murray is a proven champion, and if he can recapture some of his former glory he will pose a challenge to Djokovic. Nishikori is a consistent performer and has a solid game. He is still only 26 and so has a definite age advantage, along with having a couple of Masters titles to his name.
The bottom line is that Djokovic will face a lack of competition for the next couple of years. Kei Nishikori and Andy Murray will pose a challenge, and Federer will continue to get to the late stages of the Slams. In order to beat Djokovic's game though, the player to topple him will have to playing at the absolute top of their game.
Related
Popular in the Community