Maybe you've suppressed grade school cafeteria memories, but there is one aspect of the lunch room that your grown-up self might covet: plastic shell chairs. You know, the ones you stacked up in giant towers or placed on top of the table at the end of the day. Those iconic and ubiquitous cafeteria chairs are the successors of celebrated mid-century furniture design.
While many of us used their spinoffs, a lucky segment of mid-century, American children actually had Eames stacking chairs in their school cafeterias. Charles and Ray Eames, the husband/wife duo who designed the classic shell chair, created a stacking leg option for it in 1955. This new feature, coupled with the smaller model just for kids, set into motion a design that would change lunch room furniture indefinitely. The petite design manufactured by Herman Miller provided an affordable and robust option for many schools. But, within ten years a new chair, the Polyprop, had cornered the market and edged out the Eames designs, because it offered an even less expensive yet equally functional option.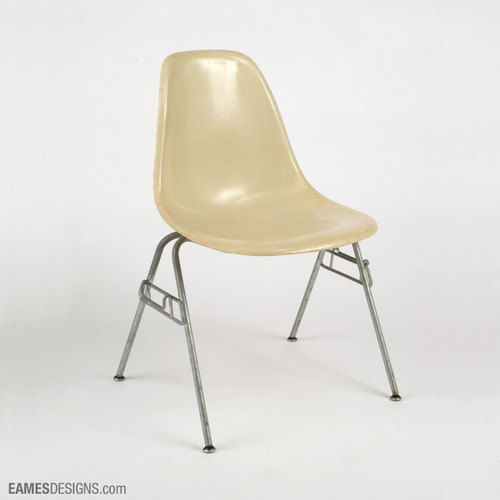 Herman Miller stackable chair, designed by Ray and Charles Eames, 1956 edition (image: eamesdesigns.com).
In the 1960s, Robin Day, a British furniture designer, created the first stacking chair made from Ppolypropylene plastic. Called the Polyprop, the chair was designed as an economical, space-saving, durable chair with the capability to be mass produced in many colors. Modeled after the Eames chairs, the Polyprop shared a number of its design features. The shape and style of the seat and stackable metal legs show great similarities to the Eames design, but the Polyprop retailed at a less expensive price due to lower production and material costs.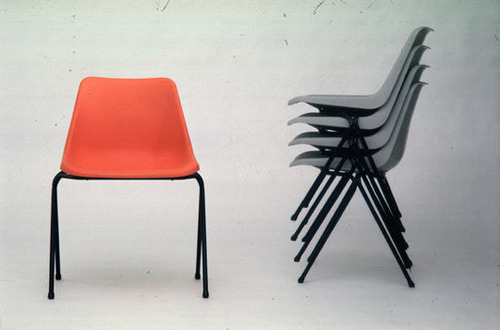 Polyprop Chair in 1964, designed by Robin Day (image: Design Council Slide Collection).
Whatever type of cafeteria chair you sat in, the shape, materials, and function likely originated from the carefully thought-out concepts of Charles and Ray Eames, and Robin Day. Perhaps your love for mid-century modern actually developed not while sipping cocktails and watching Mad Men, but rather in the elementary school cafeteria.