The first thing that Shanette Booker had to do, when she awoke one dawn to find that her husband, Army Staff Sgt. Andre Booker, had shot himself to death on the floor of their bedroom closet, was to gulp down her shock and horror and get her two young boys out of the house.
She took them to a friend's place down the street, somewhere safe and familiar, and arranged a sleepover for that night so she could deal with the police, the coroner and the funeral home. Finally, she checked into a local hotel and, alone at last, broke down.
The rising toll of military and veteran suicides -- 350 active-duty troops and some 8,000 veterans last year -- is a needless tragedy, a national failure to fully address the underlying problems of stress and mental health disorders, suicide experts say.
But the immediate, crushing impact lands on the families. These survivors are stunned, blindsided by violence that seems to come without warning, and left alone to struggle with shame and guilt. They, too, are Invisible Casualties.
"Families very often fall apart," said Kim Ruocco, who started a suicide survivors support group after her husband, John, a Marine Cobra gunship pilot, took his life in 2005. "You find addiction, multiple suicide attempts among other family members, and reclusiveness -- people have pulled out of their churches and communities because they haven't gotten the support they need," she said. "Survivors after a suicide loss are at a much higher risk of suicide themselves."
As Shanette Booker knows, the aftermath is especially challenging for parents.
"My children still don't know the whole story," she said of the awful events of Aug. 19, 2011. "Mentally they're not ready for that kind of shock to their system."
"I had tons of questions about how to get my children through this, what to tell them about it, and how do I keep them safe," Ruocco said. "Now that they have had this happen in their life, maybe this becomes an option or a way to solve problems -- the idea has been brought into our lives and I want to protect them from it."
Like other suicide survivors, Ruocco was simply overwhelmed after her husband's sudden death. It wasn't just having to deal with her 8- and 10-year-olds, but coming to terms with the fact and manner of his death, the social stigma of suicide, and gnawing questions about her own role. Was there something she could have done to prevent this?
She found a swarm of government and nonprofit resources, but it was harder to find a sympathetic and understanding person with whom to talk. Only other suicide survivors, she felt, could really understand the social stigma, the shame and guilt she felt. "I used to pray for peace from my thoughts and the conflicts that were now in my brain," she told me. "The multitude of the loss and the grief and the questions and the pain -- I just wanted some peace and some comfort and healing. I didn't know where to get it."
Ruocco has a master's degree in social work and decided to take action. She began working through an existing organization, the Tragedy Assistance Program for Survivors (TAPS), which provides care and comfort to anyone grieving for a loved one who died while serving in the military. The suicide survivors support group she started in 2007, under the TAPS umbrella, was built around what she needed. And what she needed, it turned out, was what other suicide survivors also craved. She now has seven paid staffers, 80 trained peer mentor volunteers and a database of 4,000 suicide survivors.
But until they began to find each other, many of these survivors say they felt lost.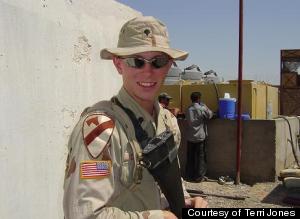 Army Reserve Spc. Jason Cooper
After Terri Jones' son, Army Reserve Spc. Jason Cooper, died by suicide, she didn't know whom to notify. The soldiers in his unit, just back from Iraq, were scattered in five different states. She lived in southern Iowa, miles from any military base.
Jones, stunned by her loss, finally called the local Department of Veterans Affairs medical center. After explaining why she was calling, she was transferred from one office to another, but never did find the person who would say, 'I'm so sorry, thank you for letting us know.' Several months later, still swamped by grief, she was fired from her job because, her boss said, "your heart's just not in it anymore."
"I started just Googling and searching for people out there I could cling to and help me through the process," Jones said.
Kim Suggs, a public school speech therapist in Lockport, La., also felt lost and isolated after it became known that her husband, Chief Warrant Officer Milton E. "Bobo" Suggs, had died by suicide. Her coworkers simply avoided her. "I'd walk down the hallway and swish! People were back in their classrooms," she said. "No one wanted to be around me. People can't tolerate that much pain."
Her friends had told her to call anytime she needed to talk. But she soon realized, "Nobody wants to get a phone call at 2 a.m."
For the survivors, one of the hardest parts of suicide's aftermath is having to accept that they will never understand all the reasons someone takes his or her life.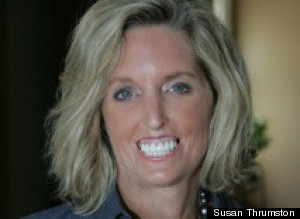 "Suicide is like a jigsaw puzzle that someone's thrown on the ground and the pieces go everywhere, and we as survivors grab these pieces and try to put them all together," Ruocco said. The fact is, she added, "We'll never have all the pieces."
The older generation of veterans, who are most at risk of suicide, often never talk about their combat experiences or their inner turmoil -- leaving families mystified and bruised after a suicide. "It's easy to see physical wounds," said Leslie Copeland, whose father, Doug Fisher, took his life in January 2000, 21 years after he returned from Vietnam. He was physically wounded and in pain for the rest of his life. His psychological wounds, she concluded after his death, "were invisible -- but very deep and very scarring." But, she added, "he almost never talked about it."
"We all ask that question, 'Why?'" said Terri Jones. Retelling the story helps. But even sympathetic outsiders may tire of hearing about it, she said. Even so, "You have to keep going back over all the pieces of your story, and other suicide survivors are willing to hear your story over and over, until you finally get the pieces you have together."
Eventually, said Kim Suggs, "you come to terms with it." Her husband was by himself in his room, at the U.S. base in Djibouti, Africa, when it happened, she said. "I have never gotten any details, and that's okay. I don't want to know. It wouldn't change the outcome."
Or as Shanette Booker put it: "Now it's real, baby. He's gone, and the question is, what do you do now?"
Suicide survivors can be tormented by the nagging conviction that they should have seen this coming, and could have done something to stop it. "These are invisible wounds only because we don't look hard enough," said Andy Weiss, whose son Army Lt. Danny Weiss died by suicide March 4, 2012, just before his fourth deployment to Afghanistan.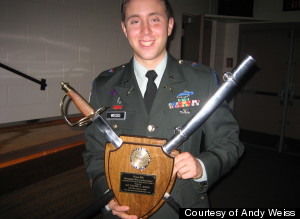 Danny Weiss, with one of three awards he won at Officer Candidate School graduation in 2009.
"We are all complicit to some degree in the failure to properly take care of our service members and veterans in general," Weiss said. "Danny's death is not different and there is blame to go around, from the top of our leadership down to me as his father," he added later in an email. Among those who must share the blame, he said, are those who were closest to Danny, the soldiers of the 2nd Battalion, 75th Ranger Regiment in which he served.
Terri Jones lives with the knowledge that she did see something wrong -- and never said anything about it. Her son Jason was suffering through insomnia, panic attacks and severe flashbacks. She didn't know how to intervene and was afraid she'd do the wrong thing. "I'd just kind of go along with it," she said. "I didn't want to say something that would set him off."
In the aftermath of his death, she said, "the guilt of failing your child is immense."
But military people work in high-stress and often dangerous situations and are good at hiding pain, fatigue and anger, Ruocco said. Her husband would have a bad day; the next day he would tell her he went for a run and felt much better. "You'd hang on to those days," she said, and postpone asking for help. "As a military spouse you have a real fear that telling anybody outside your own family is going to make things worse for him."
After John died, she told people she never saw it coming. But gradually, she realized, she had seen that something was wrong. "I just didn't know what to do with it," she said. When I asked what warning signs she saw, she paused. "There was a time when my husband said to me, 'I can't feel anything.' As a spouse, I heard, 'I can't love you.' So we had a fight about how he couldn't love me instead of me saying, 'Tell me more about how you can't feel anything,'" she said with a tone of regret.
This question -- could I have prevented this? -- torments the survivors. Thirteen years after her father died by suicide, Leslie Copeland said, she has graduated high school and college and gotten married -- all without her dad at her side. "Now I can only ask, what could I have done? And when are we going to take care of the people who sacrificed everything for us? When?"
Others decide to leave such questions behind. "You have to let it go or it eats you alive," Kim Suggs said. "I had to come to the peace of knowing that no matter what I did, I could not have done anything" to prevent it.
A suicide can mark families with the stigma of failure within a military culture that prizes strength, fortitude and heroism, suicide survivors say. Survivors sometimes find that military friends and neighbors -- whom they had grown close to while their family members were away on long combat deployments -- suddenly go silent. "My husband went from being a hero to a zero," Ruocco said. Before he died, even he felt the same way.
"He was very good at what he did, but he felt that telling anyone he was not okay would wipe out everything he had worked so hard to achieve," she said. "I was afraid his death would do the same, that people would remember him for how he died instead of how he lived."
"Suicide is not accepted; it's frowned upon, shoved to the side," Shanette Booker said. Her late husband was assigned to the White Sands Missile Range near Alamogordo, N.M., when he shot himself with a handgun he had recently purchased. Even within their Army community, she said, people "don't acknowledge those heroes that have lost their lives" from suicide.
Other survivors feel their loss is devalued because a suicide death is viewed differently from a battle death. "He may not have died a heroic death, but he lived a heroic life," Ruocco said of her late husband. "It's important for us that people know that the way they died does not define them."
The decision to move on with their lives is an important milestone for suicide survivors. Don Lipstein, whose son Navy Petty Officer Joshua Lipstein died by suicide March 15, 2011, explained, "I will always miss my son and love him, but I don't want his death to define my life."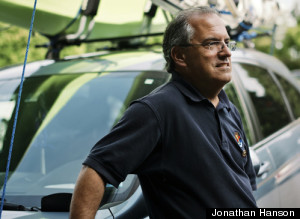 The Defense Department does not issue the Purple Heart medal to those who have died by suicide. The medal is meant to honor those killed or wounded in action against an enemy.
The shame, guilt and unanswered questions are a heavy burden that many survivors find can be eased in the company of other survivors. That's a role that Ruocco and her colleagues are seeking to fill.
Under an agreement with TAPS' suicide survivors program, the Marine Corps, Navy and Air Force ask families who have just lost loved ones to suicide if they consent to having their names forwarded to the program. A trained outreach coordinator contacts them within two weeks to offer help. TAPS assigns a relevant peer survivor, matching mother to mother, or father to father, to assess families' needs, connect them with support groups, recommend free counseling, and in other ways draw them into the larger community of survivors.
"Connecting with other suicide survivors is incredibly healing; it calms those rollercoaster emotions, the overwhelming questions and feelings," Ruocco said. "You're exhausted -- and now you don't have to explain anything."
"You can look in each other's eyes and say, 'Yes, this is awful, but we are going to get through this together.'"
This article is part of a special Huffington Post series, "Invisible Casualties," in which we shine a spotlight on suicide-prevention efforts within the military. To see all the articles, blog posts, audio and video, click here.
Related
Before You Go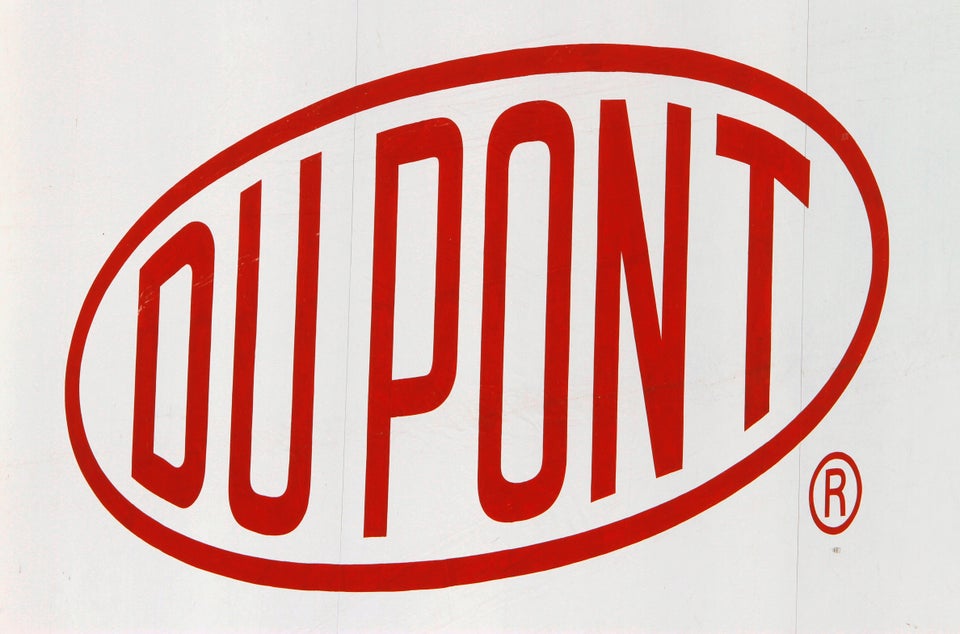 Companies That Work To Hire Veterans
Popular in the Community