This article was written by Marni Elyse Katz and originally appeared on The Inside Source, eBay's digital style magazine. To read the full interview, click here and be sure to visit us on Facebook and Twitter.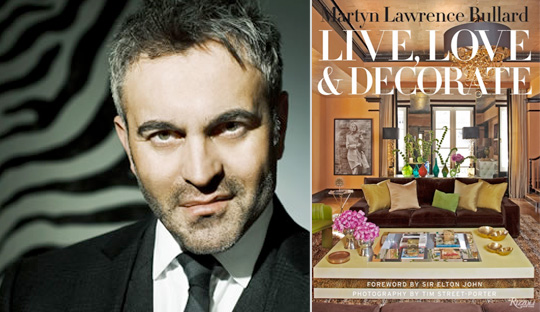 Martyn Lawrence Bullard with the cover of his new book Live, Love & Decorate (Rizzoli, October 2011)
Martyn Lawrence Bullard has a decidedly global sensibility, but this London-bred designer is pure Hollywood. As a boy he passed time rearranging furniture in his sister's dollhouse and buying and selling antique bits. But when it was time to pursue a profession, Lawrence Bullard saw himself on the silver screen and headed West to pursue his dream. He got a few bit parts here and there, but his career took a turn when a producer of a film he'd worked on asked him to decorate the new offices at The Hollywood Film Works production company after seeing his flea-market treasures-filled home. Soon after, Lawrence Bullard was reinventing supermodel Cheryl Tiegs' Bel Air bungalow, a job that was featured in Elle Decor.
In the ensuing years, Lawrence Bullard has decked out the houses of numerous super powered stars, including Cher, whose Malibu manse he describes as a cross between the Alhambra and the Danieli Hotel in Venice; the airy Indonesian-style Malibu home of then-newlyweds Kid Rock and Pamela Anderson; and Ellen Pompeo's house. (He met her in the front row of a Christian Dior by John Galliano fashion show in the Tuileries garden of Paris. He was with Cher, though she was running late, so he wound up chatting with Pompeo.)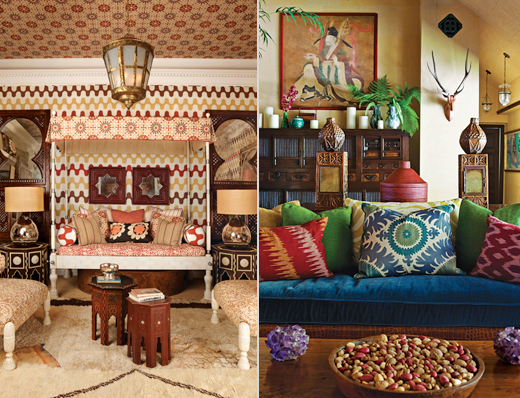 Left: Bullard incorporates a profusion of patterns in this Moroccan-influenced room, but the color palette is very controlled. Right: Decorating supermodel Cheryl Tiegs' home was Bullard's first real design job. Assorted suzani and ikat pillows are piled on a sapphire blue Manuel Canovas velvet sofa.
Lawrence Bullard's favorite job was finding and decorating Sir Elton John and David Furnish's Hollywood apartment. The directive was Studio 54, Halston chic, and Hermes Kelly-bag green. The result is sleek: it includes a Damien Hirst color wheel painting and Knoll Barcelona daybed covered in lime green suede.
Elton John introduced him to Ozzy and Sharon Osbourne. He decorated their post-reality show home, a New England style house on which he imbued a French country with touches of English country look.
Beyond the West Coast, Bullard designed Jimmy Choo Co-Founder Tamara Mellon's London home as well as her glam Upper East Side apartment. The apartment -- complete with an art deco style red leather sofa, shaggy fur pillows and rug and shiny brass touches -- appears along with dozens of others in the designer's first book, Martyn Lawrence Bullard: Live, Love & Decorate (Rizzoli, October 2011). Tucked amid the stars' rooms are those of his own Hollywood Hills house, which was, fittingly, the first home of Rudolph Valentino, a 1920s actor known as the "Latin Lover."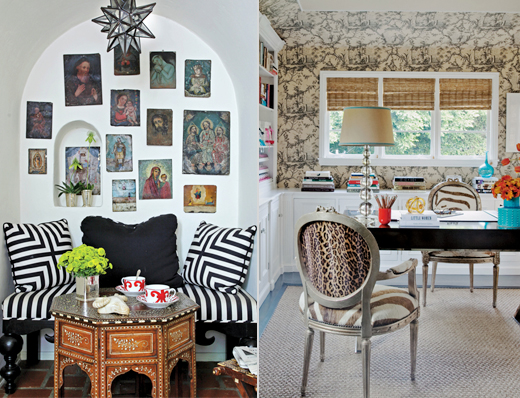 Left: The breakfast nook in Bullard's own home is hung with Mexican and South American retablos. The inlaid table is mid-19th century Indian. Right: In the home office of Aaron Sorkin's ex-wife, Julia, zebra and leopard print chairs sit against Old World Weavers toile wallpaper. Vintage turquoise pottery adds color.
The Inside Source got a chance to inquire about the designer to the stars' style and to check out his eBay wish list. If you're hooked, you can also get your dose of Lawrence Bullard on the Bravo show Million Dollar Decorators.
The Inside Source: What are the key elements of a Martin Lawrence Bullard room?
Martyn Lawrence Bullard: Color is key to my rooms. I love to work with colors that are representative of my clients' personalities and personal taste. We may take direction from a rug or a piece of art, or sometimes even from a cherished heirloom. Once the palette is established, I build up the rest of the look from there.
The Inside Source: Do you have a signature look?
Martyn Lawrence Bullard: I customize the look for every client. I do, however, love a touch of Orientalism in my interiors, whether a Moorish side table, Turkish lantern, or Egyptian inlaid lamp. These types of pieces always find their way into my interiors.
The Inside Source: What color combinations are you loving right now?
Martyn Lawrence Bullard: I am currently loving quite bright color palettes. Burnt orange, saffron, and sienna red are fabulous together, as are olive greens mixed with purples and eggplant shades.
The Inside Source: What are you working on right now? Where are you finding inspiration for it?
Martyn Lawrence Bullard: Currently I'm working on 12 projects in a wide spectrum of styles, from a 12th century castle in Umbria to a Balinese-inspired beach house in Malibu. For the castle, I have traveled through the local towns in order to see all the inspirational palazzos and castles that have helped define the historical restoration. For the Malibu house, we actually went to Bali to both get inspired and shop for most of the decorative and architectural items we'll be using.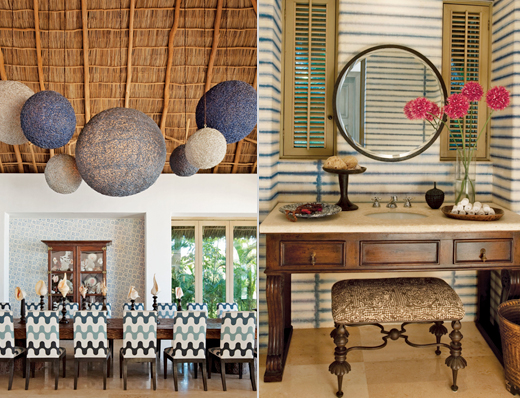 Left: The dining room in the Punta Mita, Mexico home of Joe Francis, founder of Girls Gone Wild. The 30-foot table is made from one tree trunk. The chairs are covered in Bullard's Mamounia fabric. Right: A powder room in Francis' house has walls covered in tie-dyed rice paper. Bullard found the vintage iron bench in Paris. The limestone-topped vanity is dressed up with African bowls.
The Inside Source: What's the most fun you've ever had decorating?
Martyn Lawrence Bullard: I have to say I probably had the most fun with Sir Elton John and David Furnish. They are the most generous, fun-loving people and truly understand the art of interior design.
The Inside Source: Is there one particular place you'd love to re-design? Or a particular person you'd love to create a room for?
Martyn Lawrence Bullard: I would love to work for Lady Gaga. Her whole sense of style is so wonderful and dramatic; she's a true artist. I'm sure decorating her home would just be the best experience, and really allow both of our artistry to run wild.
The Inside Source: Fill in the blank: I have too many ________.
Martyn Lawrence Bullard: Shoes!
The Inside Source: What do you splurge on?
Martyn Lawrence Bullard: I splurge on textiles. I love vintage textiles and buy them for inspiration and future use. I now have three cupboards full of them!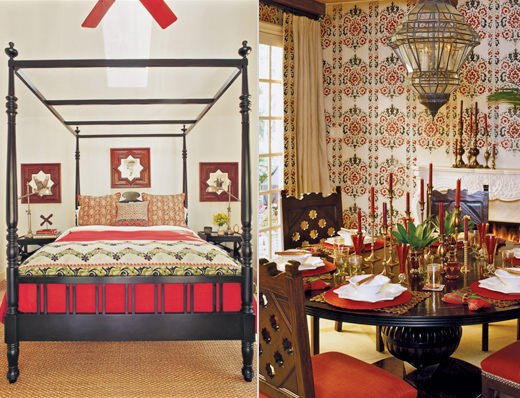 Left: The bedroom in the realtor Chris Crotazzo's Malibu guest house is decked out with an ebonized Timothy bed from Bullard's furniture collection and a perkily patterned quilt. Right: Music mogul Damon Dash's dining room has a Moroccan-patterned wallpaper and a mix of antique English, Dutch and modern Moroccan candlesticks.
The Inside Source: What design periods do you adore?
Martyn Lawrence Bullard: When I was 16 or 17 I had an early passion for Art Deco. I grew out of that. I've had a long-standing passion with Regency furniture. Nowadays I collect inlaid Italian furniture from the 18th century, quirky Portuguese pieces, and contemporary art and photography.
The Inside Source: Do you hunt for stuff on eBay?
Martyn Lawrence Bullard: I love eBay for all sorts of fabulous things, from hair wax that has been discontinued in the shops to vintage fabrics and even antique tiepins, which I also collect. I find eBay to be a constant source of inspiration and wonderment. When I am looking for a certain piece of porcelain that has gotten broken from one of my sets, we search eBay and 99 percent of the time, find a replacement. I also have one of my assistants constantly combing eBay to find fun decorative objects that are missing from our jobs. It's truly a designer's paradise for a shopaholic like myself!
Click here to see Bullard's eBay picks and be inspired!
(photos © Tim Street-Porter)