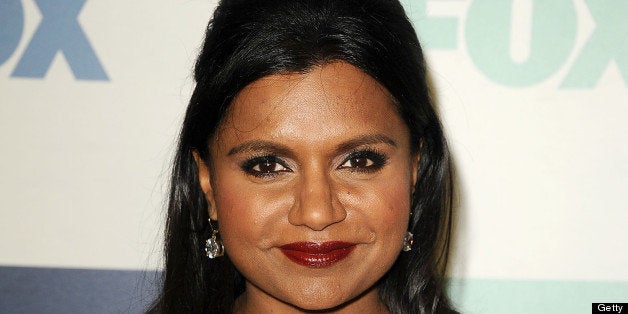 But, as she revealed in this week's Entertainment Weekly for which she was the cover girl, her accomplishments may have been born more from necessity than choice. "My career has only become what it has out of sheer need, not because I wanted it that way," she told EW. "I knew if I wanted to perform I was going to have to write it myself."
Kaling has discussed the way her gender and ethnic background have impacted her career in the past, but she has never felt the need to define herself by those labels. Kaling told Vulture in September, 2012:
I never want to be called the funniest Indian female comedian that exists. I feel like I can go head-to-head with the best white, male comedy writers that are out there. Why would I want to self-categorize myself into a smaller group than I'm able to compete in?"
Despite the fact that Kaling resists categorizing herself, she's acutely aware of the way the industry attempts to categorize her. She said in the same Entertainment Weekly interview:
The dream is what I imagine Amy Adams' life is. Someone calls and says, "Hi. David O. Russell wants you to do this part." Ultimately I'm very happy with the way it worked out, but I don't think it's my first choice for every role I do to have to write it. I guess I could play the lame, nagging friend of the beautiful white protagonist, but I'm neither going to have as much fun nor make as much money doing that.
We certainly wish that the entertainment industry did a better job of representing people from all walks of life, but until that happens, we're glad that there are incredible creators out there like Kaling who are taking the matter into their own hands. until that happens.
REAL LIFE. REAL NEWS. REAL VOICES.
Help us tell more of the stories that matter from voices that too often remain unheard.
BEFORE YOU GO
PHOTO GALLERY
'The Mindy Project'