Who wouldn't want to enjoy a beautiful day/evening filled with excellent music, beautiful creative cool people, brewed with a little bit of delicious quality food and drink? If this is indeed what strikes your fancy... then look no further than joining music icon, restaurateur, animal activist and awesome vegan himself Moby this November! The Circle V Festival is happening in its sophomore year, and welcoming you to celebrate veganism --and well, if you're not that informed or even technically one yet, that is of course fine too, the festival welcomes vegans and non-vegans alike, who enjoy embracing more about animal rights issues, phenomenal music, DJ's, not to mention inspiring and insightful key note speakers (hint, one of them being Kat Von D) all while having a blast too!
I remember when I first had the pleasure of meeting the great Moby himself back in 2015 at the National Museum of Animals & Society Gala Dinner here in LA... It felt good to be asked to attend this magical event as it does all wonderful events, but even more pleasurable, because it was not only a room full of love (their honorary gala committee members include Ellen DeGeneres, Shepard Fairey, and Eric Roberts among others), but also a night of purpose. Quite simply to be enlightened, coupled with amazing talent, can only manifest, for the most significant 'night out on the town' outcome! The Circle V Music Festival 100% demonstrates this forward thinking, modern day attitude and positive vibe. Plus, ALL profits go to benefit Mercy For Animals (a nonprofit, that crusades at minimizing all cruelty to farm animals, and heartening consumers to make compassionate food choices).
Susan Holmes McKagan: The Circle V (Vegan Music Festival) is coming up November 18th is that correct? I know the last time it was at the Fonda Theater – will it be there again?
Moby: This year we're excited to announce we're working with Spaceland who are the local promoters. The idea is there's a smaller, older theater downtown called The Regent[1] . What we're going to do is sort of take over the whole block encompassing the theater, so the giant parking lot across the street will become a beer garden and vegan food area. We'll also build a stage at one end of this block for all of the musicians, and also various different art installations. The theater itself will be for special key note speakers and other amazing performers.
Susan Holmes McKagan: Just to reiterate, you will basically be utilizing the block with the theater as the heart and center of the festival…
Moby: Yes... At one end of the block will be a huge stage type production. I'd like to portray it as we're sort of closing the street and building a little, vegan village. I've never done anything like that. Also, because there are so many festivals, and lots of them, they're great, but when they involve lots of travel and complicated logistics, I feel for a lot of people that might be really off putting. So, in this case, it's a festival that you could either drive to in 20 minutes or take the train to, than it's more feasible to attend.
Susan Holmes McKagan: Also, curious to know, what is entailed with regards to the qualifications for the artists, speakers, and food vendors that are involved? Do you have anyone attending that's coming again that you found to be a vital participant from years past?
Moby: I strive for the lineup to be as diverse as possible. The talent and vendors are practicing vegans, or at least a good part of the band's members are indeed vegan. It's a tricky thing, because the festival is of course a "vegan festival" and it 100% benefits an animal's rights organization "Mercy For Animals," but we also of course, want it to be inclusive.
With regards to artists, we're close to wrapping up the up and comer artists. But we can announce our secured main artists Reggie Watts, and also Tony Kanal (whom co-founded the festival) band Dreamcar. Tony's band is also with Davey Havok from AFI, and Adrian Young and Tom Dumont from No Doubt. We've also confirmed rapper Raury from Atlanta. Kat Von D I believe, is going to both perform and speak. She was very involved last year, and I think this year she's going to have sort of her vegan makeup installation, but also, I think she's going to play music. And rapper Waka Flocka Flame, who's also a very serious vegan. So musically the five of us are sort of the headliners.
Susan Holmes McKagan: This is such a great idea. How did the original festival culminate, and who was part of the masterminding?
Moby: I had been having dinner with former model Kathy Freston. Kathy has had a super interesting journey. I met her a long time ago when she was married to Tom Freston, who was the head of all the MTV networks. I would see her and Tom in New York at these fancy events, and they looked like super humans. Then a few years later I read an article that she wrote for some magazine or some website. At first, I wanted to be dismissive of it, because I thought hmm, "Oh…Who's this successful former model, who's interested in wellness?" But then I read it and I was like, "Oh. She really knows what she's talking about." She's certainly our most glamorous and also inspiring vegan – activist.
We were having dinner about two years ago, and she asked me this simple question. She asked, "Why isn't there a vegan music festival?" I expressed, "Hmm. That's a really good idea. That's a good question." Then the next day, Nathan (Runkle), who started Mercy For Animals, and Tony, from No Doubt, emailed me and said, "Hey…we were talking, and we think we should start a vegan music festival." And so, it was really funny. Kathy, Nathan, and Tony had the idea at the same time, independent of each other, and then ...
Susan Holmes McKagan: I understand all the profits are going to Mercy for Animals. Why is Mercy for Animals for the perfect fit?
Moby: When I was in college, before I dropped out, I was a philosophy major. Whether I was a philosophy major because I have a logically oriented brain, or whether being a philosophy major trained me to have a sort of logical brain, I don't know which came first, but when I look at animal activism, I see this movement that's growing but is still incredibly small and has very few resources in terms of people, in terms of money, in terms of influence. I also look at the enormity of the problem that we're up against, just in terms of the hundreds of billions of animals being used and killed by humans. Farm animals to me represent approximately 99.9% of the animals being used and killed by humans.
As a result, my animal activism is almost exclusively focused on farm animals. That's exclusively what Mercy For Animals focuses on.
Susan Holmes McKagan: You've traveled the world many times over, and you've been a vegan since 1987, tell me, if you're traveling abroad, or in an unfamiliar city…and you find yourself with a food craving, where do you lend yourself to recommend a place to eat – perhaps you have a go-to app for the vegan community?
Moby: Happycow.net. That is the go to app for traveling vegans or the "go to" website. It's been around for decades now. It lists every city on the planet. I'm sure even the most obscure towns, it still lists either the vegan restaurant, the health food store, or as often happens when you're on tour, it'll be perhaps the Indian restaurant that has some vegan entrees. If you talk to a vegan musician who's touring, that is their god, essentially— you live off of Happycow.net.
Susan Holmes McKagan: Your restaurant, Little Pine, people love it. What is your favorite go to dish there?
Moby: I'd have to say it's the "seasonal" risotto that I just had the other day. I hadn't had it in a while, and was reminded how much I really enjoy this dish. The summer version, for instance involves asparagus tips and pea shoots with a little bit of lemon and orange zest on top of it.
Susan Holmes McKagan: Okay you're making me hungry! What's on your rider?
Moby I tour as little as possible. The first thing that I ask whenever I'm going somewhere is, "Is there a Whole Foods near the hotel?" Basically, if there is, I go to Whole Foods and just buy whatever I need for the brief time I'm there, because it also feels more civilized and homey to buy your own food. My rider would have been fresh, organic juice, and organic walnuts, fruits and vegetables, organic, vegan bread. Really it was always pretty basic, but one of the reasons. There's another reason I don't like having things on a rider. It's because either they get the wrong thing or food becomes a waste.
Susan Holmes McKagan: Being that you're an electronic music icon—from being a hugely successful DJ, record producer, singer, songwriter, musician (selling over 15,000,000 copies worldwide), photographer to animal rights activist. in the future, any other goals to tackle on your list?
Moby: I have two goals in life, well. three goals and well I mean this in a "nondenominational" way. I would like to better understand God, whoever that is, and to do God's will, but I don't mean that in a Christian context, or a Buddhist, or Muslim. There's no context. That's all I want to do, and then my only two goals, beyond that, and they're modest goals, is to save humanity and save animals. It's a simple, little, modest goal.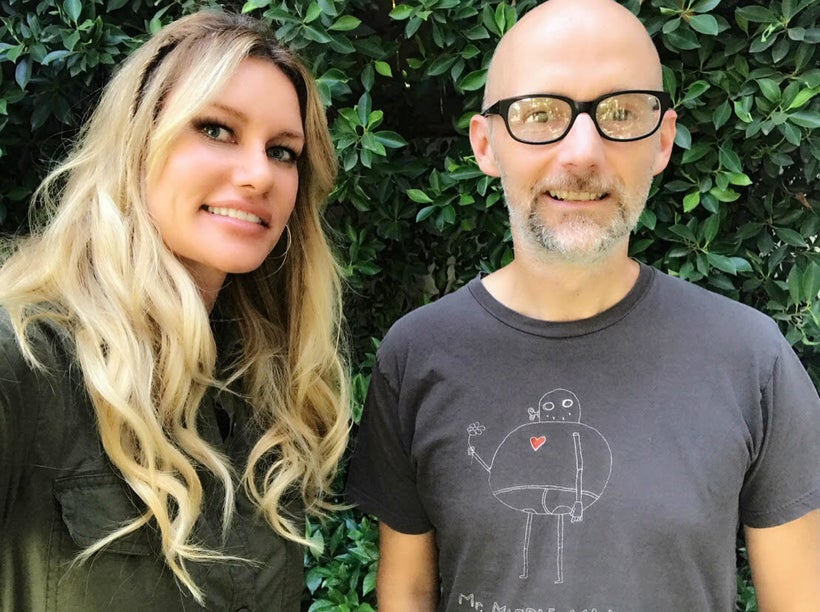 Calling all HuffPost superfans!
Sign up for membership to become a founding member and help shape HuffPost's next chapter
This post was published on the now-closed HuffPost Contributor platform. Contributors control their own work and posted freely to our site. If you need to flag this entry as abusive,
send us an email
.