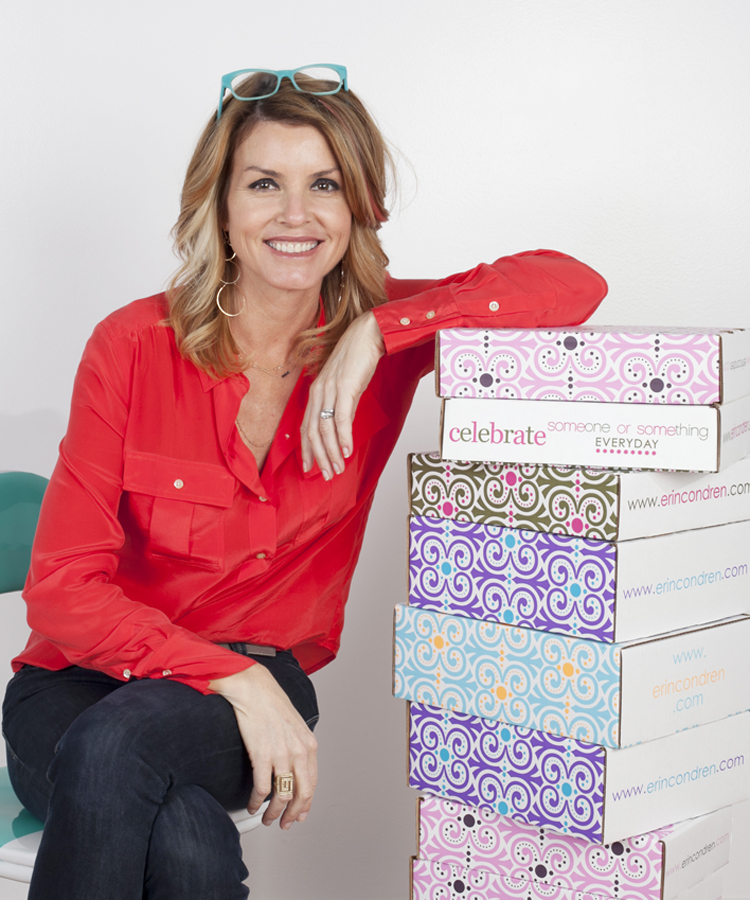 In this digital age it may seem surprising that Erin Condren, founder and president of ErinCondren.com, has seen her stationery/cards/paper goods business double in size every year since 2006 and her demographic is even getting younger. While teens and college aged students are probably more familiar with the memo pad icon on their iPhones than the actual memo pad, they are finding that paper products still have an important place in their lives.
Many entrepreneurs start a business because they have a passion for their product but Erin Condren began her business out of necessity. Erin's professional life began in the apparel industry after graduating from UCLA with a degree in sociology. She didn't love her first job but she decided to learn from it. She had always been crafty and creative and appreciated design so when she found herself selling swimwear, she decided to learn about the whole process not just focus on sales. She spent time at the factory, learned about the fabrics, design, merchandising, marketing and production. Erin left the swimwear industry knowing a tremendous amount about business as well as apparel. She continued working in the private label apparel business and with such a broad range of apparel industry knowledge, Erin joined her brother as he opened sewing factories and manufactured apparel for some of the biggest names in athletic clothing. Their business became the quick turn domestic production option and after a few years of producing for other brands, Erin designed her own line of contemporary clothing.
It was going well until weeks before their biggest order was supposed to be delivered and their truck was hijacked out of Mexico on the way back to Los Angeles. They had no choice but to ask the retailers to extend the delivery date on their first order. That was September 1, 2001 and then shortly after this, 9/11 occurred and the stores started canceling orders instead of issuing extensions. This was the straw that broke the camel's back for Erin and her brother's business.
Meanwhile, Erin had just given birth to premature twins in July 2001 and found herself overwhelmed with a business that was in trouble, an uncertain situation with 9/11 and she wanted to be home with her babies. With her family relying on two incomes, Erin had to make something else work. Her husband was opening a restaurant and that income was not stable enough at the time to support them. Erin was surrounded by friends who were also becoming moms and she was constantly invited to baby showers or birthday parties. Being financially strapped at the time, she decided to make the gifts herself. She utilized her creativity and love for design by making home made custom designed note cards, stationery and stickers. She printed them out from her desktop inkjet printer and went to Kinko's to cut them in stacks.
People loved her personalized gifts and on the back of each piece that she printed, she had her email address. Recipients of the cards were emailing to order as soon as they received these products. After Erin realized the benefit of the free marketing by having her contact information on the back of the products, she would give customers more than they ordered in hopes they would use them more frequently. If someone ordered 100 Holiday cards or thank you notes, she sent 150. The designing had been done and the printing and cutting was not expensive so she made customers happy with extra product.
In 2004, a friend asked Erin to be a vendor at her first at-home shopping party. She printed a catalog of her designs and took orders from local moms. It was holiday time and the orders from that initial show were more than she imagined and so began the juggle of having a fast growing business while juggling her two babies. She was grateful to have the help of her mom who took care of the babies on Fridays.
When the kids napped, Erin worked as much as possible and when they went to bed at 7PM, Erin made coffee and began to design and print all night. When her husband came home from his work at the restaurant Erin would head out at midnight for a Kinko's cutting run. It was their tag team effort to make this work.
After Holiday season in 2004 they realized that Erin had a viable business, from the beginning it had made money. Erin says:
One mistake people make in business is they seem to get too far in debt and stuck on their initial idea before seeing real results. It was a blessing that I didn't have money at the time because I had to cobble the business with the limited resources I had.
In 2005, Erin realized she needed a website in order to scale the business. She took some equity from her house to get started. It took longer than planned as Erin was still trying to find balance being a mom and handling the orders she had. Three months turned into nine but the website launched in 2005 Holiday season.
One Friday morning in early December, without even marketing yet, she checked her email and there were hundreds of orders. She started to cry, not tears of joy yet, Erin was overwhelmed. Her mom said "Turn off computer and relax a little." While her husband said "No way! You've got this amazing thing going, let's get to work!" Erin called her girlfriends, neighbors... anyone she knew to help her fill these orders. She offered food & wine in exchange for help with packaging. It worked. The team was built for holiday season. The business continued to grow even after Holiday season and Erin was outgrowing her home office that was rigged with 12 different printers connected to her one computer.
At that same time, her husband met someone at his restaurant who owned a local fine arts printing business. Erin's husband asked him to talk with Erin about how she can grow and manage her business. Al Marco was amazed and intrigued when he saw what Erin had built. He became a mentor and business coach and soon after became a business partner. The combination of his 25 years of knowledge and experience running his fine arts printing company and Erin's knack for design, creativity and the brand she built was a match made in printing heaven. She appreciated and needed his infrastructure and expertise. Erin says "The business had gone beyond my skill set. This was the missing piece of the puzzle to be able to expand, take it out of the house and have a real team. He was my angel."
In 2006, after a successful year in 2005, Al told Erin to hire a full time employee and a publicist. She was flabbergasted, not used to spending money on anything but exactly what she needed for production and orders. Al insisted, Erin listened and this became the tipping point for the business. They got some valuable press from Daily Candy's Washington, D.C. edition and Erin said "It was the most exciting day ever! We weren't just local anymore. This was the validation I needed and the orders poured in." Next came The Ellen DeGeneres Show's "12 Days of Holiday Giveaways" episode and while Erin had to give away 450 samples to the audience members, the press was priceless and brought in a ton of business.
Erin started this business as a means to survive financially while at home with her kids and it has truly become her passion. She knows what her customers want and stays a beat ahead by designing products like the Life Planner. Her partner was skeptical since digital calendars were in full swing, but he agreed that since they can print on demand, they would launch the product without investing in inventory. The Life Planners sold over 50,000 copies last year.
Erin credits their company's financial success on their ability to print on demand and keep very low inventory since they handle everything in house. Along with the control of printing and inventory, Erin says her success is due to their customized, handmade products and small biz feel. "Even now with over 100 employees, I have friends that will ask me to leave their order on my porch for them to pick up. And I'm happy to do it!"
She says her goal is to:
"Always operate like a small, creative, spontaneous think tank, offering the boutique, custom experience."
Erin says the best advice that she got from her partner Al in the very beginning was when he said:
"Anybody can be an entrepreneur, but the toughest part is making the leap to being a successful business person."
This isn't always easy for creative entrepreneurial types, so Erin advises surrounding yourself with people who have business experience and success. She says "Become a sponge. Learn from each job you take, even if you hate it. You will likely be able to apply that knowledge to something else later. Success happens by hard work, an insane amount of work. Entrepreneurs have to have crazy ambition and drive, risk taking ability, and not need a lot of sleep." She has worked around the clock for this success and is the first to admit that she enjoys that. "I'm not good at relaxing. If I feel like I have downtime and I'm having coffee in the kitchen, I may just decide to paint the cupboards. I like to be busy and creative!" The big difference for Erin from beginning to today is the infrastructure that Al brought to the table. Erin is now able to separate work from family life a bit better. She says, "When I'm at the office, I give 100 percent, then I can be 100 percent at home when I walk in the door." Her husband now has four restaurants. Erin is grateful to have separate businesses as they both support each other and nobody's goals are more important than the other. "
"Financially, having both spouses be entrepreneurs can be very dangerous. I don't advise it, but I'm so glad it worked for us. We went through difficult times but our hard work paid off."
This year ErinCondren.com expects to do over $6 million in business. Yes, paper is still alive and well.
Calling all HuffPost superfans!
Sign up for membership to become a founding member and help shape HuffPost's next chapter