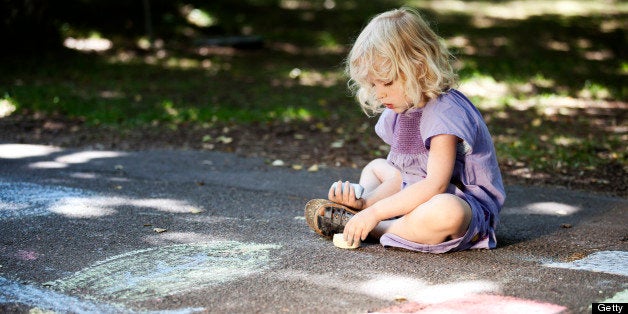 It's the third week of July, and for most kids, the start of the school year is still weeks away. But whether they're enrolled in camp or you're heading to the town pool to beat the heat, filling those long summer days with activities can easily add up.
To make sure that summer fun doesn't wreak havoc on our budgets, the @WomenandCo team participated in a #MomTalksMoney Twitter party hosted by Kelly Whalen of The Centsible Life (@centsiblelife), who gathered social moms from across the country to share clever ways to keep kids entertained without breaking the bank.
Also joining in the conversation were several of our Moms Talking Money bloggers -- a group that has joined us in our mission to encourage women to talk more openly about the money issues that affect their lives.
Needless to say, there was no shortage of ideas being shared. Here were some of our team's favorite summer fun suggestions:
1. Glow-in-the-dark bubbles. If you feel like you go through bubbles by the gallon over the summer, try making your own. Mom.me shared a collection of super-easy DIY bubble recipes -- including one that makes your bubbles glow in the dark!
2. Simon Says... ART. You remember the classic "Simon Says" game of instructions for kids, right? Just give it a new artistic spin for rainy day fun. Think Simon Says... draw a squiggly line with yellow paint. Or Simon Says... make a circle with a blue crayon. The possibilities are endless.
3. Rediscover your local library. Sign the kids up for a summer reading club and keep the children's library schedule of activities on your fridge to keep track of story hours, classes and performances throughout the summer. Bonus: It's air-conditioned -- and most activities are probably free. All Things Fadra suggests a multimedia visit: "I usually include trips to the library where we can pick out a mix of books, DVDs, and video games for free. The media stuff helps make it not feel so 'school-like.'"
4. Plant a garden. It's a great way to teach kids about where food comes from, and if they have a stake in growing their own vegetables, chances are they just might eat them. Before you plant, check out Women & Co.'s "5 Ways to Save Money in Your Garden."
5. Cook with kids. Once they've harvested those vegetables that they've grown in their garden, have them help you prepare them for the whole family to enjoy. Little ones can pitch in by mixing sauces and tossing a salad; older kids can help you plan a menu and do some of the cooking.
6. Plan a backyard movie night. April from Mom.me (@Momdotme) offered this simple, yet brilliant, summer party idea. Hang a drop cloth from some trees, lay out some blankets and pillows on the lawn, pop some popcorn and your backyard becomes a cinematic wonderland. For step-by-step instructions check out http://mom.me/playroom/8193-toddler-talk-backyard-movie-party/.
7. Finger knitting. It's easy, inexpensive, and keeps their hands busy. @DawnMcAvoy shared this how-to video that will teach kids to master the basics in less than 7 minutes.
8. Leaf art. Bored with finger paint? Jill from Mom It Forward suggests incorporating nature into your kids' palettes by having them collect leaves for their next art project. "You can paint them and make a beautiful picture, or try painting with the leaves as brushes. It's so much fun and the kids get to be messy!"
9. Make new friends. Search Meetup.com for local events in your area, and sign up for alerts from groups that organize kids' events in your neighborhood. Or check out local parenting blogs for event calendars and top activity picks. MommyPoppins.com, for example, offers guides to NYC, NJ, LI, CT, Boston and LA.
10. Go old school. Think back to your childhood memories and how you spent the lazy, hazy days of summer. Sidewalk chalk, Slip 'N Slide, freeze tag, kick the can and catching fireflies never get old. "It's amazing to watch your kids play the way that you used to," shared Kelly.
For more ways to save on summer activities for the kids, check out our Checklist for Summer Family Fun below and Kelly Whalen's lists of 50 free (or nearly free) summer activities. Then tell us: What's your go-to summer activity with the kids?
Women & Co., a service of Citi, is the go-to personal finance source for women. By providing financial content, commentary and community, Women & Co.'s mission is to get women thinking and talking about personal finance. Founded in 2000, Women & Co. is one of the longest running personal finance websites dedicated to helping women strengthen their financial futures.
Popular in the Community