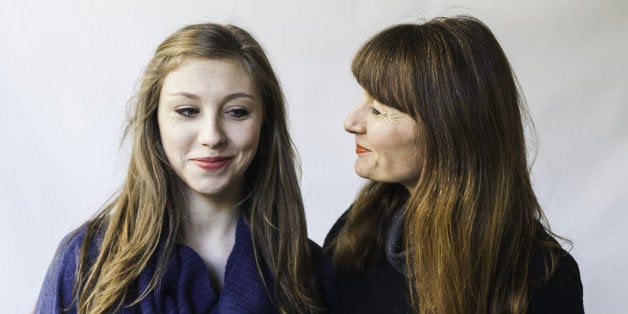 Most Mother's Day cards thank Mom for always "being there." But for many of us, there's more to it than that. What about the moms who weren't always there because they couldn't always be there? The moms who had to miss the occasional soccer practice or dress rehearsal for a late meeting, the moms who didn't have the jobs that allowed them to work from home, or who couldn't really take off work for that two-week family vacation every the summer when the kids were out of school. Where are the heartfelt Mother's Day cards for them?
Those mothers who work long hours in offices, on factory floors, or in hospitals might not always physically be "there" -- they might miss the occasional family dinner to snatch up an extra shift -- but the tireless pursuit of their professional goals and the next challenge is just as meaningful a form of parenting.
This Mother's Day, it's time these moms received the special thanks they deserve. That's why we've partnered with Chevrolet Malibu to give a special shout-out to all of the moms who taught us the true value in not always being there.
1. "She's my best thing"
When Asa Leveaux was in the fourth grade, his mother -- who owned a small day care at the time -- went to an out-of-state conference for work. Leveaux was so angry with her for "leaving" him for a few days with his father and four siblings that he didn't talk to her for almost a week after she got back.
Noel Gray, Leveaux's mother, has five grown kids, including two former foster children whom she adopted after caring for them at the Head Start program where she then worked.
Working "was not even a choice that I made," Gray said. "It was, don't eat or go to work. I went to work. I remember one time when [Asa] was singing in school, and I was late getting there because I had to wait for all of the kids [at the day care] to get picked up. I missed his singing. I know that was a big deal," she said. "I couldn't be there for him, but at least when he got home he had lights and water in the house."
What does the 32-year-old entrepreneur and Army reservist think about his working mother now that he is an adult? "She has played the instrument to the song of my life," Leveaux said of his mother who, after her children were older, went on to earn multiple graduate degrees and works as a behavioral therapist, pastor and hospital chaplain. "She's my best thing."
2. "She was always there for me when I needed her"
Photo courtesy of Kate Glantz
Carol Glantz brought her baby with her to work each day at the high-end wallpaper store she owned. There, her daughter had a crib, a bouncy seat, even her very own business cards. The cards were a bit of a joke to help the infant get into "market," the to-the-trade-only design showrooms. "She needed to be an employee to get in," Carol explained, "so I made up the cards."
At work, Carol nursed her daughter out in the open when she was hungry. Thirty years ago, seeing a woman breastfeed in public was not as common as it is today. "'She went right up under my shirt, and if a customer didn't like it they could leave," she said. "But I think only one person ever did."
Daughter Kate entered school, and her mother's wallpaper business continued to flourish, as did an art gallery she opened later. The younger Glantz says she marveled at how hard her mom worked: "I didn't have a mother who was in the PTA or who came on the class trips; but she was always there for me when I needed her."
After working in the Peace Corps, at the Centers for Disease Control and Prevention and for the U.S. Department of State, Kate launched her own business last year. Her mother is proud of everything her daughter has accomplished. "I taught her that things don't come to you if you just sit and wait," Carol said. "You have to work to make it happen."
3. "She truly was an example of everything a woman could be"
Thirty-year-old Mary Dacuma proudly lists the many jobs her working mother held when she was a child. Zenaida, her mom, worked as an accountant. She moonlighted as a bookkeeper at a neighborhood nail salon. And in March and April, she worked as a tax preparer.
But when she was a girl, Mary didn't always understand. She remembers being upset at school events or performances when her mom couldn't attend. "When I was around nine or 10, I would get angry at her often" Mary said of her mom. "I didn't realize her absence was a sacrifice she was making to give us a better life. Today I want to thank her for working so hard. She truly was an example of everything a woman could be for my sister and me -- a great mother and career woman who was strong enough to do what was best for her family."
"I told them that the best inheritance we could give them was their education, and we were
working to give them that," Zenaida said. "And the work paid off. I see the fruits of my labor, and I feel accomplished."
4. "She always put us first"
Photo courtesy of Lisa Harst
When she was 30 years old, Robbie Ilsley suddenly became a single mother with four little ones. "I started out doing part-time jobs to make ends meet, like housecleaning and wallpapering," Ilsley said. "But it became evident that I needed something full-time with benefits."
She took a job at a local manufacturing company, assembling vending machine bill acceptors. Ilsley spent her days putting together very small parts, which required a lot of concentration. Her daughter, Lisa Harst, explained that the kids would stay at home together with their grandmother and later by themselves.
Harst said her mother had told them to "call only if there was an emergency." Every time a child phoned, the call went to the main office, a supervisor would notify Ilsley, and she would have to leave the plant floor. "But we used to call her all the time, like if we were fighting."
Harst is sorry about that, she said, laughing. And she wants her mom to know how grateful she is for how hard she worked and how patient she was with her kids. Ilsley worked all day and would then come home "and do everything."
"Now that I have two kids myself, I have no idea how she did it," Harst said. "She always put us first."
The all-new 2016 Chevrolet Malibu proudly celebrates all mothers and fathers who strive for the success that matters in life -- every day of the year.