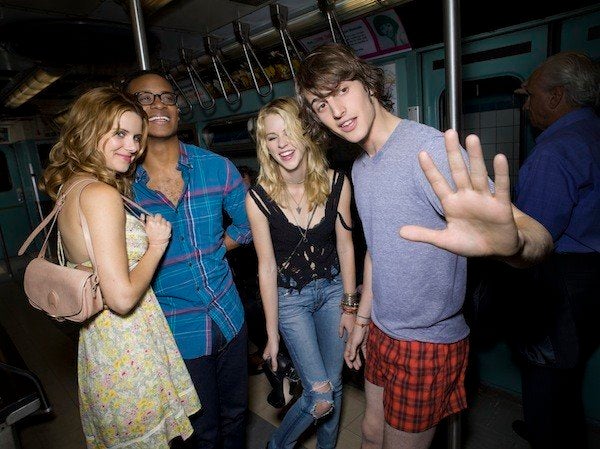 "Pants Back" is a semi-raunchy relationship comedy about young post-graduates in their twenties, living in Brooklyn, NY. According to the PTC, it's going after the show's sponsors because MTV is targeting 12-year-old children with the show's racy content.
"Once again MTV is taking HBO-style content and marketing it to a Nickelodeon-age audience," said PTC president Tim Winter, as reported by EW.com. "The network programming executive is on the record saying 12-year-olds are in his crosshairs. And the TV-14 content rating is intentionally misleading for parents and for advertisers. The Parents Television Council will not sit silently and allow this affront to go unchallenged."
But that's not all. Winter then goes on to warn parents -- and MTV's advertisers -- of the kind of materiel "Pants Back" is exposing to children.
"All of MTV's advertisers, including Dr. Pepper, T-Mobile and Toyota, will be asked if foursomes and a woman who tells her sexual partner to 'stick a finger in my a--' are an accurate reflection of their hard-earned corporate brands," Winter said. "Parents need to be warned about MTV's stated intention to target children as young as 12 with this explicit material."
While, MTV's target demo is indeed 12 to 34, not every MTV show is aimed toward the younger end of the network's demo. Not to mention that "Pants Back" airs at 11 p.m. EST on Thursdays, after the network's other controversial show, "Jersey Shore." Edited episodes of "Pants Back" do re-air during the day, but the daytime re-airs have been edited to take the more racy content out.
Related
Popular in the Community