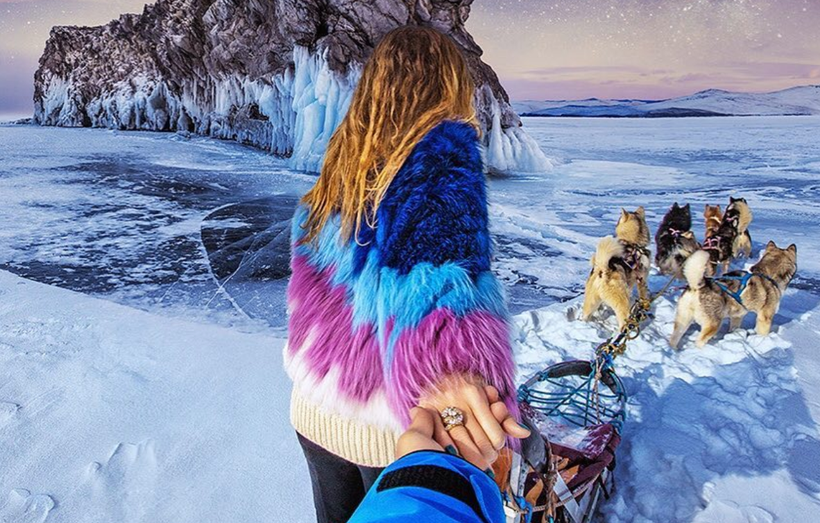 Scroll through the iconic hand-holding pictures of the social media power couple, Murad and Nataly Osmann, on Instagram and I would bet that you'd be intrigued to tag along on one of their trips around the world and learn the secrets to their success. Well, you now have your chance, as Murad and Nataly Osmann recently shared with me every detail of their photo shoot at Russia's Lake Baikal so that you can organize your next Instagram-worthy trip more efficiently.
1. Gear Guide: Which Camera to Use
Would you have thought that Murad started the #FollowMeTo campaign using just an iPhone? After some time, he switched to a more professional camera, but don't be afraid to get started with what you have now.
"My favorite lens is 16/35 with f2.8, although it hasn't been of great use for me since all the #FollowMeTo series photos are taken with closed lens aperture diaphragm and it´s necessary that the arm, Nataly, and the background all stay in focus. So I have to use at least f7 or f8," Murad says.
Because of the specific task at hand, it was important for him to test the best solution since both Nataly and the background had to be in focus. "Then came along one of my favorite cameras, the Sony Alpha 7, and also the Alpha 7R. It was the first mirrorless camera that had a compact body. It is very convenient to use on trips," says Murad.
2. Do Your Research
Sometimes it is worth shooting at lesser-known places rather than the sights that have been photographed a million times. "When landing in Irkutsk many travelers think 'Baikal, here it is!' but it actually takes at least 5 hours to get to the most beautiful places," Murad says. When preparing for a shoot, the couple does their research and plans every detail, from the dress and hairstyle Nataly will don to the background itself.
Tip: when it comes to traveling to locations, always be prepared and know your options. The first destination for Murad and Nataly was Olkhon Island, Russia, but it was 5-6 hours away by car and since they didn't have much time, they chose to travel there by helicopter.
3. Take Time to Explore
If you have the chance, plan to arrive a day or two before the photo shoot and scout for locations. "There are plenty of picturesque places near Lake Baikal," says Nataly. "You might need to take a car and explore the area to find the most beautiful location. It ended up being one of our favorite sights. For example, we drove to Burkhan Cape, also called Rock Shamanka, an important holy site."
4. Choose the Best Time for Shooting
When I ask Murad about the most difficult parts of the photo shoots, he mentioned getting up early for the sunrise, traveling to multiple destinations on the same day, and the weather that can rewrite their travel plans. "People often ask me when is the best time for shooting, and the answer is the magic hour after sunset or shortly before sunrise," says Murad.
Tip for Instagram influencers: try including some photo shoots at sunrise from your everyday life--the streets are empty, the light is stunning, and the only price to pay for is waking up early.
5. Make It Unique
It's worth researching a bit about each destination in advance: What popular photos were already taken there? Are there any traditions related to the location? Any special characteristics? At Lake Baikal, the frozen water was a given, but the sled dogs made the pictures stand out. "Both the huskies and malamutes were incredibly kind and gentle. I literally entered my second childhood [playing with them]. It was so much fun," said Nataly.
Researching in advance, preparing every detail, and being creative can help take your photos to the next level, in addition to shooting at the critical magic hours. Most importantly, have fun while creating your own magical photos for your followers.
Nora Oravecz is a self-made social media personality, best-selling author, and speaker on a mission to help the next generation of influencers and entrepreneurs by exploring and sharing the stories of some of the world's most successful people. Read more: noraoravecz.co
Calling all HuffPost superfans!
Sign up for membership to become a founding member and help shape HuffPost's next chapter
This post was published on the now-closed HuffPost Contributor platform. Contributors control their own work and posted freely to our site. If you need to flag this entry as abusive,
send us an email
.