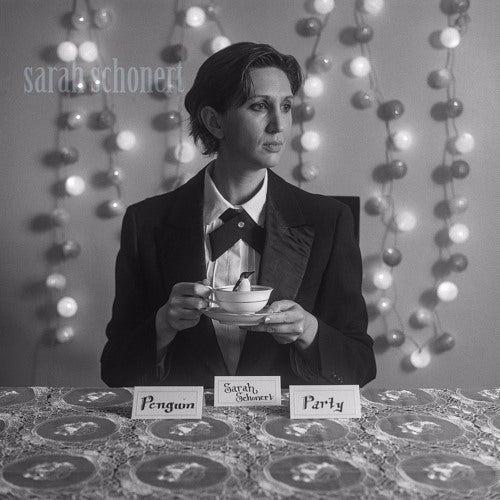 Sarah Schonert will drop a new full-length album on December 8, entitled Penguin Party. To date, Sarah has written and produced seven albums, including three instrumental EPs.
Hailing from Peoria, Illinois, where she writes, record and produces in her home studio, Sarah's sound blends classical piano, electronica, loopers, ambient washes, ARP synths and an array of other instruments. The result is extensive, ethereal, dreamy, haunting and surprising.
Penguin Party focuses on keyboards, loopers, Seaboard and Vocoder for its unique sound. Sarah Schonert provides vocals and keyboards, while Brett David plays bass on "Queen of Panels."
The album contains a baker's dozen of tracks. "Astound Me" rides emerging synth colors pulsing with intense tones, along with a sparkling piano and an orchestral feel. The vocals provide an industrial radiance that's delicate and gossamer. "Tree With Feet" runs on sparkling synths, crisp percussion and deep booming tones, assuming a thunder storm sensibility.
"Queen of Panels" emanates trilling synths traveling on a classical/pop flavored melody with R&B hues flowing forth. A pulsating rhythm gives the tune a galloping feel, as Sarah's waspishly-delicious voice, fierce and strident, glides overhead. "Queen of Panels Outro" appends itself to the original version with an elusive psychedelic sensibility. The title track presents an array of phantom-like pigments and electronic effects. "Listen Soak Repeat" comes across as a nursery rhyme imbued with crunching beats and bravura vocalizations.
"I Can't Think Straight" delivers an exotic ambiance rife with startling burps and pulses from the synths. There's a faint hint of bluesy jazz flowing underneath, almost hidden. "Glacier Dive" rides a foaming, thrumming melody with an industrial-lite aspect. Its frosty ambiance hovers like an aura. "Irrelevant" trickles with pulsing energy and gongs flowing into a funky groove that's ascetic but potent. "NonCrystalline" packs a jazzy classical feel rippling with keyboards and trilling synths. The vocals emanate mechanical shudders of dreaminess.
"Overdriving Headlights" shimmers with synths and keyboards vibrating like a mythic structure. "You Still Awake" floats with haunting aromas and Sarah's fragile almost waiflike voice. "Get Thee To A Nunnery" shushes with sighing colors, along with a quavering synth and a divine piano. The melody combines dream pop and a classical flow creating an elusive surreal essence.
Experimental, fantastical and diaphanous are words I would use to describe Penguin Party. And I don't use those terms in any pejorative sense. Sarah's music is emancipated and contains an imperturbable delicious decorum that creates sonic images and landscapes as protean as the face of the ocean. In other words, it's very sui generis, mysterious and conceptual. I like it because it's sonically sartorial and innovative. Penguin Party is definitely worth listening to when it drops.
Calling all HuffPost superfans!
Sign up for membership to become a founding member and help shape HuffPost's next chapter
This post was published on the now-closed HuffPost Contributor platform. Contributors control their own work and posted freely to our site. If you need to flag this entry as abusive,
send us an email
.