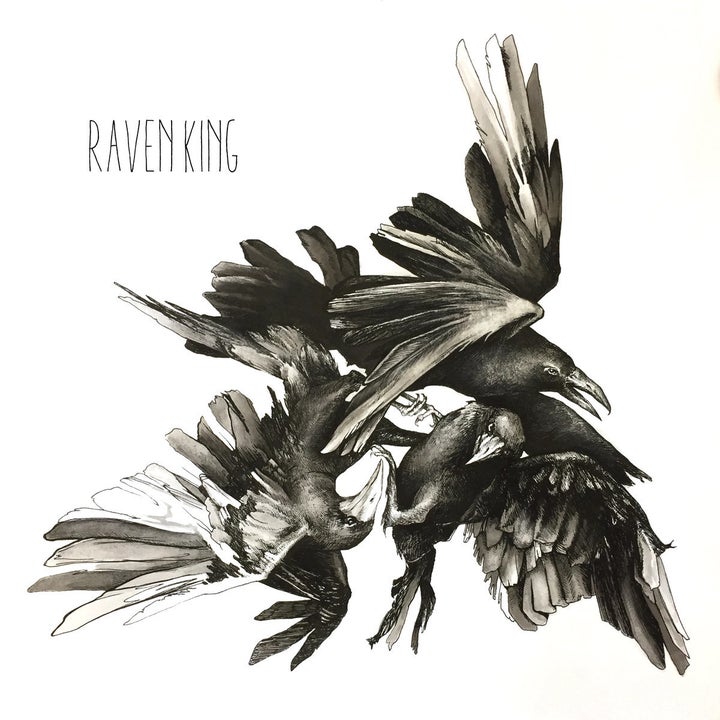 Just over two weeks ago (December 28), Raven King dropped their self-titled album. Hailing from Providence, Rhode Island, Raven King is made up of A.J. Bucci on bass and vocals; Gerrit Curti, who also produced the album, on guitar and vocals; and Will Boisseau sits in the pocket and provides vocals.
Raven King merges elements of grunge, alt-rock and art-rock into a sound replete with lavish harmonies and opaque lyricism, along with both discordant and elegant filaments. And in the grand tradition of do-it-yourself, the band wears a variety of hats, producing and recording their own music.
Raven King contains eleven tracks. "Carnival" rides a bluesy, drawling alt-rock melody rife with twangy jarring guitar riffs vaguely reminiscent of Jimi Hendrix meets Nirvana. When the chorus kicks in, the melody attains a grungy essence that's effective. I like the vocals, kind of nerd-chic with a taste of Nirvana tossed in for good measure. "Drool" begins with soft indulgent guitars, followed by a crisp, light groove. The guitars radiate harsh tones that initially grate, but once you get used to them, they take on a tantalizing energy that I like.
"Drifting" delivers a measured grunge melody that reminds me of Soundgarden. The softly potent guitars imbue the tune with dirty flavors, while the vocals add an elusive quixotic color. "Diminished" reflects a grungy alt-rock melody with hints of the blues, along with Raven King's trademarked jarring guitar tones.

"Marble" starts off with a slightly psychedelic flavor flowing into a polyrhythmic groove with floating art-rock guitars overhead. The high-pitched vocals attain a dreamy semblance and then the guitars ramp up to a potent grunge cacophony prior to descending once again. I like this tune because of its textured energy and creativeness. "Within Reach" rides an art-rock melody with gently riffing/skanking guitars that shimmer with dirty colors. The dreamy new wave vocals drift on soprano tones.
"Skins" begins with jangling sound effects and a bottomless bass thrumming with stark indifference, followed by the entrance of crying vocals. Then the art-rock melody kicks it up to powerful grunge levels, as the vocals warble and whine in discord. "Full" reminds me of a Nirvana tune, grungy rock and angry guitars leading the way. Piercing vocals deliver a quasi-nerd-chic aroma infusing the song with world-weariness hues. "Lost Token" provides punk rock power with grungy alt-rock, giving the tune a raggedy prog-rock feel.
"It's Not Life" starts off with shuddering vocals and a grinding measured grunge melody that flows rather than pulses. Although slightly incongruous, I like the tune because of the destabilizing vocals and the really tight dirty guitars. "Armilla" opens with kaleidoscopic sound effects and a starkly pungent guitar, along with high vocals that emanate clashing tones. The melody combines art-rock with filaments of pale prog-rock, giving the tune an experimental savor.
Raven King is a strong album, full of catchy grunge/art-rock melodies and opulent vocals harmonies. The album is definitely worthwhile and deserves to be listened to. It will be interesting to see how the band evolves musically.
Related
Popular in the Community