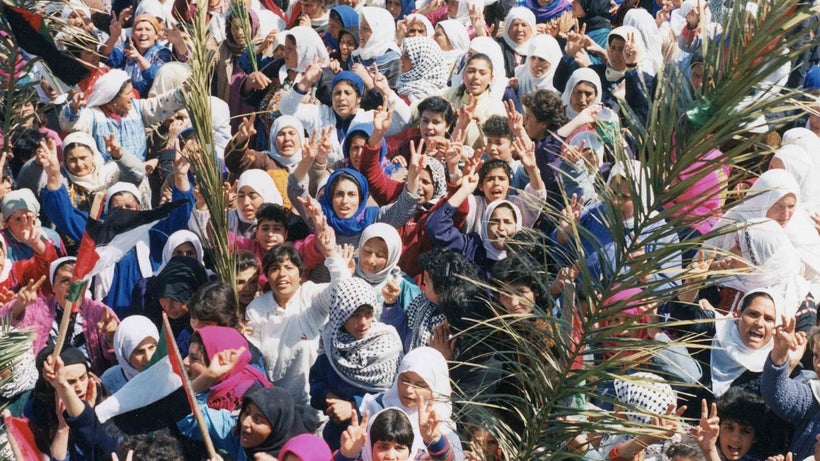 "Naila and the Uprising" is a thoughtful, moving, immensely valuable re-telling of the First Palestinian Intifada. The story of Naila Ayesh, a leader in the uprising unfolds lessons not always expected, nor welcome.
After the 1967 Six Days War, Israel took over rule of over one million Palestinians living in Gaza. As an eight year old, Naila suffered under this occupation. Her home was demolished by the Israelis. Her family was treated as second class citizens, with restrictions on all aspects of daily life – from simple survival activities like growing vegetables for consumption or market to doing business or travel. It also meant that jeeps were seen on every corner. There were check points and curfews. Naila's schools were controlled and textbooks censored. Resisting occupation earned one jail!
Naila escaped all this at least temporarily when she won a scholarship to an academic school in Bulgaria. There she met her future husband Jamal Zakout. She was attracted to Jamal who was also from Gaza as he was the Head of the Students Union.
Back in Gaza, Naila and Jamal chose to resist occupation. They helped organize the Democratic Front which consciously encouraged women's participation in the fight for self determination. The price of participation was incarceration. Naila was separated from her husband and thrown into Maskubiye Prison in Jerusalem. Despite being pregnant, she was subject to duress, tied to chairs, left outside in the rain and cold, dragged to interrogations. Denied medical care until she confessed to being a member of the Democratic Front, Naila miscarried in prison. She was only released after a media campaign exposed her treatment.
The family's hardships continued through the uprising. As all segments of Palestinian society resisted the harshness of Israel's "enlightened" occupation, the death toll rose and deportation became a favored response to break resistance and divide families. The men who led the opposition, including Jamal Zakout, were exiled. The arrests of men paved the way for women to assume control. Women like Naila, Zahira Kamal with the Democratic Front for the Liberation of Palestine and local activist Sama Aweidah who had been in support groups stepped into leadership roles. Rabeha Diab was leading Fatah for a year and a half.
Women organized locally, in the villages, in unions and in political organizations. Alternative co-ops led by women sprang into leadership. The Israeli forces were shocked and unprepared for the action of large numbers of women. Soldiers fired tear gas into the crowds of women demonstrators, inspiring more women to get involved. Palestinian and Israeli women joined together taking to the streets to oppose the occupation and support the establishment of an independent Palestinian state.
When the U.S. used a ten billion dollar aid package to Israel to open Middle East Peace Talks in 1991 in Madrid, women were prominent at the bargaining table. The delegation from inside the Occupied Palestinian Territories featured spokeswoman Dr. Hannan Ashrawi.
But unbeknownst to any of these negotiators, the Palestine Liberation Organization under Yasser Arafat and the State of Israel had opened secret talks in Oslo hosted by the Norwegian government. The PLO leadership abroad had launched the Oslo negotiations without consulting the Palestinians on the ground who had led the First Intifada and had been conducting the Madrid-Washington bargaining.
The Madrid negotiators were disappointed. There were no women on the PLO team. The yield of the Oslo negotiations, despite much fanfare, yielded much less than what was still on the table at Madrid. The Palestinian leadership was forced to return to an occupation that was still in effect, where few parameters defined the actual agreement. The Intifada was forced to end with less than hoped for tangible results. Men returned from exile and pushed women out of leadership roles.
Naila's story ends with her family united from exile. She became Director of the Women's Affairs Center. Her son Majd is studying law in Canada to equip himself to return to the struggle. Peabody Award Winner Julia Bacha's moving film which combines stirring archival footage, thoughtful interviews and evocative animation is a fitting tribute to the women who still struggle for a fully democratic Palestinian state . . . and their rightful place in that state.
Calling all HuffPost superfans!
Sign up for membership to become a founding member and help shape HuffPost's next chapter
This post was published on the now-closed HuffPost Contributor platform. Contributors control their own work and posted freely to our site. If you need to flag this entry as abusive,
send us an email
.