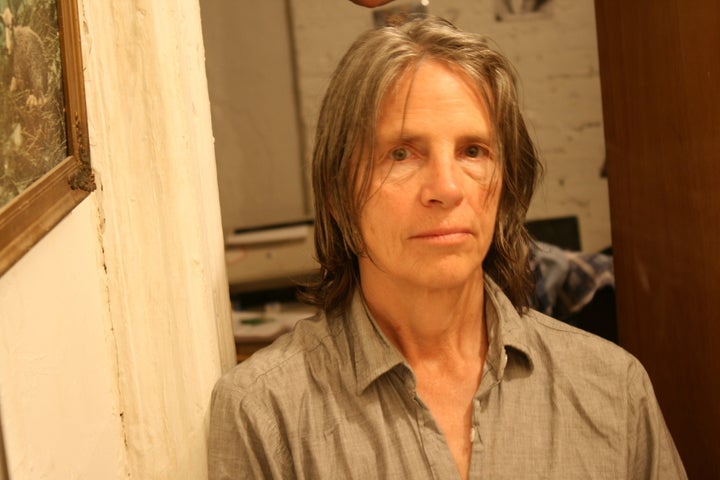 Salman Rushdie said, "a poet's work is to name the unnameable, to point at frauds, to take sides, start arguments, shape the world, and stop it going to sleep."
This seems like an art worthy of celebration to us, which is why, in honor of National Poetry Month, we'll be featuring a different poet each week on our page. Some will be traditional veterans of their craft, while others will be burgeoning experimental writers. All will offer unique perspectives on the often overlooked medium.
First up, Eileen Myles. She flourished during Manhattan's post-Allen Ginsberg queer arts scene and has since toured with a post-punk female performance group, Sister Spit. She's taught writing at University of California San Diego and Naropa Institute in Boulder, Colorado. Her work appears regularly in Believer and the Poetry Foundation's blog. She's written fiction, visual arts travel essays and libretti (text accompanying opera music). Needless to say, she's pretty unconventional. This poem, titled "Like," is from her brand new collection,"Different Streets: Newer Poems" [Wave Books, $20.00]. It is representative of her thematic focus on gender and her rapid-fire, almost brusque composition.
drinking that much

Diet Coke on the plane
to prove
I am a man
young guy down
there with
a beard looking
like a goat
and the white contraction
of Oakland
huge
they went round and round
9 times
they dropped the pebbles
where they
went
this is poetry

the thousand-eyed
fly
examining the
kids
cause you know
we are equal
in the complexity
of our gaze
my face's shuttered
here's the argument
don't ask don't tell
is okay if you con-
vinced
the army you're straight
that's wrong, right

you were lying
to me

the night's a little devil
I hold in my hand
petting holding
his head
learning his
loves. Liking
him. Digging his heat.
Popular in the Community