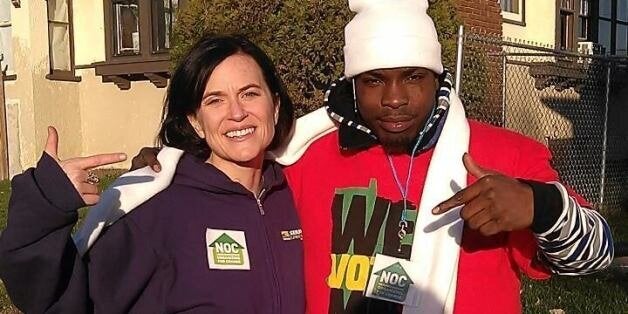 When Minneapolis TV station KSTP aired a segment last week that claimed Mayor Betsy Hodges had flashed "gang signs" while posing for a picture with a young black man, the backlash online was intense. Commenters accused the station of making racially loaded assumptions about a simple, everyday gesture.
The face of the young man, Navell Gordon, was blurred out in the story, which also reported on his drug-related conviction, and his conviction for illegal possession of a firearm. Although reporter Jay Kolls relied entirely on law enforcement sources, he didn't mention ongoing political disputes between the mayor and police unions. Gordon, 22, was encouraging voter participation in the face of felon disenfranchisement laws. The local nonprofit that employs Gordon, Neighborhoods Organizing for Change, has launched an online campaign to force the TV station to apologize. Now the man at center of "Pointergate" speaks.
I'm from Chicago. I never thought I would make it out of high school, but I did. I moved to Minnesota four years ago because I thought I was grown, and I wanted to start something new. I had a lot of family down here.
I was in jail for probably two weeks before I got on probation. Since I got the job from [Neighborhoods Organizing for Change], I haven't been getting in no trouble. I've been doing what I've got to do to get to where I'm going in life.
I've worked at Neighborhoods Organizing for Change for two years. Somebody was telling me they got a job going door-to-door talking to people, so I just stepped in one day and didn't look back.
At first I didn't have a good speaking game like I have now. I was shy. I never used to talk at all, just stayed to myself. The first day I thought it was a hard job, but the second day I had it down pat. I went home and studied a little bit. I even started to read more big words in the dictionary. They started giving me the opportunity to train other canvassers that came in. I tested myself -- and I accomplished something I never thought I'd do in life.
The main issue is getting people to vote. People that have a felony -- who can't vote, who would love to vote -- trying to keep them out of trouble, get them to come in and get them off the streets, so they can be able to vote the next election time.
We get responses every day saying, "I can't vote. It's not going to matter." I say, we gotta start somewhere, man. Tell your family member and they'll tell somebody else. Tell everybody you know. Even if they don't come, we still got to start somewhere, man.
I'm a felon right now, so you know I bring that up. I use my personal life as a big example. I have a one-month-old daughter. I want my daughter to live in a society where she doesn't have to get judged, and she's treated just as well as the mayor.
I had no idea that I would have the privilege to take the mayor out. But I had a nice time that day. [NOC Civic Engagement Coordinator Wintana Melekin] was on one side of the street with [Police Chief Janeé Harteau], and I was on the other side of the street with the mayor. There were cameras out with us, going from door to door, letting people know to get out and vote.
We were pointing at each other. I'm pointing at the mayor, she's pointing at me. It was happy, blessed, knowing the mayor's on Organizing for Change's side.
[KSTP reporter Jay Kolls] thought he had a big story. And now it's really a big story. He reached out to my boss Anthony Newby, who told him to kick rocks. He said he was going to go live with this. And [Newby] warned him, "Do not do this, you're going to get in very big trouble."
When I heard about the TV segment I was at home. I was at a family get-together, and we were just chilling downstairs playing a game of pool. Everybody started yelling at me, "Come upstairs, you're on TV! What did you do?" They know I've been staying out of trouble and the job that I've been doing, the effort I've been putting into taking care of my daughter. "Everything is good," I told them, "Don't worry, my job is behind me 100 percent."
When I saw my face blurred out, that felt like something racist. Because I'm African-American, but they got the mayor's face showing. I'm pointing at the mayor. It's not a gang sign. How would I be in a gang if I've been canvassing for two years, going door to door? What kind of gang member pops up at everybody's door? I'm a known member of one of the bigger gangs in Minnesota, and I knock on everybody's door? That's just crazy.
They could have put us on the news for the mayor going out and canvassing with Neighborhoods Organizing for Change -- why did they put that up there?
It was a shock to me, a big shock, and very uncomfortable. Because I've never been through anything like this before. Never experienced anything like this in my life.
I don't think they were even trying to target me at first, but it flipped on them. I think they were trying to target the mayor, and they're mad because she got the body cameras on the police. I think they were trying to target her, but now they're targeting me. [It will go down in history in] a disturbed way, to all black people -- and not even just black people. Why are you targeting people when they have a criminal background?
[Being on TV] is all new to me. I've never been through this, but I'm prepared for whatever.
There's going to be a NOC in every city in the country. And my daughter will know that her dad was targeted. My daughter will love me when she gets older, and I'll explain everything that happened in my past.
As told to Matt Sledge. The interview has been edited for length and clarity.