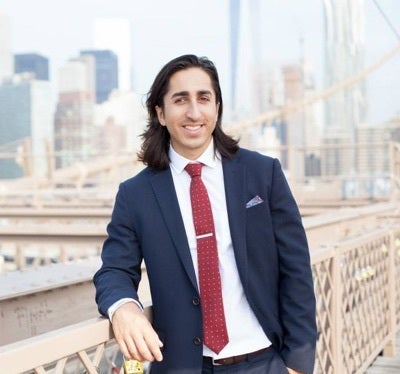 Tragedy is an irrefutable fact of life. At some point, we all experience it. But how we deal with it, positively or negatively, will determine the trajectory of our lives.
In April 2013, Simon Moazzez died suddenly at age 22.
This tragic event would forever change the life of his older brother Navid Moazzez.
"Losing a family member, especially a sibling, was such a slap in the face but as a result, I made a commitment to myself that I would quit procrastinating and take massive action, " Moazzez said. "I wanted to make things happen so that something truly positive could come out of this horrible tragedy. This life-changing event became my biggest advantage in business and life."
Moazzez immediately went into stealth work-mode. He set up his website and landed a coveted interview with Pat Flynn of Smart Passive Income. How did Moazzez, a guy with literally no connections at this point, land this interview? Here's his secret formula:
1. Be Aware of Opportunities and Reach Out
At the time, Flynn was releasing his book, Let Go and he invited those in his audience to reach out to him if they wanted to interview him. Moazzez reached out to him via email and later posted the interview on his website.
2. Get on the Radar of other Influencers
After interviewing Flynn, Moazzez continued to make sure he stayed on his radar so he left thoughtful comments on his blog, listened to his podcasts and shared Flynn's blog posts through Social Media. He realized he could get on the radar of others influencers if he did the same thing.
It didn't take long for the experts to notice Moazzez. He was providing massive value to them and he was not asking for anything in return. Slowly these influencers began to introduce him to other experts they thought he should be interviewing and steadily his networking sphere grew.
Virtual Summits
At this point, Moazzez had some success, especially with influencers, but, by and large, he still was relatively unknown. He could've given up, but he didn't, instead, he launched a podcast, The Lifestyle Architects. This too, didn't really grow his business, but he kept at it. Eventually he stumbled on a new trend, at least to him, in the health and fitness market. It was none other than virtual summits. His interest was piqued and he dove right in.
Virtual summits are video interviews of 20-50 speakers, either live or recorded on a particular topic. The interviews are offered for free for a short period of time such as 24-72 hours. Subscribers can either wait to hear all the free information or they can choose to buy the "all-access" pass and watch the interviews immediately and into perpetuity.
"Virtual summits are like podcasts on steroids," said Moazzez.
Narrow down your niche – helps you target the needs of your audience better. You want to be known as the go-to expert in one thing. For example, instead of having just a generic online marketing summit, niche down to something like his summit, The Branding Summit.

Create a unique hook – as mentioned earlier, Moazzez consulted on Chandler Bolt's Self-Publishing Summit. The reason Bolt earned so much money was that he created a unique offer. His offer, "How to Write, Market & Publish Your First Book and Use It To Get To 6 Figures," was highly targeted.

Plan your summit well to avoid stress – Preparation, preparation, preparation is the key to a successful summit.

Have a professional looking design for your summit website – people are visual, so your site has to look top notch. Be sure not to skip this step for optimal success.

Build rock-solid relationships before you need them – Moazzez provided massive value to many top influencers first. Who can you reach out to today to start adding massive value to? The key is not to expect anything in return, just give.

Provide actionable content that can get your audience results – Go above and beyond for the people that sign up for your summit. Give them the best you've got. Make your summit world-class.

Start promoting your summit 3-4 weeks before the event kicks off – Remember preparation is the key. Be sure to create buzz before your summit kicks off. Promote and use affiliates to help in this process.
If you're still not convinced, here are another five reasons why you need to create a virtual summit today:
Become Known as the Go-To Expert in Your Niche

Rapid Targeted Email List Building

Build a Passionate Tribe of Raving Fans

Build Relationships with Influencers in Your Field

Create a Product Super-Fast and Profit from it Ethically
Then please sign up for my webinar at: www.meikopatton.com
Related
Popular in the Community