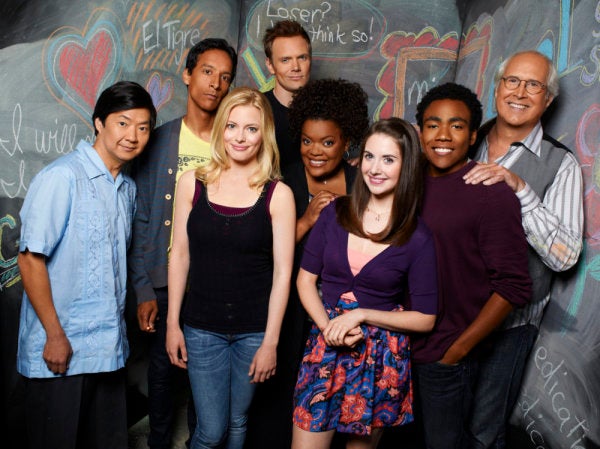 In advance of their official Upfronts presentation on Monday, NBC jumped the gun to be the first network to unveil their complete 2012-2013 schedule on Sunday.
The biggest story? "Community" is moving to Fridays, along with sophomore sitcom "Whitney," which will kick off that rather random new night of programming.
"Smash" is also being bumped -- all the way to midseason -- to make way for the premiere of "Revolution," a new thriller from J.J. Abrams and Eric Kripke, which will air after "The Voice" on Mondays. And yes, that means "The Voice" will be back in the fall, giving it two cycles a year, as predicted.
NBC will also try their hand at airing comedies on Tuesday nights, with Matthew Perry's "Go On" and Ryan Murphy's "The New Normal" getting paired together.
Also being saved for midseason are new sitcoms "Save Me," "1600 Penn" and "Next Caller," and new dramas "Do No Harm," "Hannibal" and "Infamous."
Here's what the full schedule looks like, with asterisks (*) indicating new series.
MONDAY
"The Voice," 8 p.m. ET
* "Revolution," 10 p.m. ET
TUESDAY
"The Voice," 8 p.m. ET
* "Go On," 9 p.m. ET
* "The New Normal," 9:30 p.m. ET
"Parenthood," 10 p.m. ET
WEDNESDAY
* "Animal Practice," 8 p.m. ET
* "Guys With Kids," 8:30 p.m. ET
"Law & Order: Special Victims Unit," 9 p.m. ET
* "Chicago Fire," 10 p.m. ET
THURSDAY
"30 Rock," 8 p.m. ET
"Up All Night," 8:30 p.m. ET
"The Office," 9 p.m. ET
"Parks and Recreation," 9:30 p.m. ET
"Rock Center with Brian Williams," 10 p.m. ET
FRIDAY
"Whitney," 8 p.m. ET
"Community," 8:30 p.m. ET
"Grimm," 9 p.m. ET
"Dateline NBC," 10 p.m. ET
SATURDAY
Encore programming
SUNDAY
"Football Night in America," 7 p.m. ET
NBC Sunday Night Football, 8:15 p.m. ET
SUNDAY (Post-football/Winter 2013)
"Dateline NBC," 7 p.m. ET
"Fashion Star," 8 p.m. ET
"The Celebrity Apprentice," 8 p.m. ET
* "Do No Harm," 10 p.m. ET
What do you think of NBC's new schedule? Sound off in the comments.
Preview all of NBC's new shows here:
"Go On": Misery loves company. Unless you're sportscaster Ryan King (Matthew Perry) who thinks misery should just be left alone. After taking some time off, Ryan –- who recently lost his wife in a car accident -– is now ready to get back to work. And while he seems like his same old charming, cocky self, his boss won't set him back on the air until he seeks counseling. So, Ryan reluctantly joins a support group with one goal in mind: get in, get out and get back on the radio as quickly as possible. Also starring Laura Benanti, Julie White, Suzy Nakamura, Khary Payton and Allison Miller. From Emmy-winning writer and executive producer Scott Silveri ("Perfect Couples," "Friends") comes a new series that proves grief can be good.
"The New Normal": These days, families come in all forms -– single dads, double moms, sperm donors, egg donors, one-night-stand donors … It's 2012 and anything goes. Bryan (Andrew Rannells) and David (Justin Bartha) are a Beverly Hills couple and they have it all. Well, almost. With successful careers and a committed and loving partnership, the one thing missing is a baby. And just when they think the stars will never align, enter Goldie (Georgia King), an extraordinary young woman with a checkered past. A Midwestern waitress and single mother looking to escape her dead-end life and small-minded grandmother (Ellen Barkin), Goldie decides to change everything and move to L.A. with her precocious 8-year-old daughter. Desperate and broke –- but also fertile -– Goldie quickly becomes the guys' surrogate and quite possibly the girl of their dreams. Ryan Murphy serves as creator/executive producer and director along with executive producer/creator/writer Ali Adler and executive producer Dante Di Loreto.
"Animal Practice": Meet Dr. George Coleman (Justin Kirk), a top-dog New York veterinarian. With an unorthodox style of operating, George's success comes from his undeniable gift with animals of all kinds. That is, all but the human kind. Dorothy Crane once held the key to George's heart, but today she also holds the key to the family business as she takes over Crane Animal Hospital. Not only is she George's new boss, but her romantic history with him and her lack of experience with animals is seriously cramping his style. Dorothy is whip-smart and ambitious, and she's going to make George pay for the past. Needless to say, he's determined not to make any changes in his (animal) kingdom -- which includes poker games with a resident capuchin monkey. Also starring are Tyler Labine as Dr. Doug Jackson, a vet who's great with animals but hapless in matters of the heart, Bobby Lee as Dr. Yamamoto, and newcomer Betsy Sodaro as Angela. Executive producers are Scot Armstrong and Ravi Nandan, along with Emmy Award winners Joe and Anthony Russo, of "Community" fame, who also directed the pilot.
"Guys with Kids": From Emmy winner and executive producer Jimmy Fallon comes a new comedy about three thirty-something dads trying to hold on to their youth, while holding onto their new babies' hands. Easy, right? Thankfully, Chris (Jesse Bradford), Nick (Zach Cregger) and Gary (Anthony Anderson) have each other to help navigate their survival as new dads, while still trying desperately to remain dudes. Balancing work or staying at home, painfully married or happily divorced, they know that taking care of the little ones while maintaining a social life is a daily challenge. Whether it's hosing the little squirt down in the kitchen sink or hitting the bar strapped with a baby bjorn, these guys are on a roller-coaster adventure -– parenting like you (and they) have never seen before. Also starring Jamie Lynn Sigler and Tempestt Bledsoe.
"Save Me": Welcome to the Midwestern suburbs, where exciting things never happen. Well, almost never. After a near-death experience (choking on a hero sandwich), Beth (Anne Heche) is revived only to realize she now has a direct line to God. Of course, her husband Tom (Michael Landes) is skeptical and dismissive -– and his mistress (Alexandra Breckenridge) is stunned to learn that her lover's wife is now a prophet! But when inexplicable things begin to happen, everyone's beliefs are tested. Beth starts to say and do things that shock her family and entrance her friends, but she isn't going to be your typical "fire and brimstone" prophet. Let's just say, if God had a desperate housewife as His mouthpiece, Beth would be it! She is the absolute last person on Earth who would be chosen. Then again, they say He works in mysterious ways. And this one is a real mystery! Also starring Heather Burns and Madison Davenport.
"1600 Penn": The Gilchrists are just the average American family dealing with all the everyday issues -– like a grown kid who's forced to move back home, children who are smarter than their teachers and a stepmom (Jenna Elfman) desperately trying to win over the kids. They're loving, fun and a little crazy. In other words, just like everybody else. With one exception: they live in a very special house. The White House! Whether it's entertaining foreign dignitaries, sneaking away for a night out, dealing with middle school crushes or putting out fires -– figuratively and sometimes literally -– there's never a dull moment in the Gilchrist White House. The President (Bill Pullman) knows too well that the only thing harder than being Head of State is being head of the family. Also starring Josh Gad, Martha MacIsaac, Andre Holland, Amara Miller and Benjamin Stockham. From Emmy-winning executive producer/director Jason Winer, who also directed the pilot, the executive producers are Winer, Gad and Jon Lovett (former White House speechwriter).
"Next Caller": What happens when a foulmouthed satellite radio DJ –- played by the multi-platinum selling artist and outrageously charming Dane Cook -– is forced to share the mic with a chipper NPR feminist? It's anyone's call in this sharp new comedy from producer Stephen Falk and Emmy-winning director Marc Buckland. It's her first day in New York City, and 26-year-old Stella Hoobler (Collette Wolfe) is ready to take on the world. After a stint on public radio, she's been hired to co-host the no-holds-barred show "Booty Calls with Cam Dunne." Smart, spunky and passionate, Stella is determined to elevate the show beyond its boy's-club-locker-room humor into a respected debate about men, women and the state of human relationships. But there's a problem: Cam! She's going to find out the hard way that he's got no intention of sharing the spotlight, especially with someone like her. It's going to be a tense fight, but with the station's one rule being "make some noise," Cam and Stella could be a winning combination – as long as they don't knock each other out on their way to success. Jeffrey Tambor, Joy Osmanski and Wole Parks also star.
"Revolution": Our entire way of life depends on electricity. So what would happen if it just stopped working? Well, one day, like a switch turned off, the world is suddenly thrust back into the dark ages. Planes fall from the sky, hospitals shut down and communication is impossible. And without any modern technology, who can tell us why? Now, 15 years later, life is back to what it once was long before the industrial revolution: families living in quiet cul-de-sacs, and when the sun goes down, lanterns and candles are lit. Life is slower and sweeter. Or is it? On the fringes of small farming communities, danger lurks. And a young woman's life is dramatically changed when a local militia arrives and kills her father, who mysteriously –- and unbeknownst to her -– had something to do with the blackout. This brutal encounter sets her and two unlikely companions off on a daring coming-of-age journey to find answers about the past in the hopes of reclaiming the future. From director Jon Favreau and the fertile imaginations of J.J. Abrams and Eric Kripke, comes a surprising "what if" action-adventure series, where an unlikely hero will lead the world out of the dark. Literally. The series stars Billy Burke, Tracy Spiridakos, Anna Lise Phillips, Zak Orth, Graham Rogers, J.D. Pardo, Giancarlo Esposito, David Lyons, Maria Howell, Tim Guinee and Andrea Roth.
"Chicago Fire": No job is more stressful, dangerous or exhilarating than those of the Firefighters, Rescue Squad and Paramedics of Chicago Firehouse 51. These are America's everyday heroes -- the courageous men and women who forge headfirst into danger when everyone else is running the other way. But the enormous responsibilities of the job also take a personal toll. Big reputations and hefty egos, coupled with the pressure to perform and make split-second decisions, are bound to put squad members at odds. When a tragedy claims one of their own, there's plenty of guilt and blame to go around. In the middle of a divorce, Lt. Matthew Casey (Jesse Spencer) tries to go about business as usual but can't help butting heads with the brash Lt. Kelly Severide (Taylor Kinney) of the Rescue Squad –- and each blames the other for their fallen team member. When it's "go-time" though, they put aside their differences and put everything on the line for each other. "Chicago Fire" is a look inside one of America's noblest professions. Also starring are Eamonn Walker, Charlie Barnett, David Eigenberg, Monica Raymund, Lauren German, Teri Reeves and Merle Dandridge. "Chicago Fire" is produced by Universal Television and Wolf Films. Emmy Award-winning creator/ producer Dick Wolf, Derek Haas, Michael Brandt, Peter Jankowski and Danielle Gelber serve as executive producers.
"Do No Harm": Dr. Jason Cole (Steven Pasquale) is a highly respected neurosurgeon who has it all -– a lucrative career, confident charm, the gift of compassion. But he also has a deep, dark secret. One morning when he wakes up disoriented in a wrecked hotel room amidst several near-naked women he's never seen before, he knows one thing: it's happening again. Every night at the same hour, something inside Jason changes, leaving him almost unrecognizable –- seductive, devious, borderline sociopathic. This new man is his dangerous alternate personality who goes by the name of "Ian Price." For years he's battled Ian, keeping him in check with a powerful experimental sedative. But now his – their – body has developed a resistance to the serum, setting Ian free once again. And to make matters worse, after being suppressed for so long, Ian's hell-bent on taking revenge on his oppressor. With everyone Jason cares about at risk –- patients, friends, coworkers and even the woman he loves -– he's got to stop Ian once and for all. Will they find some common ground, or will they bring each other down? Hell hath no fury like an alter ego scorned. Also starring are Alana De La Garza, Mousa Kraish, Michael Esper, Ruta Gedmintas and Phylicia Rashad. "Do No Harm" is produced by Universal Television and Traugott Company.
"Infamous": When wealthy socialite and notorious party girl Vivian Bowers is found dead of an overdose, no one is really surprised. The heiress to the Bowers pharmaceutical empire has been tabloid fodder for years: wild, pretty, privileged … and now dead at the age of 32. But for FBI agent Will Moreno (Laz Alonso), things don't add up with this suspicious dynasty. Convinced that the troubled girl's death was a homicide, he has a clever plan to get to the truth. Her name is Detective Joanna Locasto (Meagan Good). Twenty years ago, she was Vivian's best friend, having grown up in the Bowers' home. And when she appears at Vivian's funeral, the family re-embraces her and no one is the wiser. Joanna quickly begins to uncover dark secrets and clues about why Vivian's life was very much in danger. At the same time, she rekindles an old romantic relationship and rediscovers the allure of the luxurious lifestyle she once knew. She's about to see once again just how the other half lives ... and dies. Also starring are Victor Garber, Tate Donovan, Katherine La Nasa, Neil Jackson and Ella Rae Peck. "Infamous" comes from executive producer/writer Liz Heldens ("Friday Night Lights") and director Peter Horton ("Grey's Anatomy," "Dirty Sexy Money"). Gail Berman, Lloyd Braun and Gene Stein are also executive producers. The series is from Universal Television and BermanBraun.
Find out the fate of all your favorite shows here:
PHOTO GALLERY
2012 Renewal Index: Canceled, Safe and on the Bubble Shows
Calling all HuffPost superfans!
Sign up for membership to become a founding member and help shape HuffPost's next chapter