Climbing Everest is a dream that hundreds of mountaineers set to achieve every spring. Yet though a true test of strength and willpower, it pales in comparison to the importance of human life. This is why as an expedition leader, I did not hesitate for a second before cancelling our 2015 trip, so that our entire team of Sherpa guides and base camp staff could go home and be with their loved ones during one of the most horrific and deadly avalanches to hit the mountain in modern times.
The hard part came as we made our way down, passing through the Sherpa villages in Khumbu valley, some of which were hit hard by the earthquake, as we made our way to Kathmandu, the capital city of the Himalayan nation. As we came upon the once lively and boisterous village of Sankhu, all I could see for miles was a city turned into rubble. So many precious lives lost to the wrath of nature. I was shattered. A country that I had come to call my second home had been devastated. The drive back to the hotel was one of the most difficult of my life.
I spent the next three days in Kathmandu, feeling the panic of phantom earthquakes, even though there were none. This effect continued even when I got back to my home in Mumbai for the next couple of weeks. Every single night the only thing I dreamt about was the disaster in Nepal. Every day I would wake up thinking about how the Nepali people must be coping if this was my reaction having been there for only 10 days. There have been more than 300 aftershocks in Nepal since. I can't imagine how it must feel to try and sleep at night.
As I began reviewing the pictures I had taken on Everest before the earthquake, and in Nepal after the tragedy, I noticed an eerie juxtaposition of moments, experiences, emotions and devastation.

L: Man vs. Everest. Enter the Western Cwm valley and you will come face-to-face with Mt. Everest. Your dream! Your nemesis! Your life! You stare in awe of its beauty, sizing up the challenge. In the next few days you will take the final steps towards achieving a dream for which you have worked so hard.
R: A woman looks at her home, a dream which she no doubt worked hard for, and likely wonders whether her life will ever be normal again.

Harsh Sleeping Conditions L: At about 20,000 feet lays Camp One on Mt. Everest. After a treacherous 6-8 hour climb through the Khumbu icefall, climbers sleep in one of the most remote and dangerous campsites on the planet. Howling winds and subzero temperatures threaten survival, let alone sleep. This is as close as you can get to experiencing the North and South Poles.
R: The earthquake in Nepal damaged more than 500,000 homes and displaced millions of people. There have been hundreds of aftershocks, and a significant portion of the Nepali population is now living in makeshift campsites made of tarpaulins on the streets and any open spaces in the country. Right after this photo was taken, monsoons hit this Himalayan country, causing the population to experience freezing temperatures.

Working TogetherL: Khumbu icefall is one of the most treacherous and challenging sections on Mt. Everest. It's a frozen river comprised of huge chunks of snow and ice the size of a five-story apartment complex. This maze of ice moves almost three feet per day. Several times the blocks have become so huge that 60-foot ladders were installed to overcome obstacles. Climbers have to be very careful passing through these sections, as they can cause traffic jams that leave climbers stuck for hours together.
R: With most of the grocery stores closed, and a city under rubble, there were very few sources of food and water left. Several citizen-run communal kitchens were started. Puri and Tarkari for Nepal Earthquake Victims is one such citizen-funded and managed initiative. Volunteers from across Kathmandu came together each day to prepare nutritious meals distributed to the people living in the most affected areas. Over 30,000 people were provided with meals in the first eight days because of these efforts.

Just Keep DiggingL: 2015 had been an unusually snowy year on Everest, including a two-day snowstorm just after I reached base camp, dumping over two feet of snow. We all took turns digging out of the snow and keeping our camp safe.
R: People searching and digging through piles of debris they once called their homes. It's going to be years of effort before all the debris can be cleared.

Home Away From HomeL: A climber ends up spending close to 45 days at and above Base Camp. This becomes our home away from home.
R: A devastated home reminds us of the many lost lives. The Nepali people had lost the basic human right to shelter and, with monsoons and snowstorms on the horizon, there were tough times ahead even after this photo was taken.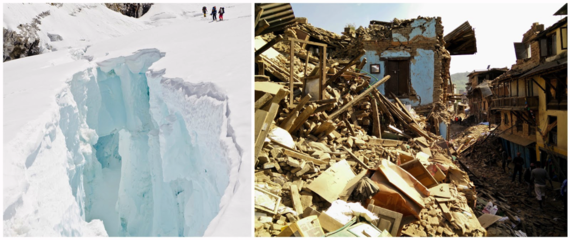 Feeling OverwhelmedL: Climbers walking by a massive crevasse on their way to Camp Two on Everest. I've been asked how deep the crevasses are, and I will say that they genuinely feel like an abyss ready to swallow you whole.
R: This photo illustrates the abysmal destruction in Nepal as people stumble through the rubble, trying to put their lives back together.
How Can We HelpToday Nepal is at the beginning of a long and painful road to recovery, and we must do all we can to support it. A couple of ways to support Nepal are:
1.)Contribute monetarily towards a Nepal rehabilitation and rebuilding project. I recommend that you contribute towards rebuilding of the Sherpa village of Pangboche.
2.) Tourism accounts for around 10 percent of Nepal's GDP, with more than 500,000 people directly employed in the industry. The best way to help Nepal at this moment is to visit this gorgeous country, if you're able. Nepali people are some of the most hospitable and kind people, ready to receive tourists wholeheartedly. By enjoying a vacation, you would be directly putting money into the Nepali economy, and thus helping to build a sustainable and healthy future for the country.
As per latest reports, the Earthquake has not damaged most trekking areas, except Manaslu and Langtang, and trekking can be undertaken any time in these areas. The Chitwan, Pokhara, and Annapurna regions have also escaped widespread damage, and are ready to showcase their abundance of natural life. The birthplace of the Buddha, Lumbini, did not suffer damage and is thankfully all set to welcome visitors back to its sacred soil.
I arranged a photo exhibition on June 27 and 28 in Mumbai to showcase the beauty and grandeur of Nepal Himalaya. I hope to inspire viewers to fall in love with Nepal by taking them on a visual journey through the some of the most spectacular big mountain scenery in the world. I'll be visiting Nepal to trek and climb in October of this year, as well as help with rebuilding efforts.
I have also decided that whenever the people and country of Nepal deem Everest safe and open for climbing, I will return and climb Everest from the Nepal side to show my support. My life won't be complete until my dream comes true.
Related
Popular in the Community