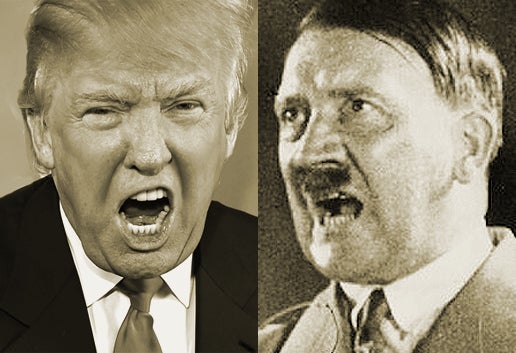 I am a Jewish woman. My grandparents, aunts and uncles emblazoned "never forget" the Holocaust in my brain. If I ever forgot, then it could happen again, they said. They were right. Trump has positioned himself as the next Hitler. He's condemning protests against him and ignoring hate crimes committed in his name. Looking at his cabinet appointments, it's even clearer that his intentions for America are to destroy democracy and its citizens. Replacing a culturally diverse nation with white nationalists.
This wasn't a normal election. One candidate, a lawyer had 30-years of public service, was the Secretary of State, a former Senator and First Lady. The other candidate wasn't a republican, though billed as one. He was an alt-right extremist with fascistic leanings, a reality TV star and a flailing businessman who pilfered money from every day Americans for personal gain. He ran on a platform of lies, stoking fears in his followers, racism, anti-Semitism, banning Muslims, and deporting immigrants, misogyny and a penchant for sexual assault. I digress, this was not a normal election. This was not a normal candidate.
Nothing about Trump's win is acceptable and shouldn't be tolerated. In December, the Electoral College will vote. Speaking for myself, I want to do everything in my power to get Hillary Clinton as our President-Elect and oust Trump immediately if not sooner. There's a petition to the Electoral College to do just that. With over 4M signatures and still in need of over 100,000, please sign it and urge others to, as well. Hillary won the popular vote by a landslide. The electoral college need to do their job to protect America and democracy by electing her president.
The press were so focused on reacting to Trump's soundbites and Hillary's emails versus digging deeper and following and reporting on the severe consequences of Trump's words, actions and wrongdoings if he were to become president. Now, here we are, with Trump as President-elect. Nothing about this is okay or should be tolerated. This isn't democracy in action. As a die-hard liberal, gun to my head, if I had to choose a republican, I'd go with Bush, and that's really saying something!
Trump is a threat to America, its citizens and international relations. Post-election, the reporting hasn't changed. Reporters are still focused on reacting to his soundbites. Please stop. Please dig deeper. You know how dangerous he is and how unfit for the presidency he is. His post-election words and actions prove that. Violence and hate crimes have increased exponentially nationwide. I fear that if he is not scrutinized in a way that reflects how hazardous to our health he is, and if the press continues to normalize him, the American experiment will die. Please, I beg you to stop saying, give him a chance. Not only does it undermine our intelligence, it's a treacherous prospect. He didn't change in the General Election. He hasn't changed post-election. HE IS NEVER CHANGING. Treat him as the real and present threat he actually is.
Please get involved. Don't stop protesting peacefully nationwide. Increase the protests. Demand the Electoral College vote for Hillary in December. Please check out the below resources and get involved in the change we so desperately need before it's too late.
ORGANIZATIONS WHO NEED US:
REAL LIFE. REAL NEWS. REAL VOICES.
Help us tell more of the stories that matter from voices that too often remain unheard.
This post was published on the now-closed HuffPost Contributor platform. Contributors control their own work and posted freely to our site. If you need to flag this entry as abusive,
send us an email
.